What is Marriage?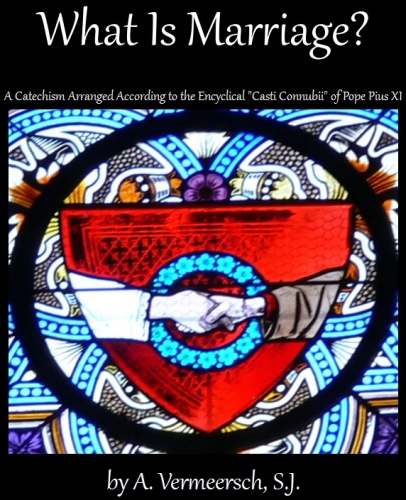 -
Casti Connubii. by Pope Pius XI
-
The text of these files is taken from the book What Is Marriage? - A Catechism Arranged According to the Encyclical "Casti Connubii" of Pope Pius XI by A. Vermeersch, S.J., Professor of Moral Theology at the Gregorian University, Rome, Italy.
It was translated to English by T. Lincoln Bouscaren, S.J., Professor of Canon Law at the Seminary of Saint Mary-of-the-Lake, Mundelein, Illinois. It was published by The America Press, New York, 1932.
The original book has the Imprimi Potest of Edward C. Phillips, S.J., Provincial Maryland-New York, the Nihil Obstat of Arthur J. Scanlan, S.T.D., Censor Librorum, and the Imprimatur of Cardinal Patrick Hayes, Archbishop of New York, 10 December 1931.