Concise Portrait of the Blessed Virgin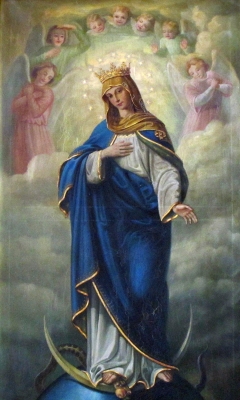 She was
A true admirer of God.
A real lover of her Son.
A Virgin, both in body and mind.
Humble of heart.
Grave in speech.
Prudent in counsel.
Given to labour.
Reserved in discourse.
Fond of reading.
She excelled:
In Faith.
In Modesty.
In Piety.
In Silence.
Never did she:
Offend her parents.
Despise little ones.
Deride the weak.
Slight the poor.
It was a principle with her:
To serve God above all.
To live in retirement.
To cause nobody trouble.
To do good to all.
To honour the aged.
Not to envy her equals.
To shun vainglory.
To love virtue.
To follow right reason in all things.
There never appeared anything light or frivolous:
In her gait.
In her air.
In her discourse.
In her behaviour.
In her looks.
In her actions.
- text taken from the book , by Father Gaspar Gilli