---
---
Saint Josephine Bakhita

Also known as
• Giuseppina Bakhita
• Madre Moretta
• Sister Moretta
Profile
Born to a wealthy Sudanese family, she was kidnapped by slave-traders at age 9, and given the name Bakhita (lucky) by them. Sold and resold in the markets at El Obeid and Khartoum, finally purchased in 1883 by Callisto Legnani, Italian consul who planned to free her. She accompanied Legnani to Italy in 1885, and worked as a nanny for the family of Augusto Michieli. She was treated well in Italy and grew to love the country. An adult convert the Christianity, she joined the Church on 9 January 1890, she took the name of Josephine as a symbol of her new life.
She entered the Institute of Canossian Daughters of Charity in Venice, Italy in 1893, taking her vows on 8 December 1896 in Verona, Italy and serving as a Canossian Sister for the next fifty years. Her gentle presence, her warm, amiable voice, and her willingness to help with any menial task were a comfort to the poor and suffering people who came to the door of the Institute. After a biography of her was published in 1930, she became a noted and sought after speaker, raising funds to support missions.
Her feast has been designated the International Day of Prayer to Stop Human Trafficking.
Born
1868 at Oglassa, Darfur, Sudan
Died
8 February 1947 of natural causes in Italy
Canonized
• 1 October 2000 by Pope John Paul II at Saint Peter's Basilica, Rome, Italy
• thought to be the only saint originally from Sudan
Patronage
Sudan
Name Meaning
the lucky one; fortunate ( = bakhita); whom the Lord adds (Joseph)
Video
Readings
O God, Father of mercy, you have given us Blessed Josephine Bakhita as a "universal sister", an evangelical model of humble faith and ardent charity. Grant also to us the will to believe and to love in the spirit of the gospel, and listen favorably to the prayers of those who ask for intercession. Through Christ our Lord. Amen. - prayer for the canonization of Saint Josephine
O Holy Trinity, Father, Son and Holy Spirit, we thank you for the gifts of humility and charity which you bestowed on Saint Josephine Bakhita Deign to glorify her for her singular virtues and grant the prayers of those who invoke her, Amen - prayer for the virtues of Saint Josephine
Seeing the sun, the moon and the stars, I said to myself, 'Who could be the Master of these beautiful things?' I felt a great desire to see him, to know him and to pay him homage. - Saint Josephine Bakhita
I have given everything to my Master: He will take care of me… The best thing for us is not what we consider best, but what the Lord wants of us! - Saint Josephine Bakhita
I received the Sacrament of Baptism with such joy that only angels could describe. - Saint Josephine Bakhita
O Lord, if I could fly to my people and tell them of your Goodness at the top of my voice: oh, how many souls would be won! - Saint Josephine Bakhita
If I were to meet the slave-traders who kidnapped me and even those who tortured me, I would kneel and kiss their hands, for if that did not happen, I would not be a Christian and Religious today. - Saint Josephine Bakhita
The Lord has loved me so much: we must love everyone… we must be compassionate! - Saint Josephine Bakhita
I can truly say that it was a miracle I did not die, because the Lord has destined me for greater things. - Saint Josephine Bakhita
Mary protected me even before I knew her! - Saint Josephine Bakhita
When a person loves another dearly, he desires strongly to be close to the other: therefore, why be afraid to die? - Saint Josephine Bakhita
Death brings us to God! - Saint Josephine Bakhita
Rejoice, all of Africa! Bakhita has come back to you: the daughter of the Sudan, sold into slavery as a living piece of merchandise, and yet still free: free with the freedom of the saints. - Pope John Paul II
In our time, in which the unbridled race for power, money, and pleasure is the cuase of so much distrust, violence, and loneliness, Sister Bakhita has been given to us once more by the Lord as a universal sister, so that she can reveal to us the secret of true happiness: the Beatitudes….Here is a message of herioc goodness modeled on the goodness of the Heavenly Father. - Pope John Paul II
One day I unwittingly made a mistake that incensed the master's son. He became furious, snatched me violently from my hiding place, and began to strike me ferociously with the lash and his feet Finally he left me half dead, completely unconscious. Some slaves carried me away and lay me on a straw mat, where I remained for over a month. A woman skilled in this cruel art [tattooing] came to the general's house…our mistress stood behind us, whip in hand. The woman had a dish of white flour, a dish of salt and a razor. When she had made her patterns; the woman took the razor and made incisions along the lines. Salt was poured into each of the wounds. My face was spared, but six patterns were designed on my breasts, and 60 more on my belly and arms. I thought I would die, especially when salt was poured in the wounds…it was by a miracle of God I didn't die. He had destined me for better things. - Saint Josephine Bakhita, describing some miseries during her time as a slave
http://catholicsaints.info/saint-josephine-bakhita/
---
Saint Jerome Emiliani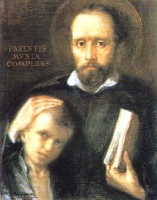 Also known as
• Geronimo
• Gerolamo Miani
• Jerom Aemiliani
Profile
Born wealthy, the son of Angelo and Eleanor Mauroceni Emiliani. His father died when Jerome was a teenager, and he ran away from home at age 15. After a dissolute youth, he became a soldier in Venice, Italy in 1506. Commanded the League of Cambrai forces at the fortress of Castelnuovo in the mountains near Treviso, Italy. Captured by Venetian forces on 27 August 1511, he was chained in a dungeon. He prayed to Our Lady for help, was miraculously freed by an apparition, and hung his chains on a church wall as an offering. Mayor of Treviso while studying for the priesthood. Ordained in the spotted-fever plague year of 1518.
Cared for the sick, and housed orphans in his own home. At night he roamed the streets, burying those who had collapsed and died unattended. Jerome contracted the fever himself, but survived. Founded six orphanages, a shelter for penitent prostitutes, and a hospital. Founded the Order of Somaschi (Company of Servants of the Poor, or Somascan Fathers, or Regular Clergy of Somasca) c.1532, a congregation of clerks regular vowed to the care of orphans, and named after the town of Somasca where they started, and where they founded a seminary; the society was given approval by Pope Paul III in 1540, and continue their work today in a dozen countries. Believed to have developed the question-and-answer catechism technique for teaching children religion. Declared the patron of orphans and abandoned children in 1928 by Pope Pius XI.
Born
1481 at Venice, Italy
Died8 February 1537 in Italy of a disease caught when tending the sick Canonized
16 July 1767 by Pope Clement XIII
Patronage
• abandoned people
• orphans
Representation
• ball and chain
• man shackled with a ball and chain who is attending the sick
• man wearing a ball and chain, and receiving an apparition of Mary and the Child Jesus
Video
Readings
I urge you to persevere in your love for Christ and your faithful observance of the law of Christ. Our Goal is God, the source of all good. As we say in our prayer, we are to place our trust in God and in no one else. In his kindness, our Lord wished to strengthen your faith, for without it, as the evangelist points out, Christ could not have performed many of his miracles. He also wished to listen to your prayer, and so he ordained that you experience poverty, distress, abandonment, weariness and scorn. God alone knows the reasons for all this, yet we can recognize three causes. In the first place, our blessed Lord is tell young that he desires to include you among his beloved sons, provided that you remain steadfast in his ways, for this is the way he treats his friends and makes them holy. The second reason is that he is asking you to grow continuously in your confidence in him alone and not in others. Now there is a third reason. God wishes to test you like gold in the furnace. The dross is consumed by the fire, but the pure gold remains and its value increases. It is in this manner than God acts with his good servant, who puts his hope in him and remains unshaken in times of distress. God raises him up and, in return for the things he has left out of love for God, he repays him a hundredfold in this life and with eternal life hereafter. If then you remain constant in faith in the face of trial, the Lord will give you peace and rest for a time in this world, and for ever in the next. - from a letter to his brothers by Saint Jerome Emiliani
http://catholicsaints.info/saint-jerome-emiliani/
---
Blessed Esperanza de Jesus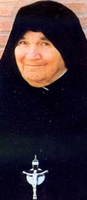 Also known as
• Giuseppa Alhama Valera
• María Esperanza Of Jesus
• María Josefa Alhama Valera
• Speranza di Gesù
Profile
Founded the Handmaids of Merciful Love in 1930. Founded the Sons of Merciful Love in 1951.
Born
30 September 1893 in Santomera, Murcia, Spain as Josefa Alhama Valera
Died
8 February 1983 in Collevalenza, Perugia, Italy
Beatified
• 31 May 2014 by Pope Francis
• beatification recognition celebrated at the Sanctuary of Merciful Love, Collevallenza, Perugia, Italy, presided by Cardinal Angelo Amato
Readings
Father of Mercy and God of all consolation, we thank you because, through the life and the word of the Mother Esperanza of Jesus, you call us to your Merciful Love. Give us the same confidence in your paternal love and, if it is in your plans to give her the glory that you offer to whoever is faithful to your Spirit and reveals Jesus' goodness to the world, through her intercession, grant to us the grace…(ask for the grace you wish to obtain through the intercession of the Mother Esperanza). We ask this of you, trusting in the help of Mary, Mediatrix of the Mercy we will sing eternally. (Our Father, Hail Mary, Glory Be) - prayer for the intercession of Mother Esperanza, nulla obstat by Bishop Decio Lucio Grandoni, Diocese of Orvieto-Todi, 8 February 1984
http://catholicsaints.info/blessed-esperanza-de-jesus/
---
Blessed Josephina Gabriella Bonino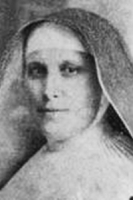 Also known as
Gabriela, Giuseppina
Profile
Raised in a pious family, she was a deeply religious child. Moved to Turin, Italy at age 12. Made a temporary vow of chastity at age 18. At age 26 she returned to Savigliano, Italy to care for her ailing father. Underwent a successful back surgery in 1887, and made a pilgrimage to Lourdes, France to give thanks for her health. There she felt a call to spend her life caring for the poor. In Savigliano she began caring for orphans. In April 1881 she helped found the Sisters of the Holy Family to care for orphans, the poor, and the elderly sick; she served as its superior for the rest of her life. Helped found four more houses of the Sisters. Predicted the date of her own death.
Born
5 September 1843 in Savigliano, Italy
Died
8 February 1906 in Savona, Italy of natural causes
Beatified
17 May 1995 by Pope John Paul II
http://catholicsaints.info/blessed-josephina-gabriella-bonino/
---
Blessed Peter Igneus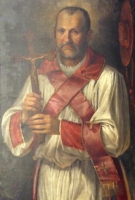 Also known as
• Peter Aldobrandini
• Peter Mezzobarbo
• Peter of Pavia
• Peter of the Fire
• Peter the Fire-Tried
Profile
Born to the Italian nobility. Vallombrosan Benedictine monk. Accused of simony, Peter under went a trial by fire - he had to walk through fire, and if he was innocent and God was on his side, he would emerge unharmed. Peter's abbot and spiritual teacher, Saint John Gualbert administered the test; Peter survived, was exhonerated, and was know thereafter as Peter Igneus. Abbot of San Salvatore Abbey in Fucecchio, Italy. Cardinal-bishop of Albano. Papal legate to Germany for Pope Saint Gregory VII in 1079. Papal envoy to France in 1084 to promulgate the order of excommunication against Henry IV.
Born
Italy
Died
1089 of natural causes
http://catholicsaints.info/blessed-peter-igneus/
---
Saint Invenzio of Pavia
Also known as
Evencija, Evencio, Evenzio, Invencij, Invencito, Jovencio, Juvencij
Profile
Bishop of Pavia, Italy from 381 to 397, chosen for the see by Saint Ambrose of Milan. Attended the Council of Aquileia in 390 and the Council of Milan, signing the letter condemning the theological errors of Jovinian. A tireless evangelist for the faith in his diocese.
Died
• February 397 in Pavia, Italy of natural causes
• buried in the church of Saints Nazario and Celso; the church was later re-dedicated as Saint Ivenzio
• relics re-discovered in 1574
• relics re-enshrined in 1789 when the church was damaged
http://catholicsaints.info/saint-invenzio-of-pavia/
---
Blessed Jacoba de Settesoli
Also known as
Jacqueline
Profile
Born to the Italian nobility. Mother of two sons, grandmother of several children, all of whom she outlived. Widow. Franciscan tertiary. Friend of Saint Francis of Assisi and Saint Clare of Assisi. Legend says that Francis gave her a lamb that followed her back and forth to church, and would wake her in the morning in time for services.
Born
1190 at Torre Asturias, Italy
Died
• c.1273 of natural causes
• buried at Assisi near Saint Francis
Video
http://catholicsaints.info/saint-jacoba/
---
Saint Stephen of Muret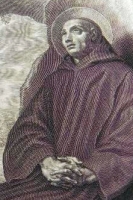 Also known as
• Stephen of Grandmont
• Stephen of Thiers
• Étienne de...
Profile
Educated at Benevento, Italy from age 12 by Archbishop Milo. Founder of the Benedictine house of Grandmont in the forest of Muret, in Limousin, France. Abbot of the house, though never formally a monk.
Born
c.1046 at Thiers, Auvergne, France
Died
8 February 1124 of natural causes
Canonized
1189 by Pope Clement III
http://catholicsaints.info/saint-stephen-of-muret/
---
Saint Cuthman
Also known as
Cuthmann
Profile
Poor but pious youth from the south of England. Cared for his invalid mother following his father's death. Shepherd, spending his time with the flock in prayer. Built a church near his property near Steyning, Sussex, England. Miracle worker in life and afterward.
Died
9th century
Patronage
• against poverty
• bachelors
• poor people
• shepherds
• single laymen
Video
http://catholicsaints.info/saint-cuthman/
---
Saint Kigwe
Also known as
Ciwa, Ciwg, Cwick, Kewe, Kigwoe, Kuet, Kywere
Profile
Sister of Saint Congar. She lived a life of quiet sanctity and private vows. Once when she visited her brother in his hermit's cell he refused to see her, fearing that even the sight of his sister would prove a distraction. To prove her holiness, she summoned a wild boar, and miraculously caused it to obey her like a pet. Her brother accepted the event as a sign.
Patronage
Kew, Cornwall, England
http://catholicsaints.info/saint-kigwe/
---
Saint Oncho of Clonmore
Also known as
Onchu, Onchuo
Profile
Poet and pilgrim who roamed the memorials and shrines of Ireland, collecting and preserving information about and relics of the saints. He finally retired to the Clonmore monastery who inherited his collection of relics, and who enshrined Oncho as well.
Died
c.600 at the monastery in Clonmore, Ireland of natural causes
http://catholicsaints.info/saint-oncho-of-clonmore/
---
Saint Elfleda of Whitby
Also known as
Aelflaed, Edilfreda, Ethelfreda, Ethelfleda, Elgiva
Profile
Born a princess, the daughter of King Oswy of Northumbria (part of England). She was offered to God as a child at the convent of Hartlepool. Nun at the double monastery of Whitby Abbey with Saint Hilda of Whitby. Abbess of Whitby.
Born
653
Died
714
http://catholicsaints.info/saint-elfleda-of-whitby/
---
Saint Cointha of Alexandria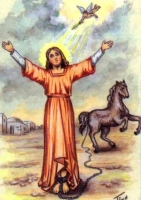 Also known as
Coint, Quinta
Profile
Martyred in the persecutions of Decius for refusing to sacrifice to idols.
Born
Egyptian
Died
dragged to death by a horse thru the streets of Alexandria, Egypt in 249
http://catholicsaints.info/saint-cointha-of-alexandria/
---
Saint Honoratus of Milan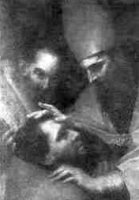 Profile
Bishop of Milan, Italy in 567 during a time when there was theological conflict with the Arians, battlefield conflict with invading Lombards. Honoratus opposed both, but was driven into exile and never returned to his see.
Died
570
http://catholicsaints.info/saint-honoratus-of-milan/
---
Saint Meingold
Also known as
Mengold
Profile
Member of a noble family of Liege, Belgium, the County of Huy, Belgium. Known for his personal holiness. Assassinated while returning from a pilgrimage; the killers cared nothing about his faith, and killed him for purely political reasons.
Died
murdered in 892
Patronage
• bakers
• Huy, Belgium
http://catholicsaints.info/saint-meingold/
---
Saint Paul of Verdun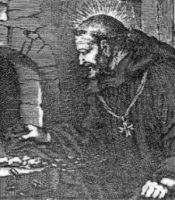 Profile
Courtier. Hermit on Mount Voge (modern Paulberg) near Trier, Germany. Monk at Tholey, Germany. Bishop of Verdun, France.
Died
c.649
http://catholicsaints.info/saint-paul-of-verdun/
---
Saint Mlada of Prague
Also known as
• Mary of Prague
• Mileda of Prague
Profile
Daughter of Duke Boleslav of Czechia. Founded the convent of Saint George in Prague (in the modern Czech Republic).
Died
994
http://catholicsaints.info/saint-mlada-of-prague/
---
Saint Nicetius of Besançon
Also known as
Nizier of Besançon
Profile
Bishop of Besançon, France. Friend of Saint Columbanus of Luxeuil.
Died
611
http://catholicsaints.info/saint-nicetius-of-besancon/
---
Saint Isaias Boner
Profile
Augustinian hermit. Theologian. Exceptional professor of Holy Scripture within the order.
Born
at Cracow, Poland
Died
1471
http://catholicsaints.info/saint-isaias-boner/
---
Saint Giacuto
Also known as
Iacuto
Profile
Brother of Saint Winwaldo and Saint Guethnoc. Monk. Founded a monastery in Brittany near the sea and led it as abbot until his death.
http://catholicsaints.info/saint-giacuto/
---
Saint Sebastian of Armenia
Also known as
Aemilian
Profile
Armenian monk. Martyr.
http://catholicsaints.info/saint-sebastian-of-armenia/
---
Saint Dionysus of Armenia
Also known as
Aemilian
Profile
Armenian monk. Martyr.
http://catholicsaints.info/saint-dionysus-of-armenia/
---
Saint Emilian of Armenia
Also known as
Aemilian
Profile
Armenian monk. Martyr.
http://catholicsaints.info/saint-emilian-of-armenia/
---
Saint Cyriacus of Rome
Profile
Martyr.
Died
in Rome, Italy
http://catholicsaints.info/saint-cyriacus-of-rome/
---
Saint Lucius of Rome
Profile
Martyr.
Died
in Rome, Italy
http://catholicsaints.info/saint-lucius-of-rome/
---
Saint Paul of Rome
Profile
Martyr.
Died
in Rome, Italy
http://catholicsaints.info/saint-paul-of-rome/
---
Saint Gisela
Profile
Nun.
Died
1277
http://catholicsaints.info/saint-gisela/
---
Martyrs of Constantinople
Profile
Community of 5th century monks at the monastery of Saint Dius at Constantinople. Imprisoned and martyred for loyalty to the Vatican during the Acacian Schism.
Died
485 in Constantinople
http://catholicsaints.info/martyrs-of-constantinople-8-february/
---
Martyrs of Persia
Profile
An unknown number of Christians murdered in early 6th-century Persia. Legend says that so many miracles occurred through the intercession of these martyrs that the king decreed an end to the persecution of Christians.
http://catholicsaints.info/martyrs-of-persia-8-february/
---
Also celebrated but no entry yet
• Four Mercedarians
• Laureanto
• Maria Josefa Alhama Valera
---
CatholicSaints.Info Portable Edition
email CatholicSaints.*
---