---
To foresee what we shall have to do, and to call up for judgment what we have done, are the most trustworthy rules for right action. - Saint Ignatius of Loyola
---
Saint Cleopas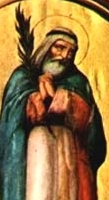 Also known as
Cleofa, Cleophas
Profile
One of the two disciples of the Way to Emmaus. Martyr.
Readings
Now that very day two of them were going to a village seven miles from Jerusalem called Emmaus, and they were conversing about all the things that had occurred. And it happened that while they were conversing and debating, Jesus himself drew near and walked with them, but their eyes were prevented from recognizing him.
He asked them, "What are you discussing as you walk along?"
They stopped, looking downcast. One of them, named Cleopas, said to him in reply, "Are you the only visitor to Jerusalem who does not know of the things that have taken place there in these days?"
And he replied to them, "What sort of things?"
They said to him, "The things that happened to Jesus the Nazarene, who was a prophet mighty in deed and word before God and all the people, how our chief priests and rulers both handed him over to a sentence of death and crucified him. But we were hoping that he would be the one to redeem Israel; and besides all this, it is now the third day since this took place. Some women from our group, however, have astounded us: they were at the tomb early in the morning and did not find his body; they came back and reported that they had indeed seen a vision of angels who announced that he was alive. Then some of those with us went to the tomb and found things just as the women had described, but him they did not see."
And he said to them, "Oh, how foolish you are! How slow of heart to believe all that the prophets spoke! Was it not necessary that the Messiah should suffer these things and enter into his glory?" Then beginning with Moses and all the prophets, he interpreted to them what referred to him in all the scriptures.
As they approached the village to which they were going, he gave the impression that he was going on farther. But they urged him, "Stay with us, for it is nearly evening and the day is almost over." So he went in to stay with them. And it happened that, while he was with them at table, he took bread, said the blessing, broke it, and gave it to them. With that their eyes were opened and they recognized him, but he vanished from their sight.
Then they said to each other, "Were not our hearts burning [within us] while he spoke to us on the way and opened the scriptures to us?" So they set out at once and returned to Jerusalem where they found gathered together the eleven and those with them who were saying, "The Lord has truly been raised and has appeared to Simon!" Then the two recounted what had taken place on the way and how he was made known to them in the breaking of the bread. - Luke 24:13-35
http://catholicsaints.info/saint-cleopas/
---
Saint Sergius of Moscow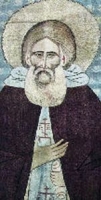 Also known as
• Sergius of Radonezh
• Bartholomew of...
Profile
Born to the nobility, his family moved to Radonezh to escape attack against the city of Rostov, losing their fortune and becoming peasants in the process. Following the deaths of his parents, Sergius and his brother Stephen became hermits at Makovka in 1335, then each left separately to become a monk. As Sergius's reputation for holiness spread, he attracted so many students that he founded the Holy Trinity monastery for them; following his ordination at Pereyaslav Zalesky, he served as its first abbot. His brother joined the monastery, but when he opposed Sergius's strict rule, Sergius left the community to live again as a hermit. However, the monastery began to decline, causing the metropolitan of Moscow to order Sergius to return as abbot. Advisor to the Prince of Moscow, he encourged the campaign that ended with the Battle of Kulikovo in 1380 which ended the Mongol domination of Russia. In the Russia that followed he founded forty monasteries. Late in life he resigned his position and retired to live his last few months as a prayerful monk. He is venerated as the foremost saint of Russia.
Born
c.1314 near Rostov, Yaroslavl Oblast, Russia as Bartholomew of Radonezh
Died
25 September 1392 at the Trinity Lavra of Saint Sergius of natural causes
Canonized
1449 by Pope Nicholas V
Readings
O God, whose blessed Son became poor that we through his poverty might be rich: Deliver us from an inordinate love of this world, that we, inspired by the devotion of your servant Sergius of Moscow, may serve you with singleness of heart, and attain to the riches of the age to come; through Jesus Christ our Lord, who lives and reigns with you and the Holy Spirit, one God, for ever and ever.
http://catholicsaints.info/saint-sergius-of-moscow/
---
Blessed Herman the Cripple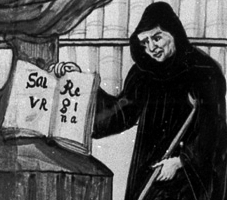 Also known as
• Herman Contractus
• Herman of Reichenau
• Herman the Lame
• Ermanno...
Profile
Born with a cleft palate, cerebral palsy, and spina bifida to a farm family. His parents cared for him until the age of seven, but in 1020 they gave him over to the abbey of Reichenau Island in Lake Constance in southern Germany; he spent the rest of his life there. He became a Benedictine monk at age twenty. A genius, he studied and wrote on astronomy, theology, math, history, poetry, Arabic, Greek, and Latin. He built musical instruments, and astronomical equipment. In later life he became blind, and had to give up his academic writing. The most famous religious poet of his day, he is the author of Salve Regina and Alma Redemptoris Mater.
Born
18 February 1013 at Altshausen, Swabia (in modern Germany)
Died
21 September 1054 at Reichenau abbey, Germany of natural causes
Beatified
1863 by Pope Pius IX (cultus confirmed)
Readings
Hail, Holy Queen, Mother of Mercy. Hail my life, my sweetness and my hope! To you do we cry, poor banished children of Eve! To you do we send up our sighs; mourning and weeping in this vale of tears! Turn, most gracious Advocate, your eyes of mercy toward me, and after this, our exile, show to us the blessed fruit of your womb, Jesus Christ! Clement, loving, sweet Virgin Mary! Amen. - Blessed Herman
Video
http://catholicsaints.info/blessed-herman-the-cripple/
---
Saint Ceolfrid
Also known as
Ceolfrith, Ceufrey, Gaufrid, Geoffrey, Geoffroy, Geofroi, Gioffredo, Godefrid, Godefridus, Godfrey, Goffredo, Goffrey, Gofrido, Gotfrid, Gottfried, Jeffrey
Profile
Saxon Northumbrian noble. Benedictine monk at Gilling, North Yorkshire, then at Ripon, England where he served as cook. Ordained at age 27 at Ripon. He was well-educated, but had trouble with practical matters of administration. Prior at Wearmouth, but was too strict, and was removed for the good of the house. Accompanied Saint Benedict Biscop to Rome, Italy in 678. Deputy abbot of Saint Paul's monastery, Wearmouth-Jarrow, England in 685. He and a single student were the only survivors in his house during a regional plague outbreak. Abbot in 690. Turned the monasteries into a cultural center. Ordered the production of the Codex Amatianus, the oldest known single-volume copy of the entire Vulgate Bible, and was taking it to Rome when he died. Trained the Venerable Bede.
Born
642 in Northumbria, England
Died
• 25 September 716 at Longres, Champagne, France of natural causes while en route to Rome, Italy
• relics later returned to Jarrow
http://catholicsaints.info/saint-ceolfrid/
---
Saint Finbar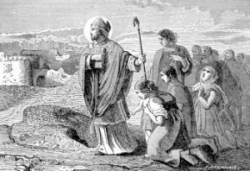 Also known as
Bairre, Barr, Barrocus, Finbarr, Findbar, Finnbarr, Fionnbharr, Lochan, Finbarro
Profile
Son of an artisan named Amergin and a lady of the Irish royal court. Educated at Kilmacahil monastery, Kilkenny, Ireland. He had very light hair, which led to the nickname Fionnbharr, "white hair". Made multiple pilgrimages to Rome, Italy, visiting Saint David of Wales on one trip. Preached throughout southern Ireland, and possibly in Scotland. Hermit on a small island at Lough Eiroe and at Gougane Barra. Founded a school at Eirce, Ireland. Founded a monastery on the river Lee; it developed into the city of Cork, Ireland. First bishop of Cork. Extravagant miracles were attributed to him. Legend says that the sun did not set for two weeks after his death.
Born
c.550 at Connaught, Ireland as Lochan
Died
• 25 September 623 at Cloyne, Ireland of natural causes
• interred in the cathedral at Cork, Ireland
Patronage
• Cork, Ireland, diocese of
• Barra, Scotland
• Cork, Ireland, city of
http://catholicsaints.info/saint-finbar/
---
Saint Firminus of Amiens

Also known as
Farmin, Firmin, Firmins, Firmino, Fermin
Profile
Son of a Roman senator. Converted to Christianity by Saint Saturninus. Ordained by Saint Honestus at Toulouse, France. Missionary to France. First bishop of Amiens at age 24. Martyred at age 31.
Born
c.272 at Pamplona, Spain
Died
• beheaded 25 September 303 in Amiens, France
• most relics still in Amiens, France
• some relics translated to Pamplona, Spain in 1196
Patronage
• Amiens, France, city of
• Amiens, France, diocese of
• Lesaka, Spain
• Navarre, Spain
• Pamplona, Spain
http://catholicsaints.info/saint-firminus-of-amiens/
---
Saint Anacharius of Auxerre
Also known as
Aunacharius, Aunachaire, Aunaire, Aunarius, Aunacary, Anacario
Profile
Born to the 6th-century nobility. Educated at the court of King Guntram of Burgundy. Spiritual student of Saint Syagrius of Autun. Bishop of Auxerre, France in 572. Attended the Council of Paris in 573 and the Council of Macon in 583. Supported the praying of the Breviary and the Litany of the Saints.
Born
573 near Orleans, France
Died
• 603 of natural causes
• buried at Auxerre, France
• relics enshrined in a gold chest
• most relics destroyed by Huguenots in 1567, but a small portion were saved, having been hidden in the hollow pillar of a crypt
http://catholicsaints.info/saint-anacharius-of-auxerre/
---
Blessed Marco Criado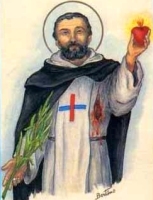 Profile
Known as a clever and intelligent youth. Joined the Trinitarians in 1536. Studied in Andujar, Spain. Priest. Preacher in the areas of Almeria and Granada, both to Christian and Muslims. Martyred by Moors.
Born
25 April 1522 in Andujar, Spain
Died
stoned to death on 25 September 1569 in near La Peza, Spain
Beatified
24 July 1899 by Pope Leo XIII (cultus confirmation)
http://catholicsaints.info/blessed-marco-criado/
---
Saint Neomisia of Mecerata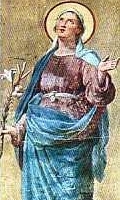 Profile
Pilgrim to Palestine and then to Rome, Italy. Abused for her faith by pagans in Capua, Italy, but managed to escape under cover of a thunderstorm.
Died
Macerata, Italy
http://catholicsaints.info/saint-neomisia-of-mecerata/
---
Saint Aurelia of Macerata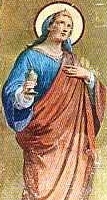 Profile
Pilgrim to Palestine and then to Rome, Italy. Abused for her faith by pagans in Capua, Italy, but managed to escape under cover of a thunderstorm.
Died
Macerata, Italy
http://catholicsaints.info/saint-aurelia-of-macerata/
---
Saint Principius of Soissons
Profile
Born to the Gallo-Roman nobility, the son of Emilius, count of Laon, and of Saint Celina; elder brother of Saint Remigius of Rheims. Bishop of Soissons, France.
Died
c.505
http://catholicsaints.info/saint-principius-of-soissons/
---
Saint Solemnis of Chartres
Also known as
Soleine of Chartres
Profile
Brother of Saint Aventinus of Chartres. Bishop of Chartres, France from c.490.
Died
c.511 of natural causes
http://catholicsaints.info/saint-solemnis-of-chartres/
---
Saint Ermenfridus of Luxeuil
Also known as
Ermenfridus of Cusance
Profile
Monk of Luxeuil Abbey in France. Founded a monastery in Cusance, France.
Died
c.670
http://catholicsaints.info/saint-ermenfridus-of-luxeuil/
---
Saint Paphnutius of Alexandria
Profile
Father of Saint Euphrosyne of Alexandria. Later in life he became a monk and then abbot.
Died
480 of natural causes
http://catholicsaints.info/saint-paphnutius-of-alexandria/
---
Saint Caian of Tregaian
Also known as
Gaian, Cajan
Profile
Fifth-century son or grandson of King Brychan of Brecknock. A church at Tregaian, Wales is dedicated to him.
http://catholicsaints.info/saint-caian-of-tregaian/
---
Saint Herculanus the Soldier
Profile
Second century imperial Roman soldier. Converted by Pope Saint Alexander I, and martyred soon after.
http://catholicsaints.info/saint-herculanus-the-soldier/
---
Saint Egelred of Crowland
Profile
Monk at Crowland Abbey in England. Martyred by pagan Danish invaders.
Died
c.869
http://catholicsaints.info/saint-egelred-of-crowland/
---
Saint Fymbert
Profile
Seventh-century bishop in western Scotland, consecrated by Saint Gregory the Great. Noted for his care of the poor and oppressed in his flock.
http://catholicsaints.info/saint-fymbert/
---
Saint Mewrog
Profile
A saint in Wales.
http://catholicsaints.info/saint-mewrog/
---
Martyrs of Damascus
Profile
A Christian family of six who were tortured to death in a persecution by Roman authorities. They were: Eugenia, Maximus, Paul, Rufus, Sabinian and Tatta.
Died
tortured to death in Damascus, Syria, date unknown
http://catholicsaints.info/martyrs-of-damascus-25-september/
---
Holy Bishops of Milan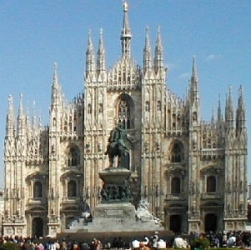 About
Commemorates all the holy men who have served as this bishop the ancient diocese, and sometimes city-state, of Milan, Italy. They include

• Blessed Alfredo Ildefonso Schuster
• Blessed Andrea Carlo Ferrari
• Pope Pius XI
• Saint Ambrose of Milan
• Saint Ampelius of Milan
• Saint Anathalon of Milan
• Saint Antoninus of Milan
• Saint Auxanus of Milan
• Saint Benedict Crispus of Milan
• Saint Benignus of Milan
• Saint Calimerius of Milan
• Saint Castritian of Milan
• Saint Charles Borromeo
• Saint Datius of Milan
• Saint Dionysius of Milan
• Saint Eugene of Milan
• Saint Eusebius of Milan
• Saint Eustorgius II of Milan
• Saint Eustorgius of Milan
• Saint Gaius of Milan
• Saint Galdinus of Milan
• Saint Geruntius of Milan
• Saint Glycerius of Milan
• Saint Honoratus of Milan
• Saint John Camillus the Good
• Saint Lazarus of Milan
• Saint Magnus of Milan
• Saint Mansuetus of Milan
• Saint Marolus of Milan
• Saint Martinian of Milan
• Saint Mirocles of Milan
• Saint Mona of Milan
• Saint Natalis of Milan
• Saint Protasius of Milan
• Saint Senator of Milan
• Saint Simplician of Milan
• Saint Venerius of Milan
http://catholicsaints.info/archdiocese-of-milan-italy/
---
Martyred in the Spanish Civil War
Thousands of people were murdered in the anti-Catholic persecutions of the Spanish Civil War from 1934 to 1939. I have pages on each of them, but in most cases I have only found very minimal information. They are available on the CatholicSaints.Info site through these links:
• Blessed Jose María Bengoa Aranguren
• Blessed Josep Maria Vidal Segú
• Blessed Juan Agustín Codera Marqués
• Blessed Julio Esteve Flors
• Blessed Pedro Leoz Portillo
• Blessed Rafael Pardo Molina
• Blessed Tomás Gil de La Cal
---
Also celebrated but no entry yet
• Our Lady of San Nicolás
• Beatrice of Castille
• Ermengarda
• Ketevan of Georgia
---
CatholicSaints.Info Portable Edition
email CatholicSaints.*
---