---
When Saint Joseph learned of our Lady's miraculous conception of Jesus without knowing its cause, did he actually doubt Mary's purity and loyalty? - Saint Matthew's Gospel merely tells us that Joseph was "minded to put her away privately." If Joseph had been convinced Mary had been unfaithful, he could not have kept her as his espoused wife without condoning adultery. The fact that he intended to put her away privately is proof enough that he was in an uncertain and painful situation. He could not keep her, so he reasoned, because he could not explain how she became pregnant. At the same time, in conscience - "being a just man" - he could not denounce her publicly because his conviction of her innocence and of her wonderful goodness would not let him believe she was guilty of sin. His perplexity shows the depths of his faith in the goodness of Mary. An unknown ancient writer expressed this thought in these words: "Joseph believed that it was more possible for a woman to conceive without a man than for Mary to be able to sin." - from Questions People Ask about Saint Joseph, by Father Francis L. Filat, S.J.
---
Franciscan Days - Saint Francis Sweeps Churches
---
Saint Frances Xavier Cabrini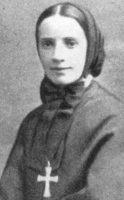 Also known as
Francesca Saverio Cabrini
Additional Memorial
13 November (in the United States)
Profile
One of thirteen children raised on a farm. She received a convent education, and training as a teacher. She tried to join the order at age 18, but poor health prevented her taking the veil. A priest asked her to teach at a girl's school, the House of Providence Orphanage in Cadagono, Italy, which she did for six years. She took religious vows in 1877, and acquitted herself so well at her work that when the orphanage closed in 1880, her bishop asked her to found the Missionary Sisters of the Sacred Heart to care for poor children in schools and hospitals. Pope Leo XIII then sent her to the United States to carry on this mission.
She and six Sisters arrived in New York in 1889. They worked among immigrants, especially Italians. Mother Cabrini founded 67 institutions, including schools, hospitals, and orphanages in the United States, Europe and South America. Like many of the people she worked with, Mother became a United States citizen during her life, and after her death she was the first US citizen to be canonized.
Born
15 July 1850 at Sant'Angelo Lodigiano, Lombardy, Italy
Died
• 22 December 1917 at Chicago, Illinois, USA of malaria
• interred at 701 Fort Washington Avenue, New York, New York, USA
Beatified
• 13 November 1938 by Pope Pius XI
• her beatification miracle involved the restoration of sight to a child who had been blinded by excess silver nitrate in the eyes
Canonized
• 7 July 1946 by Pope Pius XII
• her canonization miracle involved the healing of a terminally ill nun
Patronage
• against malaria • emigrants, immigrants (given on 8 September 1950 by Pope Pius XII) • hospital administrators • orphans
Video
Readings
We must pray without tiring, for the salvation of mankind does not depend on material success; nor on sciences that cloud the intellect. Neither does it depend on arms and human industries, but on Jesus alone. - Saint Frances Xavier Cabrini
Inspired by the grace of god, we join the saints in honoring the holy virgin Frances Xavier Cabrini. She was a humble woman who became outstanding not because she was famous or rich or powerful, but because she lived a virtuous life. From the tender years of her youth, she kept her innocence as white as a lily and preserved it carefully with the thorns of penitence; as the years progressed, she was moved by a certain instinct and supernatural zeal to dedicate her whole life to the service and greater glory of God. She welcomed delinquent youths into safe homes, and taught them to live upright and holy lives. She consoled those who were in prison, and recalled to them the hope of eternal life. She encouraged prisoners to reform themselves, and to live honest lives. She comforted the sick and the infirm in the hospitals, and diligently cared for them. She extended a friendly and helping hand especially to immigrants, and offered them necessary shelter and relief, for having left their homeland behind, they were wandering about in a foreign land with no place to turn for help. Because of their condition, she saw that they were in danger of deserting the practice of Christian virtues and their Catholic faith. Undoubtedly she accomplished all this through the faith which was always so vibrant and alive in her heart; through the divine love which burned within her; and finally, through constant prayer by which she was so closely united with God from whom she humbly asked and obtained whatever her human weakness could not obtain. Although her constitution was very frail, her spirit was endowed with such singular strength that, knowing the will of God in her regard, she permitted nothing to impede her from accomplishing what seemed beyond her strength. - from a homily at the Canonization of Saint Frances Xavier Cabrini by Pope Pius XII
https://catholicsaints.info/saint-frances-xavier-cabrini/
---
Blessed Jutta of Disibodenberg
Also known as
• Jutta of Spamheim
• Jutta of Sponheim
• Judith...
Profile
Born to the German nobility, the sister of Count Megenhard of Spanheim. On 1 November 1106 she took up life as a hermitess, living in a small house near the Disibodenberg Abbey of Saint Disibod in the Rhineland (in modern Germany). She taught local children for a living, including Saint Hildegard of Bingen much of whose great learning can be attributed to Jutta. Jutta gained a reputation for spirituality and devotion to God, and attracted many young female followers who grew into a Benedictine convent. Jutta served as their abbess from 1116 until her death 20 years later, at which point Saint Hildegard took over.
Born
c.1084 in Spanheim, Rhineland-Palatinate (in modern Germany)
Died
• 22 December 1136 at Disibodenberg Abbey, Germany of natural causes
• many miracles reported at her grave
Representation
• Benedictine nun with two angels
• Benedictine nun with a burning lamp over her
• Benedictine nun surrounded by tongues of fire
https://catholicsaints.info/blessed-jutta-of-disibodenberg/
---
Blessed Thomas Holland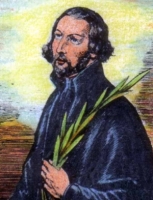 Also known as
• Thomas Sanderson
• Thomas Hammond
Profile
Apparently the son of Richard Holland, a landed gentleman. Studied at Saint Omer, France, and Valladolid, Spain in 1621. Jesuit novice at Watten, Flanders, Belgium in 1624. Ordained in 1624 at Liège, Belgium. Parish priest at Ghent. Prefect of Saint Omer's. Spiritual co-adjutor at Ghent on 28 May 1634. He returned to England c.1635 to minister to covert Catholics, living on the run and using false names due to government perscution. He was skilled in disguises, spoke flawless French, Spanish, and Flemish, and could fool many. Arrested in London on 4 October 1642 for the crime of priesthood. He refused to cooperate with the trial proceedings, was convicted of being a priest, and sentenced to die. While awaiting execution, he ministered to other prisoners. Martyr.
Born
1600 at Sutton, Lancashire, England
Died
hanged, drawn, and quartered on 12 December 1642 at Tyburn, London, England
Beatified
15 December 1929 by Pope Pius XI
https://catholicsaints.info/blessed-thomas-holland/
---
Blessed Ottone of Toulouse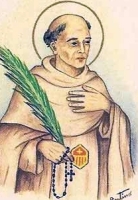 Also known as
Ottone da Tolosa
Profile
Born to the French nobilty; brother of a viscount of Narborne; uncle of the queen of Navarre. Joined the Mercedarians. Sent to Constantinople to ransom two imprisoned Mercedarian brothers, Ottone was immediately imprisoned himself. When sultan Bajazet II learned that Ottone was a member of the nobility, he had the prisoner brought to him and asked why he had not brought it up to obtain better treatment; Ottone explained that he had abandoned worldly titles to serve Christ, and began explaining Christianity. The sultan had him thrown back into his cell and then murdered. Martyr.
Died
poisoned in prison in Constantinople (modern Istanbul, Turkey) in 1493
https://catholicsaints.info/blessed-ottone-of-toulouse/
---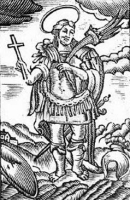 Also known as
Zenon, Zinon
Additional Memorial
28 December as one of the 20,000 Martyrs of Nicomedia
Profile
Imperial Roman soldier and regimental commander. As the emperor Diocletian offered sacrifice to a statue of the goddess Ceres, Zeno laughed at and ridiculed the whole procedure. His jaw was shattered for having spoken, and he then was martyred for his sentiment.
Died
beheaded in 303 in Nicomedia, Bithynia (modern Izmit, Turkey)
https://catholicsaints.info/saint-zeno-of-nicomedia/
---
Saint Flavian of Acquapendente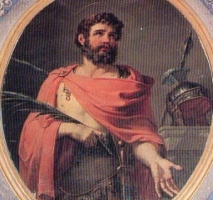 Profile
Father of Saint Bibiana and Saint Demetria; married to Saint Dafrosa of Acquapendente. A former prefect of imperial Rome. Julian the Apostate had him branded on the forehead as a slave for remaining loyal to his faith. Exiled to Acquapendente, Tuscany, Italy. Martyr.
Died
• 362 at Acquapendente, Italy of the results of torture and abuse
• he collapsed and died while in prayer
https://catholicsaints.info/saint-flavian-of-acquapendente/
---
Saint Chaeremon of Nilopolis
Also known as
Chaerymon of Nilopolis
Profile
Bishop of Nilopolis, Egypt, a small island in the middle of the River Nile south of Memphis. He was a very old man when the persecutions of Decius began in 250. To escape, Charemon fled into the desert and was never seen again. Considered a martyr as he died due to fleeing persecution of the faith.
Died
c.250 of of unknown causes while in exile
https://catholicsaints.info/saint-chaeremon-of-nilopolis/
---
Blessed Adam of Saxony
Also known as
Adam of Loccum
Profile
Benedictine Cistercian priest. Sacristan at the Cistercian Loccum Abbey in Saxony (modern Hanover, Germany. Noted for his strong devotion to the Blessed Virgin Mary; he is reported to have received visions of her, received two miraculous healings, and been a miracle worker.
Born
12th century
Died
c.1210 of natural causes
https://catholicsaints.info/blessed-adam-of-saxony/
---
Saint Hunger of Utrecht
Also known as
Hungerus Frisus
Profile
Priest. Bishop of Utrecht, Netherlands in 856. He fled to Roermond, then Deventer in the Netherlands, and finally Prum, Germany to escape the Norman invasion; he spent his last days in exile in Prum.
Died
866 at Prum, Germany of natural causes
https://catholicsaints.info/saint-hunger-of-utrecht/
---
Blessed Bertheid of Münster
Profile
Raised in a pious family; her brother became Bishop Hermann I of Münster, Germany. Nun. Abbess of Liebfrauenpfarrei which ran a school for girls born to the nobility.
Died
22 December 1042 in Münster, Germany
https://catholicsaints.info/blessed-bertheid-of-munster/
---
Saint Abban of New Ross
Also known as
Abhan, Evin, Ewin, Neville, Nevin, Stephen
Profile
Founded Ros-mic-treoin abbey (modern New Ross), and evangelized in the area of Wexford, Ireland.
Born
Irish
Died
at Wexford, Ireland of natural causes
https://catholicsaints.info/saint-abban-of-new-ross/
---
Saint Amaswinthus of Málaga
Also known as
Amaswinthus of Silva
Profile
Monk and abbot for 42 years at Silva de Málaga at Andalusia, southern Spain.
Died
982
https://catholicsaints.info/saint-amaswinthus-of-malaga/
---
Saint Honoratus of Toulouse
Also known as
Onorato
Profile
Third century bishop of Toulouse, France. Ordained Saint Firminus II.
Born
Spanish Navarre
https://catholicsaints.info/saint-honoratus-of-toulouse/
---
Saint Athernaise of Fife
Also known as
• Athernaise the Silent
• Ethernascus
• Ithernaisc
Profile
Confessor of the faith in Fife, Scotland.
https://catholicsaints.info/saint-athernaise-of-fife/
---
Martyrs of Ostia
Profile
A group of Christians martyred together. The only details about them to survive are three names - Demetrius, Florus and Honoratus.
Died
at Ostia, Italy
https://catholicsaints.info/martyrs-of-ostia-22-december/
---
Martyrs of Rhaitu
Profile
43 monks martyred by Blemmyes.
Died
Raíthu, Egypt, date unknown
https://catholicsaints.info/martyrs-of-rhaitu/
---
Martyrs of Via Lavicana
Profile
A group of 30 Christians martyred together in the persecutions of Diocletian.
Died
• c.303 in Rome, Italy
• buried between two bay trees on the Via Lavicana outside Rome
https://catholicsaints.info/martyrs-of-via-lavicana/
---
Also celebrated but no entry yet
• Eimhin of Rosglas
• Ernan the Younger
---
CatholicSaints.Info Portable Edition
email CatholicSaints.*
---