The Principal Catholic Practices, by Father George Thomas Schmidt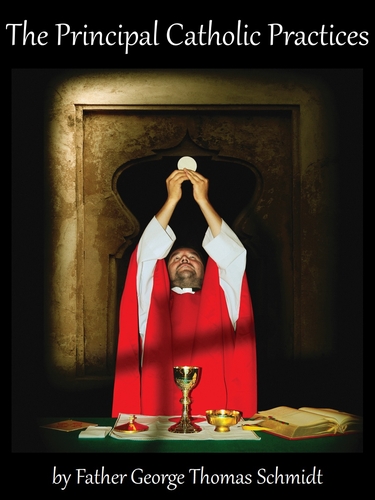 Chapter 1 - The First and Most Necessary Sacrament
Chapter 2 - Soldiers of the King
Chapter 3 - Going to Confession
Chapter 4 - Attending Mass
Chapter 5 - Invited by the King
Chapter 6 - A Great Sacrament
Chapter 7 - Care of the Sick
Chapter 8 - The Bridge-Builders
Chapter 9 - The Sacramentals
Chapter 10 - The Perennial Bugaboo
Chapter 11 - Spiritual Flowers for the Dead
Chapter 12 - Our Mother
Chapter 13 - The Thermometer of Christianity
Chapter 14 - The Benediction Ineffable
Chapter 15 - The Way of the Cross
Chapter 16 - A Remedy for a Sick World
-
-
The text of this ebook is taken from The Principal Catholic Practices: A Popular Explanation of the Sacraments and Catholic Devotions by Father George Thomas Schmidt, published by Benziger Brothers in 1920.
The book has the Imprimatur of Cardinal Patrick Joseph Hayes, Archbishop of New York, New York, 22 April 1920.
The cover image is a detail of the photograph 'El capellán' (The chaplain) by Germán Gaviria Mesa, 2011; it is part of the series Dios y Patria, a collection of photos in honour of the police and military of Colombia, and was swiped from Wikimedia Commons.