Patrons of Teachers
• Saint Cassian of Imola • Saint Catherine of Alexandria • Saint Francis de Sales • Pope Saint Gregory the Great • Saint John Baptist de La Salle • Saint Joseph • Saint Nicholas of Myra • Saint Ursula •
---
Saint Cassian of Imola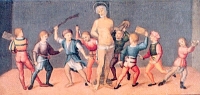 Memorial
13 August
Profile
Schoolmaster at Imola, Italy who taught writing. During one of the imperial persecutions he was ordered to sacrifice to pagan gods; he refused. He was turned over to his pagan students who stabbed him to death with their iron styles, the device used as a pencil on wax tablets.
Died
• tortured and stabbed to death at Imola, Italy in the 4th century
• relics at Imola, Italy
Patronage
• students
• teachers
• diocese of Bolzano-Bressanone, Italy
• diocese of Brixen, Italy
• Mexico City, Mexico
• 4 cities in Italy
Representation
• man being stabbed by children
• paper
• pen
• writing instruments
http://catholicsaints.info/saint-cassian-of-imola/
---
Saint Catherine of Alexandria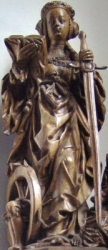 Also known as
Katherine, Ekaterina, Katharina, Katarina
Memorial
• 25 November
• 24 November in Orthodox churches of Russian background
Profile
Apocryphal. Born to the nobility. Learned in science and oratory. Converted to Christianity after receiving a vision. When she was 18 years old, during the persecution of Maximinus, she offered to debate the pagan philosophers. Many were converted by her arguments, and immediately martyred. Maximinus had her scourged and imprisoned. The empress and the leader of the army of Maximinus were amazed by the stories, went to see Catherine in prison. They converted and were martyred. Maximinus ordered her broken on the wheel, but she touched it and the wheel was destroyed. She was beheaded, and her body whisked away by angels.
Immensely popular during the Middle Ages, there were many chapels and churches devoted to her throughout western Europe, and she was reported as one of the divine advisors to Saint Joan of Arc. Her reputation for learning and wisdom led to her patronage of libaries, librarians, teachers, archivists, and anyone associated with wisdom or teaching. Her debating skill and persuasive language has led to her patronage of lawyers. And her torture on the wheel led to those who work with them asking for her intercession. One of the Fourteen Holy Helpers.
While there may well have been a noble, educated, virginal lady who swayed pagans with her rhetoric during the persecutions, the accretion of legend, romance and poetry has long since buried the real Catherine.
Died
beheaded c.305 in Alexandria, Egypt
Patronage
• apologists • archivists • attornies • barristers • craftsmen who work with a wheel • dying people • educators • girls • jurists • knife grinders • knife sharpeners • lawyers • librarians • libraries • maidens • mechanics • millers • nurses • old maids • philosophers • potters • preachers • scholars • schoolchildren • scribes • secretaries • spinners • stenographers • students • tanners • teachers • theologians • turners • unmarried girls and women • wheelwrights

• Dumaguete, Philippines, diocese of
• Saint Catharines, Ontario, diocese of
• University of Heidelberg
• University of Paris
• 12 cities
Representation
• spiked wheel
• woman strapped to the spiked wheel on which she was martyred
• woman arguing with pagan philosophers
Storefront
art, medals, statues, holy cards
Video
http://catholicsaints.info/saint-catherine-of-alexandria/
---
Saint Francis de Sales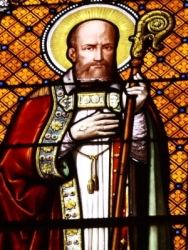 Also known as
• Francis of Sales
• Gentle Christ of Geneva
• the Gentleman Saint
• Franz von Sales
Memorials
• 24 January
• 23 January (Anglican Church in Wales)
Profile
Born in the castle of Château de Thorens to a well-placed Savoyard family, the eldest of twelve children born to François de Boisy and Françoise de Sionnz. His parents intended that Francis become a lawyer, enter politics, and carry on the family line and power. He studied at La Roche and Annecy in France, taught by Jesuits. Attended the Collège de Clermont in Paris, France at age 12. In his early teens, Francis began to believe in pre-destination, and was so afraid that he was pre-emptorily condemned to Hell that he became ill and eventually was confined to bed. However, in January 1587 at the Church of Saint Stephen, he overcame the crisis, decided that whatever God had in store for him was for the best, and dedicated his life to God.
Studied law and theology at the University of Padua, Italy, and earned a doctorate in both fields. He returned home, and found a position as Senate advocate. It was at this point that he received a message telling him to "Leave all and follow Me." He took this as a call to the priesthood, a move his family fiercely opposed, especially when he refused a marriage that had been arranged for him. However, he pursued a devoted prayer life, and his gentle ways won over the family.
Priest. In 1593 he was appointed provost of the diocese of Geneva, Switzerland, a stronghold of Calvinists. Preacher, writer and spiritual director in the district of Chablais. His simple, clear explanations of Catholic doctrine, and his gentle way with everyone, brought many back to the Roman Church. He even used sign language in order to bring the message to the deaf, leading to his patronage of deaf people.
Bishop of Geneva in 1602. He travelled and evangelized throughout the Duchy of Savoy, working with children whenever he could. Friend of Saint Vincent de Paul. He turned down a wealthy French bishopric to continue working where God had placed him. With Saint Jeanne de Chantal he helped found the Order of the Visitation . A prolific correspondent, many of his letters have survived.
The value of his writings led to his being declared a Doctor of the Church by Pope Blessed Pius IX in 1877, and a patron of writers and journalists by Pope Pius XI in 1923. The Salesians of Don Bosco, the Oblates of Saint Francis de Sales, and the Missionaries of Saint Francis de Sales are named in his honour as is the Saint François Atoll in the Seychelles Islands.
Born
21 August 1567 at Château de Thorens, Savoy (part of modern France)
Died
• 28 December 1622 at Lyon, France of natural causes
• buried at the basilica of the Visitation, Annecy, France
• his heart was preserved as a relic at Lyon
• during the French Revolution his heart was was moved to Venice, Italy
Canonized
19 April 1665 by Pope Alexander VII
Patronage
• against deafness
• authors, writers (proclaimed on 26 April 1923 by Pope Pius XI)
• Catholic press
• confessors
• deaf people
• journalists (proclaimed on 26 April 1923 by Pope Pius XI)
• teachers, educators
• Champdepraz, Aosta, Italy
• 8 dioceses
Representation
• bald man with a beard wearing the robes of a bishop while holding a book, and with his heart pierced with thorns
• bald man with a beard wearing the robes of a bishop while holding a picture of the Virgn Mary
• crown of thorns
• heart of Jesus
Storefront
Video
Readings
Nothing makes us so prosperous in this world as to give alms. - Saint Francis de Sales
It is to those who have the most need of us that we ought to show our love more especially. - Saint Francis de Sales
Let us run to Mary, and, as her little children, cast ourselves into her arms with a perfect confidence. - Saint Francis de Sales
We must fear God out of love, not love Him out of fear. - Saint Francis de Sales
http://catholicsaints.info/saint-francis-de-sales/
---
Pope Saint Gregory the Great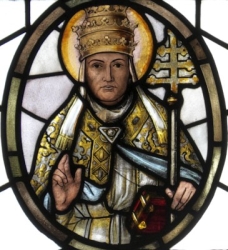 Also known as
• Gregory I
• Gregory Dialogos
• Gregory the Dialogist
• Father of the Fathers
Memorial
• 3 September (primary, based on his ascension to the papacy)
• 12 March (in Rome, Italy at his grave in Saint Peter?s Basilica)
Profile
Son of Gordianus, a Roman regionarius, and Saint Silvia of Rome. Nephew of Saint Emiliana and Saint Tarsilla. Great-grandson of Pope Saint Felix III. Educated by the finest teachers in Rome, Italy. Prefect of Rome for a year, then he sold his possessions, turned his home into a Benedictine monastery, and used his money to build six monasteries in Sicily and one in Rome. Benedictine monk. Upon seeing English children being sold in the Roman Forum, he became a missionary to England.
Elected 64th Pope by unanimous acclamation on 3 September 590, the first monk to be chosen. Sent Saint Augustine of Canterbury and a company of monks to evangelize England, and other missionaries to France, Spain, and Africa. Collected the melodies and plain chant so associated with him that they are now known as Gregorian Chants. One of the four great Doctors of the Latin Church. Wrote seminal works on the Mass and Divine Office, several of them dictated to his secretary, Saint Peter the Deacon.
Born
c.540 at Rome, Italy
Papal Ascension
3 September 590
Died
12 March 604 at Rome, Italy of natural causes
Patronage
• against gout • against plague • choir boys • educators • musicians • popes • school children • singers • stone masons • stonecutters • students • teachers • the papacy

• England
• West Indies
• diocese of Legazpi, Philippines
• Order of Knights of Saint Gregory
• Kercem, Malta
• Montone, Italy
• San Gregorio nelle Alpi, Italy
Representation
• crozier
• dove
• pope working on sheet music
• pope writing
• tiara
Storefront
Video
Readings
The proof of love is in the works. Where love exists, it works great things. But when it ceases to act, it ceases to exist. - Saint Gregory the Great
If we knew at what time we were to depart from this world, we would be able to select a season for pleasure and another for repentance. But God, who has promised pardon to every repentant sinner, has not promised us tomorrow. Therefore we must always dread the final day, which we can never foresee. This very day is a day of truce, a day for conversion. And yet we refuse to cry over the evil we have done! Not only do we not weep for the sins we have committed, we even add to them.... If we are, in fact, now occupied in good deeds, we should not attribute the strength with which we are doing them to ourselves. We must not count on ourselves, because even if we know what kind of person we are today, we do not know what we will be tomorrow. Nobody must rejoice in the security of their own good deeds. As long as we are still experiencing the uncertainties of this life, we do not know what end may follow....we must not trust in our own virtues. - Saint Gregory the Great, from Be Friends of God
http://catholicsaints.info/pope-saint-gregory-the-great/
---
Saint John Baptist de La Salle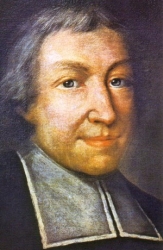 Also known as
Father of Modern Education
Memorial
7 April
Profile
Studied for the priesthood in Paris, France, but quit to care for his brothers and sisters upon the death of his parents. When his siblings were grown, John returned to seminary. Canon of Rheims, France in 1667. Ordained in 1678. Doctor of theology in 1680.
Spiritual director of the Sisters of the Holy Infant who were devoted to teaching poor girls. Founded the Institute of the Brothers of the Christian Schools (Christian Brothers) in 1681, established and supported academic education for all boys. He liquidated his personal fortune, and his Brothers expected him to use it to further his education goals, but he surprised them by saying they would have to depend on Providence. The money (about $400,000) was given away to the poor in the form of bread during the great famine of 1683-1684. Saint John kept enough to endow a salary for himself similar to that which the Brothers received so he wouldn't be a burden on them.
He instituted the process of dividing students into grades; established the first teacher's school, started high schools and trade schools, and was proclaimed the patron of all teachers of all youth by Pope Pius XII in 1950.
Born
30 April 1651 at Rheims, France
Died
7 April 1719 at Saint-Yon, Rouen, France of natural causes
Canonized
24 May 1900 by Pope Leo XIII
Patronage
• educators
• school principals
• teachers (proclaimed on 15 May 1950 by Pope Pius XII)
Video
Storefront
Readings
Be driven by the love of God because Jesus Christ died for all, that those who live may live not for themselves but for him, who died and rose for them. Above all, let your charity and zeal show how you love the Church. Your work is for the Church, which is the body of Christ. - from a meditation by John Baptist de La Salle
http://catholicsaints.info/saint-john-baptist-de-la-salle/
---
Saint Joseph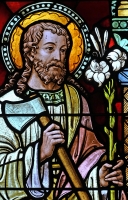 Also known as
• Joseph of Nazareth
• Joseph the Artisan
• Joseph the Betrothed

Memorials

• 19 March (Joseph, Spouse of the Blessed Virgin Mary)
• 1 May (Joseph the Worker)
• 3rd Wednesday after Easter (patronage of Saint Joseph of the Universal Church)
• 29 October (Armenian)
• 20 July (Coptic)
Profile
Descendant of the house of David. Layman. Builder by trade; traditionally a carpenter, but may have been a stone worker. Earthly spouse of the Blessed Virgin Mary. Foster and adoptive father of Jesus Christ. Visionary who was visited by angels. Noted for his willingness to immediately get up and do what God told him to do.
Died
1st century, prior to the Passion, of natural causes
Name Meaning
whom the Lord adds (Joseph)
Patronage
• against doubt • against hesitation • accountants • attornies • barristers • bursars • cabinetmakers • carpenters • cemetery workers • children • civil engineers • confectioners • craftsmen • dying people • educators • emigrants • exiles • expectant mothers • families • fathers • furniture makers • grave diggers • happy death • holy death • house hunters • immigrants • interior souls • joiners • laborers • lawyers • married people • orphans • people in doubt • people who fight Communism • pioneers • pregnant women • social justice • solicitors • teachers • travellers • unborn children • wheelwrights • workers • working people • Catholic Church • Oblates of Saint Joseph • for protection of the Church • Universal Church • Vatican II • Americas • Austria • Belgium • Bohemia • Canada • China • Croatian people • Korea • Mexico • New France • New World • Peru • Philippines • Vatican City • Viet Nam • Canadian Armed Forces • Papal States • 46 dioceses • 26 cities • states and regions
Representation
• bible
• branch
• carpenter's square
• carpenter's tools
• chalice
• cross
• hand tools
• infant Jesus
• ladder
• lamb
• lily
• monstrance
• old man holding a lily and a carpenter's tool such as a square
• old man holding the infant Jesus
• plane
• rod
Storefront
Video
Readings
He was chosen by the eternal Father as the trustworthy guardian and protector of his greatest treasures, namely, his divine Son and Mary, Joseph's wife. He carried out this vocation with complete fidelity until at last God called him, saying 'Good and faithful servant, enter into the joy of your Lord.' - from a sermon by Saint Bernardine of Siena
What emanates from the figure of Saint Joseph is faith. Joseph of Nazareth is a "just man" because he totally "lives by faith." He is holy because his faith is truly heroic. Sacred Scripture says little of him. It does not record even one word spoken by Joseph, the carpenter of Nazareth. And yet, even without words, he shows the depth of his faith, his greatness. Saint Joseph is a man of great spirit. He is great in faith, not because he speaks his own words, but above all because he listens to the words of the Living God. He listens in silence. And his heart ceaselessly perseveres in the readiness to accept the Truth contained in the word of the Living God. We see how the word of the Living God penetrates deeply into the soul of that man, that just man. And we, do we know how to listen to the word of God? Do we know how to absorb it into the depths of our human personalities? Do we open our conscience in the presence of this word? - Pope John Paul II from Daily Meditations
Saint Joseph, guardian of Jesus and chaste husband of Mary, you passed your life in loving fulfillment of duty. You supported the holy family of Nazareth with the work of your hands. Kindly protect those who trustingly come to you. You know their aspirations, their hardships, their hopes. They look to you because they know you will understand and protect them. You too knew trial, labor and weariness. But amid the worries of material life, your soul was full of deep peace and sang out in true joy through intimacy with God's Son entrusted to you and with Mary, his tender Mother. Assure those you protect that they do not labor alone. Teach them to find Jesus near them and to watch over Him faithfully as you have done. Amen. - Blessed Pope John XXIII
http://catholicsaints.info/saint-joseph/
---
Saint Nicholas of Myra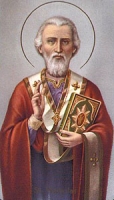 Also known as
• Nicholas of Bari
• Nicholas of Lpnenskij
• Nicholas of Lipno
• Nicholas of Sarajskij
• Nicholas the Miracle Worker
• Klaus, Mikulas, Nikolai, Nicolaas, Nicolas, Niklaas, Niklas. Nikolaus, Santa Claus
Memorials
• 6 December
• 9 May (translation of relics)
Profile
Priest. Abbot. Bishop of Myra, Lycia (modern Turkey). Generous to the poor, and special protector of the innocent and wronged. Many stories grew up around him prior to his becoming associated with Santa Claus. Some examples
• Upon hearing that a local man had fallen on such hard times that he was planning to sell his daughters into prostitution, Nicholas went by night to the house and threw three bags of gold in through the window, saving the girls from an evil life. These three bags, gold generously given in time of trouble, became the three golden balls that indicate a pawn broker's shop.
• He raised to life three young boys who had been murdered and pickled in a barrel of brine to hide the crime. These stories led to his patronage of children in general, and of barrel-makers besides.
• Induced some thieves to return their plunder. This explains his protection against theft and robbery, and his patronage of them - he's not helping them steal, but to repent and change. In the past, thieves have been known as Saint Nicholas' clerks or Knights of Saint Nicholas.
• During a voyage to the Holy Lands, a fierce storm blew up, threatening the ship. He prayed about it, and the storm calmed - hence the patronage of sailors and those like dockworkers who work on the sea.
Died
• c.346 at Myra, Lycia (in modern Turkey) of natural causes
• relics believed to be at Bari, Italy
Patronage
• against fire • against imprisonment • against robberies • against robbers • against storms at sea • against sterility • against thefts • altar servers • archers • boys • brides • captives • children • choir boys • happy marriages • lawsuits lost unjustly • lovers • maidens • penitent murderers • newlyweds • paupers • pilgrims • poor people • prisoners • scholars • schoolchildren, students • penitent thieves • spinsters • travellers • unmarried girls • apothecaries • bakers • bankers • barrel makers • boatmen • boot blacks • brewers • butchers • button makers • candle makers • chair makers • cloth shearers • coopers • dock workers • druggists • educators • farm workers, farmers • firefighters • fish mongers • fishermen • grain merchants • grocers • grooms • hoteliers • innkeepers • judges • lace merchants • lawyers • linen merchants • longshoremen • mariners • merchants • millers • notaries • parish clerks • pawnbrokers • perfumeries • perfumers • pharmacists • poets • ribbon weavers • sailors • ship owners • shoe shiners • soldiers • spice merchants • spinners • stone masons • tape weavers • teachers • toy makers • vintners • watermen • weavers • Greek Catholic Church in America • Greek Catholic Union • Varangian Guard • Germany • Greece • Russia • 3 dioceses • 78 cities •
Representation
• anchor
• bishop calming a storm
• bishop holding three bags of gold
• bishop holding three balls
• bishop with three children
• bishop with three children in a tub at his feet
• purse
• ship
• three bags of gold
• three balls
• three golden balls on a book
• boy in a boat
Storefront
Video
http://catholicsaints.info/saint-nicholas-of-myra/
---
Saint Ursula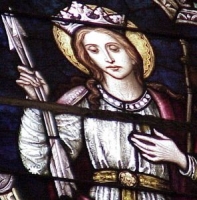 Profile
Legendary princess, the daughter of a Christian British king and Saint Daria. She travelled Europe in company of either 11 or 11,000 fellow maidens; the 11,000 number probably resulted from a misreading of the term "11M" which indicated 11 Martyrs, but which a copyist took for a Roman numeral. Ursula and her company were tortured to death to get them to renounce their faith, and old paintings of them show many of the women being killed in various painful ways. Namesake for the Ursuline Order, founded for the education of young Catholic girls and women.
There are other saints closely associated with Ursula and her story -
travelling companions who were martyred with her
• Agnes of Cologne
• Antonia of Cologne
• Calamanda of Calaf
• Cesarius of Cologne
• Cordula
• Cunigunde of Rapperswil
• Cyriacus of Cologne
• Fiolanus of Lucca
• Ignatius of Cologne
• James of Antioch
• Mauritius of Cologne
• Martha of Cologne
• Odilia
• Pontius of Cologne
• Sulpitius of Ravenna
• Vincent of Cologne
travelling companion, but escaped the massacre
• Cunera
led by a dove to the lost tomb of Ursula
her mother
• Daria
Died
21 October 238 in Cologne, Germany
Patronage
• British Virgin Islands
• Catholic education (especially of girls)
• Cologne, Germany
• educators
• holy death
• schoolchildren
• students
• teachers
• University of Paris
Representation
• arrow
• banner
• cloak
• clock
• ship
• young woman shot with arrows, often accompanied by a varied number of companions, male and female, who are being martyred in assorted, often creative ways
Video
Storefront
http://catholicsaints.info/saint-ursula/
---