On the Uncertainty of the State of Grace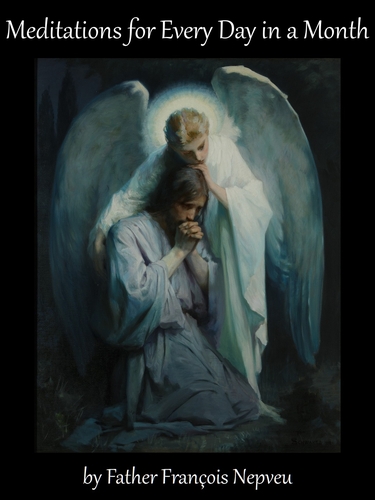 First Point - Nothing is more humiliating to us than our uncertainty of the state of grace. No one knows, says the Holy Spirit, whether he be worthy of love or of hatred. Ah, how great should be my fear! If so great a saint as Saint Bernard feared, how much more should we fear, since we are great sinners! The just no less than sinners share in this terrible uncertainty, but not in the same manner; for the fear of sinners is well founded, while the fear of the just is a holy fear and springs from their humility. Although sinners believe that by repentance they can regain the grace that they have lost, yet their frequent relapses into the same sins ought to dispel that belief. One has not entirely recovered from a malady into which one constantly falls again. We can hardly believe that we have received sacramental grace when we perceive no effects of it.
Second Point - Even the most just man can not be perfectly sure that he is in the state of grace. Although he relies on the mercy of God and the efficacy of the sacraments, he has always reason to fear. On what can he base his certitude? On evidence? That is impossible because grace, whether it be regarded in its source, in itself, or in its effects, not being sensible, can not be obviously known to us who depend, to so great an extent, on our senses for cognition. Can the assurance of the sinner be founded on faith? Now faith teaches us that we can not be assured of the state of grace without revelation. There are certain marks, it is true, whereby we can judge whether or not we are in the state of grace, but these marks are not infallible; thus we always have grounds for fear and humility. How terrible is this uncertainty, O Lord, and how overwhelming it would be, if Thou didst not uphold me!
Third Point - Who had more reason to be assured of the state of grace than Saint Paul? Should not his transports to the third heaven, his zeal for the glory of God, his sufferings and his ardent love for Jesus Christ, have assured him of the state of grace? Yet he says: "I am not conscious to myself of anything, yet am I not hereby justified" (1 Corinthians 4:4). Why did his fear seem to him so well founded? Because he knew it was God who would judge him. Who then, however fervent and holy he may be, will dare be assured that he is in the state of grace? It is only a holy fear that can give us any assurance.
Be humble at the thought of the uncertainty of the state of grace, but do not let this thought discourage you.
Man knoweth not whether he be worthy of love or hatred. - Ecclesiastes 9:1
This passage of the Scriptures which teaches me that no one knows whether he be worthy of love or hatred appears ter rible to me; I never read it without fear. - Saint Bernard of Clairvaux
- text taken from , by Father François Nepveu