Consecration to Mary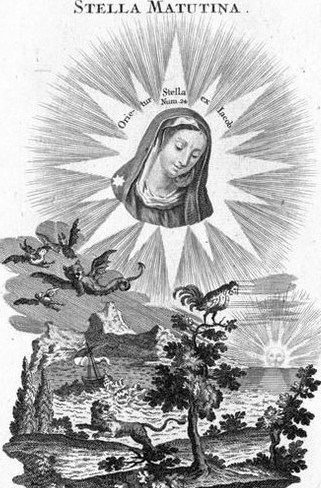 It is impossible for any one on whom you look to perish, O Mary! - Saint Anselm
Behold, then, this month of grace and benediction come to a conclusion! Do the effects correspond with the resolution so generously formed at its commencement, of passing it in fervour? Thank Mary, your fidelity is a gift of her love. Have you to accuse yourself of tepidity? Let your confusion surpass in some measure your negligence; Mary will not despise a contrite and humble heart. With Jesus and Mary good days have no end. If we desire it, the end of this month will be the beginning of a life of love and devotedness to this divine Mother, and though you cease to assemble daily at her feet, you will erect an altar in your heart whereon you will offer her the incense of prayer and praise every day of your life.
But it may be that, feeling your own weakness so frequently experienced, you say, in the bitterness of your soul - "Already many times have I begun - promised Mary to love her, to pray to her, to imitate her, and sad experience has convinced me of the fruitlessness of my promises, my repentance. I deceive God, or rather, I deceive myself." Do you desire to secure your fidelity, take Mary as a guarantee; consecrate to her to-day irrevocably all you are, retain nothing for yourself, make her a generous surrender of your entire being; adopt the salutary custom of renewing every morning this act of consecration in a few words, and you will see that what she keeps is well kept, if her inheritance is not with the Saints, if they with whom she journeys can ever weary in the way of her love.
Act of Consecration to the Blessed Virgin
O Mary, my Mother, I know that those who hope in you are never confounded. The bitter waters of tribulation may pass over their head, yet are they not engulfed therein; they may dwell amid the devouring flames of the Babylonian furnace, but are not consumed; alone they may be without strength or virtue, but no sooner do they become devoted to you than their energies are transformed, you indue them with your own strength, and they soar like eagles, never wearying in the paths of salvation. Penetrated with the sentiment of my own misery and inconstancy, I lift my eyes to you, O Mary! To you do I stretch out my hands, in your powerful protection put my trust; only espouse my cause and I shall no longer have to blush at my weakness, nor shall my enemies deride the fruitlessness of my efforts. O my Mother, I desire that, in defending my soul, you may henceforth be defending your own property, your own inheritance. Therefore 1 pray you to accept the entire, irrevocable consecration 1 make you of my whole being for time and eternity. I consecrate to your maternal and immaculate Heart my body, heart, soul, and mind, my life here and hereafter. I desire that henceforth there may be nothing in me which is not immolated to your praise.
O Mary! may your name be the first to rise to my lips in temptation; may love and remembrance of you be my solace in pain and suffering; may they be to me a substitute for all the vain joys of this world. For you let me labour, for you suffer; let nothing be agreeable to me without you, O Mary! May each instant of my life be a reiterated appeal to your protection, and a protestation of the love with which I fain would burn for you. May I live and die in your arms, and rejoice for ever with you for the glory to which you are elevated. O Mary! Daughter of the Father, Mother of the Son, Spouse of the Holy Ghost, and yet no less my Mother.
Aspiration
My heart is no longer mine, my heart is Mary's.
Practice
It seems as though we were looking forward to some future moment, in which we shall decidedly and seriously labour at the affair of our salvation, and yet this moment ever recedes, life glides on, and we remain empty-handed. Nevertheless, sanctity is within our grasp; it consists not in things uncommon, great, or difficult, but in the perfection of our ordinary actions. What marvels did our Lord effect during the thirty years of His hidden life, or the Blessed Virgin during a long career of more than seventy years? Nothing that does not come within the scope of our habitual occupations, and also nothing which was not enhanced, deified, by the intention, by the perfection accompanying each action. Let us, then, endeavour to perform even our most indifferent actions with all the application of which God has rendered us capable. This is the practical way to true and solid sanctity.
Example
Saint Alphonsus Ligouri was indebted to his pious mother for that tender devotion to the Blessed Virgin which was his characteristic. While yet a child, he one day broke away suddenly from his playmates, who were hotly disputing among themselves. Long after they discovered him in a remote spot, prostrate before a little picture of Mary, which he had fastened to a laurel tree, and so absorbed was he that the noise of their approach did not in the least disturb his holy recollection. Moreover, this pious child suffered no day to pass without going to pray to Mary, whether in a church or at the foot of an altar dedicated to her. Already he fasted on bread and water every Saturday in her honour, and this custom he observed during his whole life, till forbidden by his confessor in his declining years. He had shone for some time at the Bar, when an interior voice whispered with irresistible force - "What business have you in the world?" "Lord, here 1 am; what will you have me to do?" was his reply. And entering into an adjoining church, that of the Redemption of Captives, he prostrated himself before the Blessed Sacrament, conjuring our Lord to accept the sacrifice which he made of his entire being. Then, taking off his sword, he hung it at the altar of our Lady of Mercy, as an authentic pledge of his inviolable consecration to the divine will. This happy day he styled that of his conversion, and whenever he came to N aples he failed not to visit the statue of Mary which had received his vow of fidelity.
In the sequel, he wished all his penitents to have a picture of Mary in their chamber, near the bed. He recommended them his own favourite practice, that of fasting on Saturdays and the eves of her principal Festivals. He, moreover, desired they should prepare for them by a novena, as he did.
He was most exact in saying the beads daily, and in consecrating every hour by the recital of the "Hail Mary/' Whenever the clock struck he was seen to break off abruptly in the middle of a conversation to comply with this pious custom, no matter by whom surrounded. To such as expressed surprise at this he replied - "One 'Hail Mary' is a treasure surpassing that of the whole world." Nor did he ever omit the Angelus, kneeling down at the first sound of the bell, were he even in the public streets; if he happened to be at table he left off eating and fell on his knees. The fervour with which he acquitted himself of these little practices, which custom frequently renders mechanical, was truly edifying; it often happened that he was wrapt in ecstasy while reciting the Angelus.
To honour Mary's sufferings during the Passion was a favourite devotion of Alphonsus. He frequently invoked her in his sermons, inviting sinners to solicit through her intercession the pardon of their crimes. To this end he had a statue of our Lady of Dolours placed beside the pulpit during his missions.
Before he became Bishop he preached every Saturday on the greatness of Mary in the church of his Congregation. He did the same in his Cathedral, or some other church in his place of residence, when not out of his diocese. He had ordered this practice to be observed in all the Houses of his Institute. He deemed his disciples bound in gratitude to render this homage ta the Queen of Heaven. He never wearied in extolling the power of Mary and the efficacy of her intercession, and laboured like Saint Bernard to enforce this maxim, authorized by the other Fathers - that "no true servant of Mary can perish." He gave to all who visited him a picture of the Blessed Virgin, and, his soul expanding, found affectionate words in which he exhorted them to vow a tender love to her, and to have entire confidence in her protection. "In all your necessities," used he to say, "betake yourselves to her, place your hope in her alone." Mary did not suffer herself to be vanquished in love by her faithful servant, and historians relate, among other favours conferred on him, the following - "Preaching a novena at Foggia in honour of the miraculous image venerated there, he one day lingered in the church after the crowd had dispersed, through devotion. Happening to cast his eyes on the holy image he fell into an ecstasy, which lasted an hour. The picture appeared as though living, and of ravishing beauty. She bowed to her servant, and regarded him with an expression of incomparable tenderness. Alphonsus remained there the whole time motionless, his eyes fixed on Mary. When the vision ceased he intoned the Ave Maris Stella, in which he was joined by all present. Another time, while he was preaching at Saint George's on the greatness of Mary, and exhorting his hearers to confidence, the people thought he was an Angel rather than a man. Presently they beheld a wondrous ray of light issue from the person of Mary; it traversed the whole church, and settled on the face of Alphonsus. At the same time the latter, falling into a rapture, was raised several feet from the ground. At this sight the congregation shouted with wonder and delight, so that their cries were heard at a great distance. More than four thousand persons were witnesses of this miracle.
The works, sermons, and prayers composed by Saint Ligouri, the Visits to the Blessed Virgin, which follow each visit to the Blessed Sacrament, attest his singular devotion to the Mother of God. Above all, his book entitled the Glories of Mary is a striking testimony of his zeal and devotedness to his potent Protectress.
Visit to the Blessed Sacrament
"I live, now not I; but Christ liveth in me." - Galatian 2:20
Is it asking too much thus to live, my Jesus? Ah, no; since it was that weak and miserable man might live the same life as God, that the God of power and greatness became Man, mortal and capable of suffering. Lord Jesus, may then Your will be done. May I live with You, in You, by You; may You alone live in me. O Jesus, renew in my heart, through this mystery of Love, the Eucharist, all You did during Your mortal life. Come dwell in my heart; there be bom, there weep, pray, fast; there keep silence, there speak, heal all the maladies of my soul; repeat again all the instructions of Your three years in Palestine; look at me, listen to me, touch me; there sigh, sweat blood, enter into an agony; there accomplish all the mysteries of Your Passion and Resurrection. O my Life, live in me, and permit me not to die of hunger, thirst, and weariness, away from You.
O Mary, you whose life was a reflection of that of Jesus, obtain for me, that I may be another Christ.
- taken from The Month of May Consecrated to the Glory of the Mother of God, The Queen of Heaven