Mary is the Gate of Heaven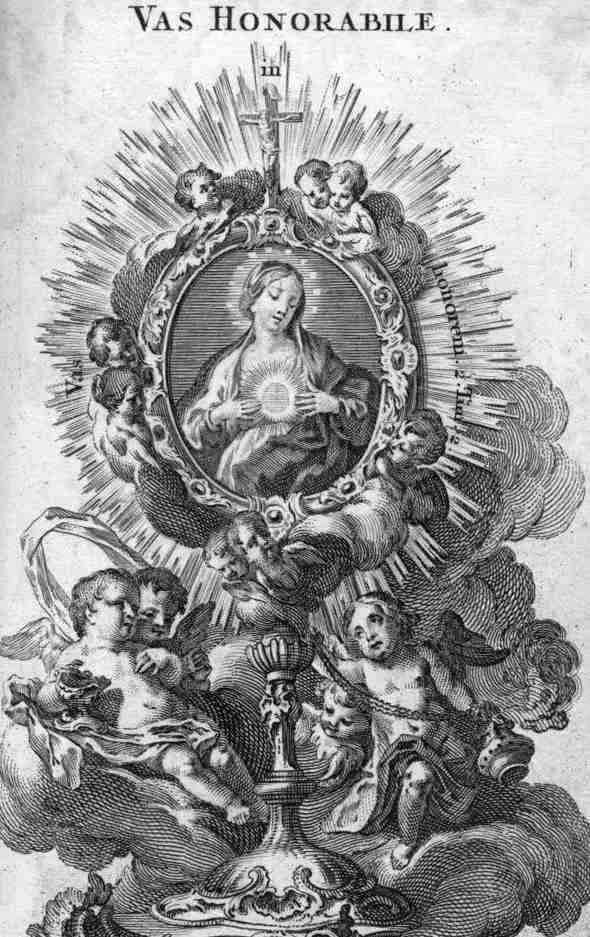 "By me Kings reign" - Proverbs 8:15
Heaven, that house of our eternity, that native land from which we are all expatriated, that place of rest in which this world, with its turmoils, shall be obliterated from our remembrance, that abode of delights, where God, manifesting himself in all His glory, shall fill the immense capacity of our hearts. Heaven! alas 1 how rarely we reflect on, how little we desire it! And yet, what do we expect, what seek we here below? If a solitary ray of that light that shines in the great day of eternity would beam upon us, how would we be consumed with longings for its blissful enjoyment! If we do not feel it, if we do not comprehend it, at least we believe that Heaven is the term of our course, the only worthy object of our ambition. But who, O Lord, shall reach this magnificent abode? Who shall dwell in your tabernacles - who rest for ever among your Elect and Saints in this blissful region, where death shall no more exert its sway, where lamentation and groaning shall be heard no more, where You will deign to wipe away with Your own hands the traces of all tears shed on earth? To this Saint Bonaventure replies, "He who will follow in the footsteps of Mary, and will not leave her till she gives him her blessing, because if she desire our salvation it is assured." In effect she herself tells us, "It is by me Kings reign in this kingdom, which counts as many monarchs as citizens; by me they conquer their passions, and secure that eternal dominion wherein they shall for ever enjoy the fruits of their victory. For, according to the expression of Richard of Saint Laurence, Mary is the mistress of Paradise; she commands there, introduces there whom she pleases. And is it not just that she should rule there, should there exercise authority, since she is the Mother of the Lord of Heaven? "You, then, who desire to enter this mansion of bliss, Mary is the gate which is never closed, because he who serves Mary, for whom she intercedes, is as sure of Heaven as if in actual possession of it." "Yes, O Mary, all who confide in your protection shall see the gates of Heaven opened to admit them. So that, according to Saint Ephrem, devotion to the Blessed Virgin may be called the key of Paradise. Let us, therefore, without ceasing say to her - "Open to us, O holy Virgin, open Heaven to us, of which you have the keys!"
Again, the Church styles Mary the "Star of the Sea" - "Stella maris", because, as mariners steer towards port by the inspection of the stars, so, by keeping their eyes fixed on Mary, Christians reach the kingdom of glory. Saint Mary Magdalen de Pazzi saw a bark sailing on the sea of this life, which served as a refuge for all the clients of Mary, and the Queen of Heaven, acting as pilot, steered them without accident into port. Saint Peter Damian styles the Blessed Virgin the "Ladder of Heaven;" for as it was through her God came down from Heaven, so through her men might merit to ascend from earth to Heaven. We read in the Franciscan chronicles that Brother Leo had the following vision - "He beheld two ladders; one red, at the summit of which stood Jesus Christ, the other white, at the top of which was His holy Mother. Many tried to ascend the first ladder, but after mounting a few steps they fell to the ground. They returned to the charge, with no better success; not one reached the summit. Whereupon a voice cried out to them to turn to the white ladder, and having done so they scaled it in safety, for the Blessed Virgin held out her hand to assist them."
But do we desire a still further guarantee of the efficacy of this Devotion to the Mother of God in order to obtain Paradise? We find it in the words of Mary herself. Addressing her faithful clients, and in particular those who strive to propagate devotion to her, she says- "They that work by me shall not sin. They that explain me shall have life everlasting." The Lord Himself unites with the Queen of Heaven, when He says, in the Apocalypse - "He that shall overcome, I will write upon him the name of my God, and the name of the city of my God." Now that city of God is none other than the most pure Virgin Mary - "Glorious things are said of thee, O city of God."
Practice
"He that lives without rule lives without reason," said one of the ancients; "He that lives according to rule lives according to God," adds Saint Gregory of Nyssa. Lay down a plan of life for yourself, then, which will leave none of your actions to caprice and the indecision of the moment. By this means you shall avoid idleness, with its countless train of faults, and shall amass for yourself a treasure of merits for Heaven. If subject to a rule observe it faithfully; bless God for furnishing you so excellent means of perfection, and remember that the holiness of the Saints was the fruit of their fidelity to the rule they had embraced.
Aspiration
Open to us, O open to us, holy Virgin, the Heart of Jesus- that Heaven of which you hold the keys.
Example
The Blessed Virgin has invariably watched over her servants at that decisive period when they must enter the world and choose a state of life, because on this choice, on this moment, depends nearly always the after career and even the eternal welfare. Tancred, favourite of the Emperor Frederic II, is a convincing proof of this. This young nobleman, calling to mind the danger to which his salvation would be exposed in the world, had recourse to Mary, and implored her, by the credit she enjoys with God, to make known to him in what state he can more readily secure his salvation. He redoubled his prayers, made them with greater fervour, approached the Sacraments more frequently; in a word, spared nothing to learn God's will, resolved to follow it, whatever might be the kind of life destined by Providence for him. After he had persevered for some time in these fervent practices, the Mother of God appeared to him and said - "Tancred, you ask me to point out a state in which you can secure your salvation. Leave the world; a Religious Order, consecrated to my glory, will be for you the port of safety. Have confidence." At these words she vanished. The following night he saw, in a dream, two Religious of the Order of Saint Dominic, the elder of whom, approaching, said to him in a mild tone - "You besought God, through the intercession of the Blessed Virgin, to instruct you how best to save your soul: rise promptly, you must pass the remainder of your life with us."
The next morning, when this young man was going to hear Mass, he met the Prior of the Dominicans of Bologna, and having looked at him attentively, he recognized him as the person he had beheld in his sleep. Surprised at this coincidence, he accosts him, relates what had happened. Then, no longer doubtful of God's will, he renounces all the advantages that may await him in the world and consecrates himself to God in the Order of Preachers, and crowned a holy life by a still holier death.
So clear a revelation of God's designs regarding their choice of a state of life must not be looked for by all; but all may be certain that if they pray fervently to Mary, she will make known the divine will through the voice of those who direct them.
Visit to the Blessed Sacrament
Can the children of the Bridegroom mourn as long as the Bridegroom is with them?
It is not alone Your Prophets speaking in Your name, but Yourself, my Jesus, Who, with Your own divine lips, console me from this tabernacle. It is You Who pronounce these sweet, paternal words, formerly uttered by You, while residing upon earth, "Can the children of the Bridegroom mourn as long as the Bridegroom is with them?" And as I know, as You have said, that You will abide in this Sacrament till the end of time, I shall therefore be always happy; 1 shall always find in You happiness in the midst of weeping, joy even in the depth of affliction. But to attain this end, my God, 1 must remain with You, for if I leave You, I shall find tribulation and grief. Ah! how often have I en- countered them in just punishment of my inconstancy in keeping close to the tabernacle! My Jesus, let me never be separated from You - Ne permittas me separari a Te. Come, come, and let me never withdraw from You. You are sufficient for me; You alone console me for everything.
O Mary! after Jesus, you are the consolation of the afflicted. In all my tribulations I will remember you; I will remember Jesus and be consoled.
- taken from The Month of May Consecrated to the Glory of the Mother of God, The Queen of Heaven