Mary is Our Mediation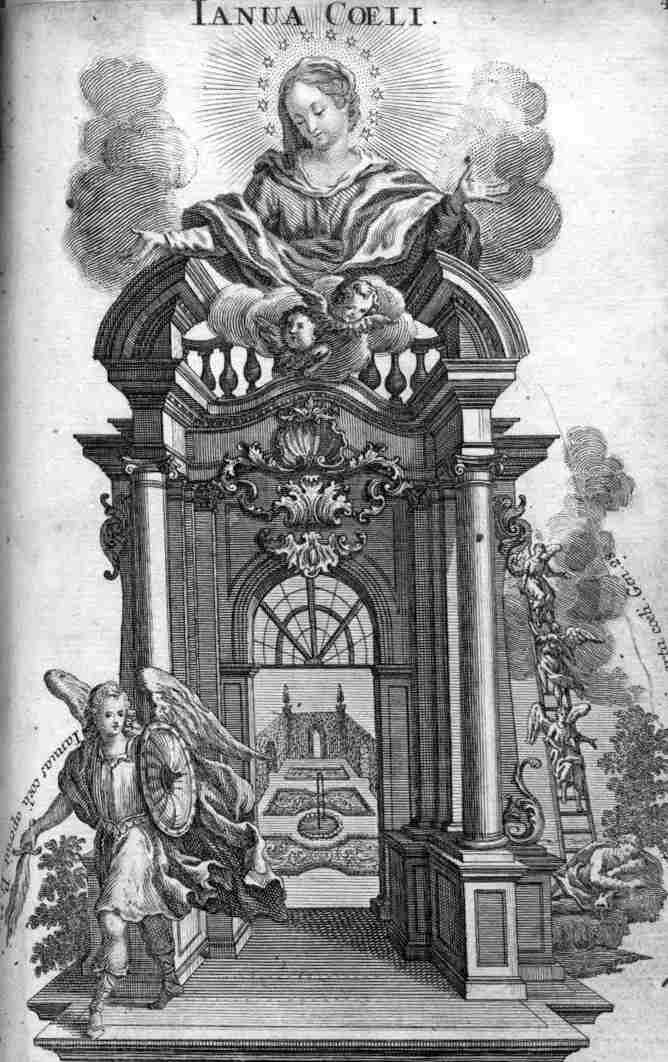 "My only hope is in Jesus, and after Jesus in Mary." - Euthymius
Between the thrice holy God and sinful man what a distance intervened! Full of compassion for His weak creatures, God has destined to fill this infinite space; He has disposed in our hearts admirable steps by which we may ascend from this valley of tears to our heavenly home. It is through Jesus, through Mary, that we return to the God Whom we have so frequently deserved to lose.
The Second Person of the Adorable Trinity, the Word, deigned to assume our nature, to become man, mortal and miserable like ourselves; He united in Himself greatness and lowliness; showed Himself so powerful that all nature obeyed Him, so amiable and condescending that He drew all hearts to Him. And yet what a distance between man the sinner and this Man-God; between man, who despised the benefit of redemption, and the Redeemer! How shall he dare approach this God, so much the more irritated as He has the more profoundly abased Himself to prove His love? But let us not lose the hope of recovering grace, let us have recourse to Mary; it is she leads to Jesus, it is she who recommends us to her Divine Son, who reconciles us to Him, and puts us in a condition to be presented to His Father. This potent Mediatrix restores peace to those at war with Heaven; through her, pardon is accorded to the guilty, salvation is offered to those who are in despair. When Mary makes her voice heard, it is never on the side of war or vengeance; her words are words of forgetfulness, pardon, peace.
Mary is the rainbow given to mankind as a pledge of reconciliation after the universal shipwreck of nature, lost by original sin; it is she who was figured by that mystic bow that Saint John in the Apocalypse beheld around the throne of God. Then if the Lord be justly angry with the world, if our crimes weigh down His arm upon us, let us cause this heavenly rainbow to shine before Him, this enduring pledge of pardon, Mary, whom he has set between Him and earth, to the end His mercy may always prevail over His justice. Ah! the Lord hath sworn and He will never repent - "I will set my bow in the clouds, a sign of peace, .... and in seeing it I will remember the ever-lasting covenant," which I have made with men.
Hard-hearted Christians who are indifferent to Mary, why are these consoling truths hidden from your eyes? Oh! avail yourselves of the day yet afforded you, prevent the vengeance of a God justly irritated, make use of the easy means offered you for concluding your peace with Heaven, through the mediation of Mary. O God! O Jesus! forget our crimes; be mindful of Mary, through whom You have given Yourself to men; hearken to this Mediatrix of peace, whose virtues, supplications, merits, are more powerful to honour You, than our crimes are capable of insult. And do you, our Mediatrix, exercise your functions; Ark of the Covenant, appease Heaven! reassure earth.
O Mary, petition your only Son in favour of your adopted children; smooth the way that leads to this dear Son; obtain peace between the divine justice and my misery, that the Lord for your sake may forego His claims; supply what is wanting in my dispositions, that the just God may pronounce sentence of forgiveness; then shall all confess that you are the reconciliation of a sinful world with Heaven.
Practice
We owe to Mary, as to God, a just proportion of exterior as well as interior worship. To salute her pictures and statues, bow when we pronounce her name, carry about us some token of devotion to this heavenly Queen, to join in the prayers publicly recited in the processions made in her honour, visit her sanctuaries, enter associations erected under her invocation, are all works most pleasing in her sight. Mary vouchsafes daily to recompense these by the most signal favours. Be then equally on your guard against the superstition which places all hope of salvation in these acts deprived of the lively faith that constitutes their merit, and against this proud reason that, under pretext of honouring God in spirit and in truth, rejects all exterior practice and demonstration, which are the natural evidence of interior conviction.
Aspiration
O our Mediatrix! commend us to your Divine Son, reconcile us with Him.
Example
Father Crasset assures us that he heard from a Colonel who had been an eye-witness, the following incident. At the close of a combat a wounded soldier was found on the field of battle, holding a rosary and scapular in his hand, and crying aloud for a confessor. This soldier had received in his forehead a ball, which naturally should hare caused instantaneous death. Nevertheless he had sufficient strength to raise himself up and make his confession to the chaplain, with great sentiments of devotion and repentance, and after having received absolution he expired.
The same Colonel declared that he had witnessed a pistol shot fired almost at the breast of a soldier; they found that the ball had been stopped by a scapular which he wore, without grazing the skin, and that he took the ball and showed it to every one. - Glories of Mary
Visit to the Blessed Sacrament
Where love is, it acts; where it is not, there is no action.
O my soul! come and learn if you love Him Who has so loved you; come and learn how you can prove to Him your love. Where are your works? You behold what Jesus has done for you, see what you have done for Him. O Lord! Your life, Your death, have been occupied with me; You have been a victim immolated for my soul; You have lived in a continued preparation for this bloody sacrifice, the most painful and ignominious one possible; and, to perpetuate this living active charity to the end of ages, You have devized the most astonishing of prodigies, You have hidden Yourself in this Host. O Lord, and what have I done? What have 1 suffered in return? Shall I still live in this destructive ingratitude? O You Who give the wit, give me the power to do; one is not more mine than the other. Grant that, after Your example, my entire life may be a continual immolation, both in desire and action. You gave Yourself to me covered with wounds, satiated with opprobriums, physical pains, ignominy, subjec- tion, abasement - behold my portion, my life, if I desire to love You truly. How glorious and worthy of envy will it be should I incessantly look to You. For, if it be hard and painful to die daily to self, it is then we live in You, and what a life is that! Take, then, my Lord, Your two-edged sword, which separates the divine and human life; retrench on one side, empty on the other; give entrance into my heart to all the joys of life and death in You. Oh! it will be sweet thus to die.
Mary, by your soul transpierced with the sword of sorrow, grant that I may be firm and unshaken under the action of the spiritual sword which wounds but to heal!
- taken from The Month of May Consecrated to the Glory of the Mother of God, The Queen of Heaven