Mary Aids Those Who Invoke Her in Temptation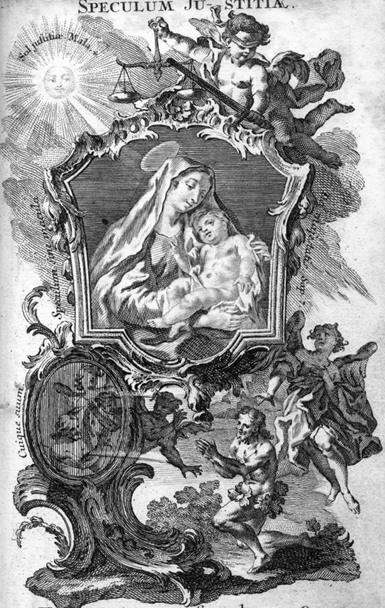 "Thou shall arise" O Mary, "and have mercy on Sion: for it is time to have mercy on it, for the time is come." - Psalm 101:14
Man's life here below is one unending struggle. As the fire proves iron, so temptation tries the just man. It is a necessary trial, a crucible in which is formed the valiant soldier of Jesus Christ, the soul is instructed, perfected, purified. "He that hath not been tried, what manner of things doth he know?"+ Let it sink deep into our minds; the vivacity of our faith, the ardour of our devo- tion, may, indeed, redouble our energy in the combat, but they cannot shield us from the attacks of the enemy. Jesus Christ has said - "I came not to bring peace, but the sword." Model and Chief of the predestined, He would be tempted Himself, to serve as an example; and from Heaven, to which we are given a spectacle during this grand life struggle, He addresses us in these encouraging words - "For you, my saints, who- shall have generously fought throughout your period of mortality, I will Myself be your reward exceeding great."
The devil, the world, and ourselves, such are the enemies we have to repel. Were we single-handed in the combat, it would be too unequal, but God Himself fights with us. "There is none other that fighteth for us but our God." Moreover, He has given us His Saints and Angels for auxiliaries, and above all, Mary, His august Mother and ours. Oh, how prompt is she to succour those who call on her in the hour of peril! How skillful is she in discovering, in averting, dangers imperceptible even to ourselves! How many souls has she preserved in dangerous occasions, who shall never fully realize their obligations towards her, till the great day of eternity!
Life has its gloomy, painful hours; the soul is at times so violently agitated, so powerfully solicited, carried away, that there appears but a single step between her and the abyss of all disorder. Moments there are when her poverty, misery, incapacity for good, the wrath and indignation of the Lord, are displayed in so sombre colours, that she can cry out with the Prophet Jeremias - "He hath led me by dark paths, far away from that ravishing light which formerly guided my course. He hath led me, and brought me into darkness, and not into light. Yea, and when I cry and entreat, He hath shut out my prayer. ... He hath shut up my way with square stones, He hath turned my paths upside down."
O poor soul, in this bitter grief call upon Mary, cry, and desist not till she come to your assistance; not long shall you be obliged to wait. Let none give way to vain alarm, let none suffer himself to be disturbed; let us boldly encounter the enemy of our souls, let us oppose to him the name, the Heart of our Mother. "You come to me," let us say, "with all the wiles of hell; I come to you in the name of Mary, which you would fain obliterate from the earth; I come that all may know that this name is all-powerful in saving souls - Tu venis ad me cum gladio et hastd et clypeo: ego autem venio ad te in nomine Domini."
Saint Epiphanius says that Mary's compassionate eyes are ever looking down upon us, and seem to multiply themselves to discover our wants. "The Lord," says the royal Prophet, "has His eyes upon the just." But your eyes, O Mary, are upon the just and sinners, like a tender mother who watches her child to prevent his falling, and watches also to raise it when it does fall.
It is, therefore, impossible that a true servant of Mary should perish in the combat - this divine Mother, covering him with the powerful shield of her protection, against which all the shafts of the enemy are blunted. Should the world present its pomps, its feasts, its happiness of a day; should the devil stir up all the passions in his heart; should the wind of inconstancy and human instability coming to shake him, represent this perpetual struggle as the rudest of trials, Mary will whisper to his heart, "My child, why keep your eyes fixed upon the earth. Look up, I beseech you, look up to Heaven, where light and momentary tribulation is rewarded with an immense weight of glory. Remember that a thousand years before God in the splendours of eternity are but as yesterday, that is already passed, so fleeting shall be their duration. And what will it profit you to gain the whole world, if you lose your soul? Will this wealth, these pleasures, these honours which dazzle you, be of sufficient value to redeem it?"
Practice
Our Lord says in the Gospel, that He is never left alone by His Father. Faithful soul, child of Mary, exiled upon earth, ask your Mother to grant you the same favour - never to leave you alone amidst the foes sworn to your destruction. Incessantly call her to your side, by the groans of your heart. Oh, how sweet, how delightful is the company of Mary! How amiable and delightful will solitude appear with her! This solitude, in which the soul communes with Jesus and Mary, may be established in your heart, even amid the society, the tumult of the world; this is the admirable secret which Mary imparts to all who love her.
Aspiration
Mary, Mother mine, leave me not here alone!
Example
Blessed Alphonsus Rodriguez, being assailed by a fearful temptation to despair, had recourse to the recital of the Rosary. To render this weapon more effectual, he added to each "Holy Mary, Mother of God," this supplication - "Remember me." The combat waxing hotter and hotter, Alphonsus, pressed by his enemy, cried, in loud and energetic tones - "O my Mother, remember me; come to my assistance, I perish." Mary forth-with appears, and the storm is appeased. The devil one day put it into his head that all his efforts for the acquisition of merits were loss of time, since they would all end in a fall so great, that it would scandalize all whom his example had hitherto edified. The impression made by the spirit of darkness on the imagination of Alphonsus was so vivid, that the thing appeared unquestion- able. His anguish is not to be expressed, but he invoked Mary, and she appearing, said lovingly - "Alphonsus, my dear child, where I am you have nought to fear." Once, when the holy man was grievously tormented in body and mind, a troop of demons appeared to him in the most monstrous forms, and after having insulted him in a thousand ways, they asked him, with infernal irony - "Where is your Mary?" Mary did not desert her Alphonsus. She displayed herself in the fullness of her glory; the demons, confounded, fled precipitately. Finally, in another vision, Mary condescended to say to her happy servant - "How I love you, Alphonsus!" Even this was not enough; she wished to manifest herself to him in a still more admirable manner. Whilst Alphonsus was reciting his Rosary, he beheld Mary descend from Heaven, accompanied by her Divine Son; and both took possession of his heart. For twelve years he entertained these amiable guests, nor did they ever after depart from him.
The demons who had persecuted him with such animosity during life, redoubled their efforts during his last illness. A grievous temptation to distrust assailed him, and, simultaneously, the most afflicting state of spiritual dryness and aridity. No more relish for prayer, no more heavenly consolations, no more holy thoughts. He forgot all the prayers he had been accustomed to recite, even the Lord's Prayer. In this dereliction, finding nowhere rest or alleviation, he could hardly breathe a sigh to Heaven, and such was his anguish of mind, that in comparison all corporal pains were as nothing.
For five entire months the holy Religious continued a prey to this species of torture, more cruel than death itself. A calm at last succeeded this prolonged tempest; Jesus and Mary appeared to him, surrounded with light; conversed long with him, and having given him the most tender marks of affection, exhorted him to persevere on the cross to the end, warning him that nothing but sufferings remained for him here below. But from this period his trials were not devoid of comfort; scarcely did he invoke Jesus and Mary, than they appeared at his sides, and the graces they bestowed upon him were proportioned to his bodily sufferings, which continually increased. The demons dared no longer to approach him, after the Queen of Heaven had, in one of her apparitions, commanded them, with an air of authority, no longer to disturb her servant. - Life of Blessed Alphonsus Rodriguez
Visit to the Blessed Sacrament
Let us love, let us love.
She whom the Church has styled the Mother of beautiful love, having once appeared to the holy Armelle, said to her but these words - "Let us love, let us love." Her words were effective, for the servant of God adds - "Since that time I no longer knew myself, so ardent and penetrating was the fire of divine love." O holy Mother! say also to me these words, but say them efficaciously. O Lord Jesus, hidden in this tabernacle, command me to love You. What love for nothingness like us! You transgress the boundaries of wisdom and reason; shall love for You, inflaming my heart, never excite me beyond measure? O my dear Lord, coming so frequently into my heart, and entirely absorbing it, will You ever communicate to me that intoxication of love that consumes You and makes You languish on our altars, as formerly on the hard wood of the Cross? Will You always love without a return?
Oh, You have taught me a secret of which I shall make use. I will love You in Holy Communion with the same love with which Your Father loves You. There I possess Him with You. There He loves You. Here, in this poor, confined, unworthy, miserable temple, He acts as He does in Heaven. Here is displayed the mysterious love of the Blessed Trinity, which ravishes Heaven. Here, within me, burns this mutual love of the Father and the Son, whence proceeds the Holy Ghost. Miserable creature, what can I do? I will offer You all these flames, all this fire, as if they burned in my own heart; my heart, an altar frequently more a stranger to these mysteries than the material altar on which the Adorable Sacrifice is accomplished; and yet it is true that all these prodigies take place within me! O heart of mine, whilst you are in darkness all the splendour of Heaven illumines you! At sight of the marvels effected for the chosen people when leaving Egypt the mountains and hills leaped for joy; and here, why does my heart - a witness, a land of prodigies in itself - why does it not exult? Why does it not give tears to my eyes? O God! O Jesus! O Trinity of love, hidden under these species, concealed within my heart!
Mother of love, repeat for me the lesson given to your faithful servant - "Let us love, let us love!"
- taken from The Month of May Consecrated to the Glory of the Mother of God, The Queen of Heaven