Thoughts for Lent, Wednesday after the Fourth Sunday in Lent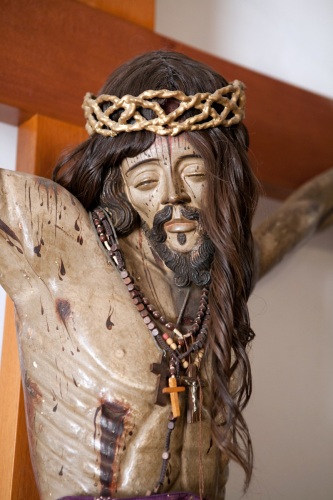 Salvation as a Gamble
Some seem to imagine that we are saved or lost by chance. Salvation is good luck. Damnation is bad luck.
Remember the legend of the sinner who fled from the plague in Florence, lifting up his voice and crying out: "I have outwitted Thee, Domeneddio" But he came back too soon to the pest-ridden city, fell ill, and on his deathbed cried out: "Thou hast outwitted me, Domeneddio." He played a game of chance against God, and lost. Some moderns seem to have the same idea. "I may sin," they say, "but if I get to confession and receive absolution before anything happens to me, I shall be saved. I may go about the streets in the state of mortal sin. If I meet with an accident, I shall be damned; but, barring accident, I shall be saved." "Take a chance," is their motto.
We can understand a gambler staking a thousand dollars on the turn of a wheel, or the color of a card; we can understand the speculator staking a year's earnings, or a fortune, on the rise or the fall of a market; we can understand an emperor risking his throne on the battle field. But what of the man who will risk his everlasting soul in a gamble against God or against the devil?
But what a curious concept of salvation, and of damnation. Salvation is not to be had by luck. It is an abiding condition of soul. It is achieved not by accident, but by constant strife, by repeated victory, by permanent character.
- Father James M Gillis
---
Do not scrutinize too closely whether you are doing much or little, ill or well, so long as what you do is not sinful and that you are heartily seeking to do everything for God. Try, as far as you can to do everything well, but when it is done do not think about it; try rather to think of what is to be done next. Go on simply in the Lord's way and do not torment yourself. We ought to hate our faults, but with a calm hatred, not pettishly nor anxiously. We must learn to look patiently at them, and win through them the grace of self-abnegation and humility. For want of this, and through looking at your imperfections in an unreal way they do but increase upon you. Niothing so causes our tares to thrive as disquietude and impetuousity in striving to uproot them. There is a great temptation to be disgusted at the world, when we are constrained to dwell in it; but God's providence is wiser than we are. We fancy that if we changed our portion, we should be better; possibly, if we changed ourselves. But I am a steadfast foe to all such useless, dangerous, evil desires; even when what we wish for is good in itself, the desire is evil; since God denies us that particular good thing, and chooses rather to prove us in some other way. He wills to speak to us as to Moses from a burning bush, and we would fain hear Him in a still small voice as when He spoke to the Prophet Elias.
- Saint Francis de Sales
---
Blessed are they that follow in all things the will of God. - Thomas a Kempis
---
If your sins be as scarlet they shall be made as white as snow, and if they be red as crimson, they shall be white as wool. - Lesson
---
I have nothing, O my Saviour and my God! I have nothing which can be pleasing unto Thee; I can do nothing, I am nothing; but I have a heart, and this is enough for me. Health, honor, and life itself may be taken from me, but no man can rob me of my heart. I have a heart, and with this heart I can love Thee, O my Saviour Jesus, worthy of all adoration! And with this heart it is my determination to love You and always I resolve to love Thee, only to love Thee always.
- Father Croiset, SJ.
---
The strength of a man*s devotion to the Church is best shown by what he does for the Church.
---
- the texts are taken from -
, by Father James M. Gillis, C.S.P.; published by "The Missionary Society of Saint Paul the Apostle in the State of New York", 1923; it has the Imprimatur of Archbishop Patrick J Hayes, Archdiocese of New York, New York, 19 January 1923
, by the International Catholic Truth Society
, compiled from approved sources by Father Albert A Murray, C.S.P.; published by "The Missionary Society of Saint Paul the Apostle in the State of New York", 1944; it has the Imprimatur of Cardinal Francis Spellman, Archbishop of New York, New York, 26 January 1944