Thoughts for Saint Joseph's Month, by Father Matthew Russell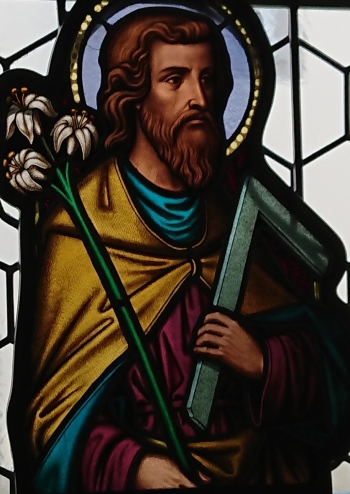 March is Saint Joseph's month. Except, of course, May and the Blessed Virgin - and, as Saint Augustine and the Council of Trent say of her with regard to sin, she is an exception everywhere - except the month of May, there is no special dedication of any of the months so universally recognised by the devout faithful as that which makes March the month of Saint Joseph. One of the reasons sometimes put forward for the choice of May as Our Blessed Lady's month, is the utter dearth of her festivals at that fair season. At present, indeed, the 24th of May is the Feast of Mary, Help of Christians, but this is almost a thing of our own day. Though this title of Help of Christians was inserted in the Litany of Loretto by Saint Pius V in thanksgiving for Our Lady's share in the Christian victory at Lepanto in 1571, it was only in our nineteenth century that Pius VII, upon his return to Rome after so many trials and dangers, instituted the Festival of B.V.M. Auxilium Christianorum, having already shown his gratitude to the Queen of Heaven, whose help he had implored during his long imprisonment at Savona, by crowning her famous statue in that city with a golden crown, under the title of Mother of Mercy. With regard to Saint Joseph, on the contrary, the fact that the 19th of March is his principal feast seems to have been the sole claim of the month of March to the glory of being marked out as that happy month out of all the twelve which shall, as the years slip past, be for ever linked thus closely with Saint Joseph's name. But the ingenious piety of the faithful needed no very urgent excuse for desiring something new in honour of the holy Patriarch.
Saint Joseph's month, and all that concerns Saint Joseph, must be very dear to the Heart of Jesus; for to the Heart of Jesus Saint Joseph was dear from the first on earth, and grew dearer each day through his life and what is he now in heaven? At the be ginning, in the very earliest throb of love that sent the precious blood more swiftly through the veins of the new-born Saviour, first after the Immaculate Mother, Joseph must have claimed his special share. Nay, that was not the beginning even on earth. And before earth itself began, "Devotion to Saint Joseph" began when in the everlasting councils of Infinite Wisdom the Almighty Father, looking forward out of the depths of His unbeginning eternity, singled Saint Joseph out from all the generations of the sons of men to be the guardian and spouse of the purest, and highest, and best-beloved of His creatures, to be the guardian and Foster-father of His own Divine co-equal Son image and representative to the one of her Divine Spouse, the Holy Ghost; to the other, of His Father in heaven. When, before the Heart of Jesus had yet begun to beat, before Jesus was Jesus, before the world was yet made when the Word in the bosom of the Father said, Behold I come, He meant to come as the Blessed Virgin's child, as the Son of her whose Spouse would be Saint Joseph. It has been often said that when God chooses any of His poor creatures for some great and high end, His very choice endows them with gifts proportionate to their work and dignity. "It is by comparing God's choice of him with the office he was to fill, that we come to see the glory and the grandeur of Saint Joseph, and to contemplate with reverent awe the heights of a holiness to which such familiarity with God was permitted." The devout writer from whom we have taken these words, calls Saint Joseph, in another work, the shadow of the Eternal Father. "This is the immensity of his dignity, the incommunicable and ever-blessed paternity is in figure communicated to him. He is the Foster-father of Jesus. To the world without he passes for His father. He exercises the authority of a father over Him, and performs for Him all the affectionate and anxious offices of a father. The unspeakable treasures of God, Jesus and Mary, are committed to Saint Joseph's keeping; and he is himself a treasure as well as the treasure-house of God. He is part of the scheme of redemption. What wonder theologians should tell us such great things of his copious graces and his mighty gifts?"
What wonder indeed? And all this only as a preparation for the transcendent graces which filled every moment of the last twenty or thirty years of his life, for hardly anything has been said here except concerning the mere fact of God's original choice of Saint Joseph, which mere fact, indeed, includes all. Yet the author of one of the best books on the glories of Saint Joseph, Father Patrignani, does not rank this formally among his twelve motives for being devout to this last of the Patriarchs and first of the New Testament Saints. The first eight of these motives are the examples of Jesus Christ, of the Blessed Virgin, of the Holy Angels, of the Catholic Church, of princes, kingdoms, and cities, of religious orders, of many ascetic writers, and, finally, of many saints and eminently holy souls; and then follow four motives drawn from Saint Joseph's peculiar greatness and goodness, generosity and power, as patron and protector of all Christians in all states and all emergencies of life, and, above all, in the awful moments of the last agony, which he helps so often to change into a happy death, like his own.
How many happy deaths there are taking place (please God) every day, all the world over! Ah! there are many, many deaths going on, too, that it is dismal to think of - but so many peaceful, holy, happy deaths! Even the physical pain of dying is probably exaggerated in the apprehensions of vigor ous health, by our natural shrinking from dissolution. The soul and the body that are suffering the agony of that parting, are not in the same state as those of the pitying spectator. All the terrible things that are said and felt about death are hardly to be under stood of the faithful Christian's deathbed. If there be special risks then, God gives special graces then also. And so, often, very often, the worst is over before the worst appears to have begun, and it seems at last like a gentle falling asleep, to be followed very soon by a happy awakening.
Now, in this sense, Saint Joseph's death might be called the first Christian death. The saints, known and unknown, of the Old Law, indeed died in the faith and hope of the future Redeemer - in hope, but hope with a stern infusion of resignation, for He who was to come seemed far away. But except, perhaps, old Simeon and a few others, Joseph was the first to die with this hope warm and near to his heart; or rather, for him hope is changed into possession; for now He who was to come has come, and Joseph has clasped Him to his heart, and felt his Sacred Heart beating against his own. And now, again, in turn his head is pillowed on the Heart of Jesus, and Mary bends over him lovingly, praying in her Immaculate Heart; and he dies happy, in the very lap of all that is holiest and most beautiful and divinest out of heaven.
Yet even he, the Patron of a happy death, might almost envy us the circumstances of our dying. In some respects our deathbed might even seem happier than Saint Joseph's. His death was, though only for a short space, yet a real parting, a taking leave of Jesus and Mary; ours, if we use aright His merciful graces to the end, will be but a going home to Jesus. At least, when we are dying, the particular judgment is only a few days, or hours, or minutes, in front of us; and that will place us at the feet of Jesus. Would not Saint Joseph's death have been happier if Jesus had gone before him, as He has gone before to prepare for us? Whatever was happiest in Saint Joseph's happy death may be ours substantially in our lower measure. When he came to die, when Jesus was to be more directly about His Heavenly Father's business, and His earthly father had given to Him and to His Blessed Mother all the loving service that was needed; when the Heart of Jesus was satisfied, and said: "It is enough - he is ready for his reward, he has attained a height of sanctity fit for the place which will belong in the glory of heaven, for all eternity, to him who has toiled so well and so long for Me and My Mother, and of whom My Mother once said to Me, 'Thy father and I have sought Thee, sorrowing,'" - when the inconceivable measure of his graces and his glories was thus filled up to that Divine Heart's content, then at last Jesus dismissed His most faithful servant and His nearest friend, according to His word, in peace; and his eyes, closing calmly in death, "saw their salvation" saw the Mother and the Son bending, with love and blessing and prayer, over him whom they loved so tenderly from the first and to the end, and whom they love so tenderly now this moment, and will for all eternity, in heaven. Did Jesus, who wept over Lazarus, and over the son of the Nairn widow did Jesus and Mary weep over this happy deathbed? And how soon after was the Holy Household of Nazareth broken up, in order that Jesus may at length how long He has waited, and how much He has taught us while waiting! may at length "be about His Father's business," and may "go about doing good unto all"? For there is another deathbed at which Mary must assist; and there her breast will not be allowed to pillow His dying head, but she must stand heartbroken by His Cross till death gives Him to her arms once more. Mary at one deathbed, Jesus and Mary at the other; at ours, Jesus and Mary and Joseph. Jesus will be there with His grace and in His Sacramental Presence, and Mary by her prayers; and to these we shall join the third of the earthly trinity in praying, not for the first or the thousandth time, "Jesus, Mary, Joseph, help me in my last agony."
In life, then, and in death, let us have the holy names of Jesus and Mary and Joseph upon our lips and in our hearts. Saint Joseph's greatness lies in the closeness of those names. Saint Matthew, his special evangelist, whom alone we have to thank for the little that we know about him, has cunningly contrived to bring the three dear names together in his first chapter, without so much as a comma to separate them - Cum esset desponsata mater Jesu Maria Joseph. "Whom God hath joined let no man sunder." In our affections let not Saint Joseph be sundered from those, the best-beloved of God, to whom God has joined him so closely. May our Lord Jesus Christ give us more and more of that loving confidence towards Saint Joseph, which burned so brightly in the hearts of Saint Teresa, Saint Francis of Sales, and so many glorious or hidden saints. And may Saint Joseph, on his part, obtain for our cold and sinful hearts a little of that love for Jesus that filled to bursting his own most generous and magnificent heart, till at last it broke, and he died of love love for the Sacred Heart.