Thoughts for Saint Joseph's Day, by Father Matthew Russell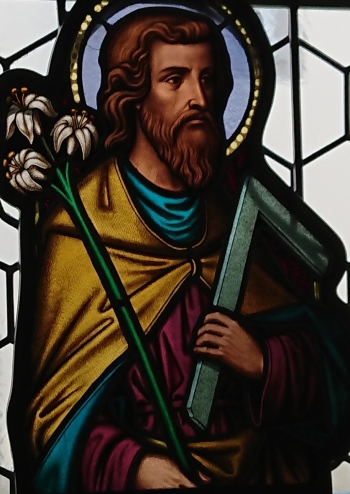 "Who, thinkest thou, is the faithful and wise steward whom the Lord setteth over His family?" It is our Lord Himself who has asked this question in the twelfth chapter of Saint Luke; but He has not given to it there the peculiar meaning which the question must bear for us today. For this is the feast of Saint Joseph.
The Church, indeed, grateful to the guardian of her Divine Redeemer and of His Immaculate Mother, has consecrated more than one day to his honour; and his devout clients have made this entire month the month of Saint Joseph. But they have done so, they have honoured March with their choice for this purpose out of all the twelve months of the year, because this nineteenth day of March was already the first and chief of the festivals of Saint Joseph.
Yes, this is Saint Joseph's Day; and when today we ask ourselves, "Who is this faithful and wise steward whom the Lord setteth over His family?" we think of Bethlehem and of Egypt and of Nazareth, and our hearts answer, "Saint Joseph!"
The whole human race is indeed the family of God. Every child of Adam has a right to join in that heaven - taught prayer which begins with "Our Father." Almighty God is the common Father of all, and towards each of His poor human creatures His heart yearns with a Father's love. But there was once on this earth a small and humble household which in a much closer and more literal sense deserved the title of God's family; for the Son of God Himself was there, and His most Blessed Mother.
This was the grand central point in the world's history, though the world knew it not. This was the one supreme crisis to which all the prophets of the Old Law looked forward, and to which all the saints of the New Law look back. This was the sacred group of three, so dear to devout contemplation under the express name of the Holy Family, reproduced in so many beautiful paintings and so many pious prints, and, better still, in the reality of so many Christian homes. This was indeed God's family, containing all that was dearest to God's Heart, dearest and nearest and best in heaven and upon earth. And we know "who was the faithful and wise steward whom the Lord set over His family to give them their measure of wheat in due season," to toil for their support, to guard them from their enemies, to be their solace, their sustenance, and their defence.
If Saint Joseph had been no more than this - if he had only been chosen from without, as a stranger might have been chosen, as holy Simeon might have been chosen, as that other Joseph of Arimathea or Joseph Barsabas, surnamed the Just, might have been chosen, to provide for the temporal wants of the Mother and the Child - he would even thus have been entitled to our deepest gratitude and reverence, and it would have been hard to go too far in honouring him whom the Almighty Lord of heaven and earth had deigned thus to honour.
But he was far more than this. "Joseph," says the Evangelist, "was the husband of Mary, of whom was born Jesus." This text is the very first word that the Church speaks in praise of Saint Joseph in the office of his Feast; this was the first antiphon of vespers yesterday with which this Feast began. For this is his supreme and all-sufficient title and dignity - "Joseph was the husband of Mary, of whom was born Jesus." Joseph, therefore, was the true Spouse of the true Mother of the true Son of God. He had all a father's authority, as far as any human creature could have, over the Son of God. God delegated to him the rights, the duties, and the privileges of a father.
No, it was not through mere courtesy, as it were, or in order merely to accommodate her language to the ignorance of those who knew not the mystery of the Divine Incarnation, that the Blessed Virgin herself says of Saint Joseph to her Divine Son: "Thy father and I have sought Thee, sorrowing." Thy father! In his relationship to our Lord, Saint Joseph thus comes under the sanction of the Fourth Commandment that least necessary of all the Divine precepts, which nevertheless God has placed first in the second table of the law, first among the precepts which regard, not God Himself, but our fellow-creatures: Honour thy father and thy mother. Now, Jesus, as He said, "came not to destroy, but to fulfil the law;" and if, in order to set for us a pattern of obedience, He conformed to ordinances which not only bound Him not, but which might seem unbefitting to His sanctity - if, for instance, He who had come to expiate sin submitted to the expiatory rite of circumcision, as if Himself a sinner if His all-pure Mother presented herself for legal purification in the Temple, as if the sinful mother of a sinner - if Jesus in His obedience would thus obey all laws and fulfil all justice, how much more will He perfectly observe this sweet commandment of God's predilection: Honour thy father and thy mother?
Not Mary only, but Joseph also. She indeed is His true mother, more His mother than any woman is mother to the child of her bosom; but Saint Joseph s claims come next to hers. And therefore for thirty years Jesus was subject to them both. Erat subditus illis: to them, not to her alone. Nay, in a certain sense more subject to Joseph than to Mary; for he, not she, "was the faithful and wise steward whom the Lord had set over His family;" he, not she, was head of the Holy Family, the earthly minister and representative of the Eternal Father who is in heaven.
There is no need of long and deep meditation on the privileges of this glorious, hidden Saint, to convince us of the high place he holds in the hierarchy of heaven, and of the high place he ought to hold in our hearts. No, to justify fully the love and veneration and confidence which, thank God, we feel or wish to feel, and are trying and praying to feel, towards this glorious and most powerful and most amiable Patron of the Universal Church, nothing more is required than to think, even passingly as we are doing, yet seriously and in a spirit of faith and love, on all that is involved in the offices which were confided to him during his life on earth. For surely the highest earthly dignity, next to the Divine Maternity itself, consists in being thus chosen out of all the generations of men to enter into that mystic and virginal, but most true and real, nuptial union with the Blessed Virgin, which made Saint Joseph much more than Foster-father by adoption to her Divine Son, our Lord and Saviour Jesus Christ. Cum desponsata esset mater Jesu Maria Joseph: "Mary the Mother of Jesus, espoused to Joseph." Jesus, Mary, Joseph: the mere joining of these sacred names, the mere naming of this earthly trinity, is the only and the sufficient foundation for all the great things that can be said or thought about Saint Joseph.
No wonder, then, at the great things which have been said of him. No wonder at the unbounded confidence in Saint Joseph's intercession, which filled the hearts of Saint Thomas Aquinas, of Saint Bernard and Saint Bernardine, of Saint Francis de Sales; above all, of Saint Teresa and the pious Chancellor Gerson, and so many other saints canonised or uncanonised.
No wonder, indeed; but the wonder rather is that greater honours were not sooner paid in the Church of Christ to this last of the Patriarchs and first of the New Testament Saints. Yes, the wonder is that our Divine Lord suffered His Church so long to conspire with the humility of His Foster-father, by letting the Hidden Life of Nazareth continue for him through so many Christian centuries, during which the holy Patriarch was brought forward far less prominently in the public devotions of the faithful than was manifestly demanded for him by his pre-eminent dignity and authority in the Holy Family on earth, and by his corresponding dignity and power in the Holy Family of the blessed in heaven.
Of the seeming neglect displayed towards this hidden Saint for so many centuries, one reason may have been that the pious faithful could not think of him separately and apart from his Divine Lord; and he was thus lost and absorbed in the near brightness of the Sun of Justice - like those planets which are said to have escaped till now the search of the astronomers on account of the closeness of their orbits to the sun.
Father Faber speaks somewhere of this earth of ours as "this beautiful moonlit planet, third in order from the sun." Third in order, for it was supposed that only Mercury and Venus were closer than ourselves to the centre of light and heat. But science in our own day has dared to peer further into the brightness as well as further out into the dark; and she has not only discovered new planets upon "Creation's twilight-verge," where their remoteness from the sun, their dearth of light, had hidden them, but in the opposite direction also, nearer to the sun than even Mercury, planets have recently been discovered, concealed from our view till now by their very nearness to the sun and by their excess of light. Like those intra-Mercurial planets (as they have been sometimes called), Saint Joseph might seem to have been hidden so long from the gaze of men by the very closeness of his relations with the Incarnate God.
But whatever may be the case with regard to Saint Joseph in the Church at large, how has it fared with him in the Church of God which is within us? In the temple of our hearts, has not the homage due to Saint Joseph been withheld, too long delayed, and then paid in too niggardly a measure? Have we not been too slow and too cold in recognising the full strength of Saint Joseph's claims upon our filial love and allegiance? Heresy pretends to be scandalised at the excess of our devotion to the saints; but, alas! we know ourselves better. If the matter were not so terribly serious, we might almost be amused at the solicitude of this class of Protestants, and we might say to one of them: "Really, my good friend, you need not be so much alarmed. If you but knew how seldom we think of Saint Joseph (for instance) how seldom we pray to him, and, when we do, how coldly even you would be satisfied, and you would see how very far we stop short of any thing approaching to idolatrous worship. Ah! we have not the slightest fear of going too far, and we have a very great fear of not going nearly far enough."
All this perhaps is particularly true of our habitual attitude towards Saint Joseph. Well, in whatever degree we may have been wanting towards him hitherto, this is a good time to arrange with ourselves, by the help of God's grace, to cherish henceforth a very tender, practical, personal devotion to the glorious and amiable Saint to whom this day and this month are dedicated. True devotion to Saint Joseph is chiefly shown by earnest and persevering effort to imitate his virtues hour by hour until the hour of our death.
Saint Joseph is the Patron of hidden lives, of obscure virtues, of hard work and of happy deaths.
A happy death! We may ask Saint Joseph to obtain for us other graces also, if we please, but our constant and most fervent petition must be for the crowning grace of a happy death. Saint Joseph has been appointed the official guardian, so to speak, and special Patron of a happy death, because his own death was visibly blest beyond all others with his dying head pillowed to the Heart of Jesus, and Mary bending over him lovingly and praying for him to the last.
And yet, in one respect, the deathbed of Saint Joseph's devout client is happier than his own. Saint Joseph's death was a parting from all that he loved, since he left Jesus and Mary behind him. But now the Christian's death is rather a meeting than a parting, a going home from this place of exile, this valley of tears; for Jesus has gone before us to prepare a place for us (that is His own tender word), and the desire of His Heart is that where He is we also may be. At any moment the message may come for any one of us that "all things are ready." May that message find us ready! As we have often prayed, may Jesus, Mary, and Joseph help us in our dying hour; for that hour, that moment, the moment of death, shall be followed by the judgment, in which our merciful Judge shall be Jesus the Son of Mary, the Foster-Child of our own Saint Joseph. Oh, dear Saint Joseph, pray to Jesus for us now and at the end, that He may then, to the very end, be our merciful Judge and our Saviour.