The Passion and Prayer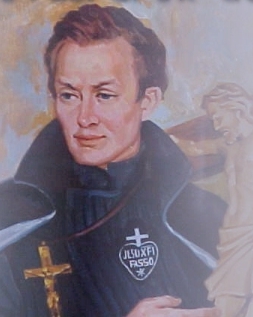 I would believe myself to have failed in duty, as Saint Bonaventure said, were I to pass a single day without thinking of my Saviour's Passion.
---
Your most important business is the care of your soul. This is why, before leaving your room in the morning, you should spend at least a quarter of an hour in meditating on the life, the Passion, and the death of Our Lord Jesus Christ.
---
Oh, what joy will it give to the blessed in heaven, and what pleasure to your guardian angel, to see you engaged in mental prayer! Never omit this holy exercise.
---
I would like the subject of your prayer to be the Passion of Jesus; let your heart lose itself in God in those loving communings. But understand me well: I wish you to leave your soul entirely free to follow the attractions of the Holy Spirit. I repeat to you, then, that we must pray, not according to our own fancy, but as God wills. Yes, when the soul is inclined to be alone with God, in pure and simple faith, reposing on the bosom of her Well-Beloved, in a silence begotten of love, silence in which the soul speaks to God much better than by words - in this case she must be left in peace, and not be disturbed by other exercises.
God then holds her in the arms of His love, and nourishes her with the delicious wine which generates virgins.
---
Sometimes, in prayer, God communicates to the soul, all at once, His treasures of lights and heavenly graces. Imagine that you have in your hand a golden dish, that you pour into it the extract of the rarest and most exquisite perfumes, and that you steep into it a fine cambric handkerchief; this handkerchief will yield a delicious and inexplicable odor, composed of all the perfumes. It is thus my soul feels when I receive those intimate and hidden communications.
---
Oh, how I wish that everybody would apply himself to meditation and prayer!
What a misfortune that there are so few souls who know the hidden treasure contained in prayer and union with God!
Alas! we enter easily on the road to perdition when we neglect prayer.
---
If God grants you the gift of prayer, be faithful to it; take care, however, that you do not become slothful in the practice of virtues and the imitation of Jesus.
Always begin your prayer with one of the mysteries of the Passion, and engage your soul in it by pious soliloquies, without making an effort to meditate. If God afterwards attract you to the silence of love and faith, do not disturb the peace of your soul by any explicit reflections. I advise you, above all things, to ground yourself in humility and in the hatred of yourself. Of this we can never do enough.
---
Be faithful to correspond with the wonderful graces which you have received from Our Lord; they are a preparation for greater graces and more sublime lights, which will cause you to love God more, to acquire more solid virtue, and to practise it in a more heroic degree.
Truly, the more the soul is enlightened by faith and prayer, the more intimately is she united to God, and by means of this union with the Supreme Being she is enriched with all goods, and she accomplishes great things with humility and a sense of her own insufficiency. Thus she disposes herself to be all absorbed in God in contemplation, for the divine Lover draws her to Himself by means of this union.
It is for this reason that I wish you to be diligent in the study of your own nothingness, that this nothingness may be absorbed, so to speak, in the immensity of God, Who is all.
O happy loss! The soul finds herself again, indeed, after losing herself in God.
---
Ah! the God of truth loves the truth. Now, he who knows his nothingness, and acknowledges it, knows the truth.
Through contemplation, which acquaints us with this great truth that we are nothing and that God is all, our soul is plunged into the infinite love of the Supreme Good.
Follow the rules which I have marked out for your direction in prayer according to the lights that God has given me.
The state of prayer, in which God has placed you, requires few words.
Love speaks little. The language of divine love is a burning heart; no words can express its ardors; they make of the loving soul a victim of love, a holocaust, consumed and reduced to ashes in the divine fire of charity.
---
My soul is entirely oblivious of self in that immense ocean of the infinite glories of God.
---
Let us be generous, let us serve the Lord nobly, let us practise great virtues; God will be our strength and will give us victory.
I recommend you not to lose sight of the Passion and death of Jesus, our life.
---
Remember that you ought no longer to meditate as you did in the beginning, but after the rules I have given you.
Love is an unitive virtue which appropriates the sufferings of the Beloved.
Meditate in pure faith; spend not your time in vain imaginings.
---
Make a nosegay of the sufferings of Jesus, and wear it on your bosom, or else keep yourself absorbed in God in pure faith; let your soul be rapt in the thought of His sufferings and His love. Remain in this sacred silence, in this holy admiration, which increases the love of God.
---
I do not tell you to pray in my way, but in that of God. Leave your soul at liberty to receive the divine impressions according to God's pleasure. We should pray according to the dictates of the Holy Spirit.
---
If God wishes to despoil us, let us allow Him to do so. Let us not neglect the practice of virtues, let us not neglect the holy presence of God, let us not neglect the remembrance of the Passion of our dear Jesus; but in meditation we must follow His inspirations, not our own impulses. There are some rules, but God is the Master.
Let us abandon ourselves to Him, trust in Him, despoil ourselves of everything, and God will clothe us after His own way.
---
Leave your soul free to take her flight to the Sovereign Good as God shall guide her.
The moth flies round the flame and falls into it; let your soul be drawn into the divine light and consumed in it.
I see that you can no longer meditate as heretofore, nor picture to yourself the scenes of Our Saviour's Passion; your mind suffers when you try to constrain it; Deo gratias! Act, then, in this way: keep yourself in the presence of God, with a pure and simple consideration of His immense goodness, in a loving silence; rest your spirit in the paternal bosom of your God, and when recollection ceases, recall it gently by a loving ejaculation.
---
O amiable Goodness! O infinite Charity! O my God and my All! O supreme Sweetness! Make these aspirations, or any others, as God will inspire you; but remember that if, in making one of these ejaculations of love, your soul regain her peace and recollection in God, it is unnecessary to make a second; continue, rather, this silence, this repose of the soul in God, which includes excellently all the acts that we can ever make.
When, on the contrary, you do not feel this interior peace, or this recollection, the soul can no longer meditate. Make no effort to do so; you ought, however, always to keep up a loving attention to God in the superior part of the soul. In this case, remain before God, detached from all consolation, like a statue in its niche.
---
"The true adorers shall adore the Father in spirit and in truth." (John 4:23) Note these words well, because they contain all the elements of prayer; its perfection consists not in the joys and sensible delights which it may produce, but in the spirit - that is, in a true, pure, and simple nakedness and poverty of spirit, detached from all sensible consolation, so that the spirit reposes, purely and simply, in the infinite Spirit of God. Our Lord adds: "and in truth" - that is to say, we must have a full consciousness of our nothingness, so as not to rob God of one iota of His glory.
See that child: after having fondled and caressed its mother, it lulls itself on her breast, continuing to move its tiny lips sucking the milk; so the soul, after having spent her affections, so to speak, ought to rest on the bosom of her heavenly Father, and not awaken from this sleep of faith and love without the permission of God.
---
You ought to forget yourself in God; let your spirit fall, as a drop of water, into that immense ocean of charity, to repose there and receive the divine communications, without losing sight of your nothingness. We learn all things in this divine solitude; we learn more things in this interior school by being silent than by talking. Saint Mary Magdalen out of love fell at the feet of Jesus; there she was silent, she listened, she loved, she lost herself in love.
---
Take with you everywhere this spirit of prayer and interior recollection. Go out of yourself, and lose yourself in God; go out of time, and lose yourself in eternity.
I am at the sea-shore; a drop of water is suspended from my finger. I ask this water: Poor drop, where would you wish to be? It replies: In the sea. And what do I in answer to this appeal? I shake my finger and let the poor little drop fail into the sea. Now, I ask you, is it not true that this drop of water is in the sea? Certainly it is there; but go and seek it, now that it is lost in the ocean, its centre. If it had a tongue, what would it say? Deduce the consequence and apply the parable to yourself. Lose sight of the heavens, the earth, the sea and its rivers, and all created things, and permit this soul that God has given you to lose herself in this infinitely great and good God Who is her first cause.
---
See if this grace of prayer, with which the Most High favors you, produces in you a better knowledge of your utter insufficiency.
---
Be careful to keep yourself hidden from creatures, and visible to God only, by an earnest desire for His greater glory, by a profound contempt of yourself, by the practice of all virtues, especially humility, patience, gentleness, peace of heart, and by a perfect evenness of temper towards all persons with whom you come in contact.
Prayer is never more perfect than when it ascends from the very depth and essence of the soul; we pray, then, in the spirit of God. This is a sublime language, but when God wills, He makes even the stones speak. Let the sovereign God reign in your spirit; there ought to be a reciprocal repose: God in you, and you in God. O sweet, O divine operation!
God nourishes Himself, let me say for want of a better word - God nourishes Himself with your spirit, and your spirit sustains herself with the Spirit of God: Jesus is my nourishment, and I am His. There is no illusion possible in this operation, because it is a labor of faith and love.
---
Your prayer ought to be continual. The place wherein we ought to pray is the spirit of God.
In God we should chant the divine praises; we should do all things in God.
Pray twenty-four hours every day - that is, perform all your actions with heart and mind raised to God, holding yourself in interior solitude, and reposing in God in pure faith.
When your poor, restless heart turns by the grace of God towards the divine light, and conceives a wish to fly thither and be consumed therein, speak to God with profound reverence and gratitude of the wonders He did in becoming incarnate, suffering and dying for us.
One or two loving words may cause the soul to become enraptured, languishing, fainting of love and sorrow.
---
If you cannot spend much time at prayer, no matter: to act well is always to pray well.
Be attentive to your duties, and at the same time be attentive to God by frequently purifying your heart in the immense ocean of divine love.
---
Take care that your prayer becomes more and more interior, in pure faith; humble yourself, and seek no consolations but the great God Who gives them.
---
A word suffices, sometimes, to dispose us to mental prayer. "Our Father, Who art in heaven" - pronounce those words, and then let the heart act.
---
If we are men of prayer, God will make use of us, although poor and miserable, for the greatest triumphs of His glory; unless we are men of prayer, we can accomplish no good.
- text taken from Flowers of the Passion, taken from the letters of Saint Paul of the Cross