The Passion and the Love of Our Neighbor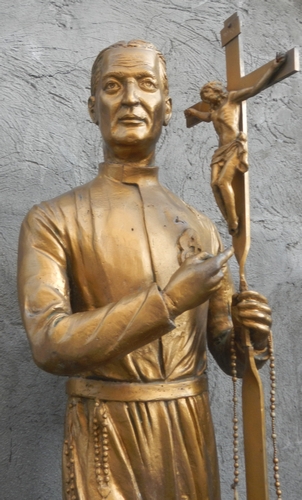 You will find the name of Jesus engraven on the countenances of the poor.
Have courage, ye poor of Christ, because heaven is for the poor.
---
Wealth, unless it be devoted to good works, will become to its possessor only a source of endless torment in hell.
---
To provide for the sick, we should sell even our silver chalices.
---
If you succeed in bringing a single soul to heaven, what charity! what a gain! what glory to God!
---
If, during life, we have been kind to the suffering souls in purgatory, God will see that help be not denied us after death.
---
We must cover the failings of our neighbor with the mantle of charity, attributing them to ignorance or inadvertence.
---
You should regard the person that tries your patience as a treasure. Look upon her with an affectionate eye, as an instrument which God uses to clothe your soul with a garment of gold and pearls; that is, with the virtues, and especially with the patience, the silence, and the meekness of Christ. Oh, how much I cherish the trials which come to you through that person! Do not defend yourself, do not speak, or, if you say anything, let it be to excuse her and honor her. When you pass by her, bow your head respectfully as before an instrument in the paternal hand of God.
The better way is to be silent altogether, after the example of Christ.
---
Go in search of occasions to serve your accusers. You should seek these occasions more assiduously than people seek pearls and diamonds.
---
Do not be troubled because people despise and ignore me. God permits this trial to humble me, and I rejoice in it.
I know not what I have done to this prelate; I only know that I labored for a long time in his diocese, and that had I remained there I would have died. But the poor bishop merits sympathy, for persecutors and calumniators have not been lacking, especially since the question of establishing a retreat was broached. God be blessed! my trial does not trouble me. I intended to write to the bishop, but I am not equal to the task; it is much better to leave my justification to God.
Love your enemies in Christ; show them the sweetest cordiality; at the same time make some interior act of love, as, for instance, "O dear souls of Jesus! I love you in the Heart of Jesus, which burns with love for you. O blessed souls! love Jesus for me."
- text taken from Flowers of the Passion, taken from the letters of Saint Paul of the Cross