The Passion and Interior Solitude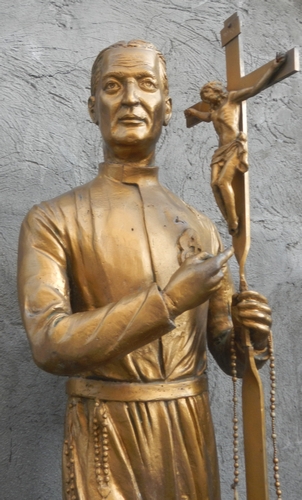 Examine yourself well, in order to ascertain whether God alone lives in you. By self-examination you will know whether you perform all your actions for the love of God, and unite them to those of Our Lord Jesus Christy Who is our way, our truth, and our life.
Truly, you are dead, and your life is hidden in God with Christ. Since you are dead to everything that is not God, keep yourself perfectly detached from every creature. God loves childlike souls. He teaches them that wisdom which He has concealed from the wise and prudent of the world. (Matthew 11:25)
Never stray away from the sacred wounds of Jesus. Let the sufferings of your Divine Redeemer be deeply impressed on your heart, and be assured that He, the Good Shepherd, will conduct you as a cherished lamb to His divine fold. And what is the fold of this amiable Shepherd? It is the bosom of His heavenly Father.
---
If you wish to preserve or acquire the gift of prayer, keep yourself recollected by making, even in the midst of your occupations, frequent aspirations to God.
Watch over all your senses, and particularly over your eyes. By guarding the eyes, interior recollection may be acquired; for when we are at the window, or at the door, we may see what is going on outside, but not what is passing within; whereas, if we direct our attention to the interior of the house, we know nothing of what is passing without.
---
When you find yourself lost in interior solitude, and when you would rest more peacefully on the bosom of your heavenly Father, lament as a child and tell Him of the demon's wickedness towards you. He knows it already, but He wishes you to complain with the simplicity of a child. Tell Him, but with deep humility, not to allow the demon to molest you any longer.
---
When the soul finds herself in the sacred silence of faith and love, and feels an interior impulse to pray for the wants of the Church, or of the world, for some special or general intention, she should do so immediately; but this interior movement ceasing, she ought to repose again in God. If this repose transform itself into the sleep of love and faith, so much the better. The Divine Goodness, I hope, will make you understand this language if you be very humble and retain a full sense of your nothingness.
---
Fly from the world, and commence by trampling under your feet all human respect. Do not blush to be a servant of Christ. Regard this world with the same horror that the sight of a criminal suspended from a gibbet would awaken in you. Know that the atmosphere of the world is polluted with the foul odor of thousands of sins that are constantly committed, and which can be washed away only by tears of blood.
---
Why should we be attached to this world, where we can breathe only air poisoned by so many crimes?
I beg you to close to creatures the door of your heart, and to keep yourself shut up in the interior of your soul, that you may commune peacefully with your Beloved.
We should hold only so much intercourse with creatures as charity and social etiquette demand, and no more.
---
The oratory and the cell constitute the earthly paradise of the true servants of God.
---
You should find your delight only in three places - namely, in the oratory, in the cell, and in the interior temple of your soul, which is the principal one.
---
Parlors are the ruin of monasteries.
---
The moment has come for you to keep yourself in interior solitude, and to repose peacefully on the bosom of God. There you will learn to become a saint.
- text taken from Flowers of the Passion, taken from the letters of Saint Paul of the Cross