The Passion and Humility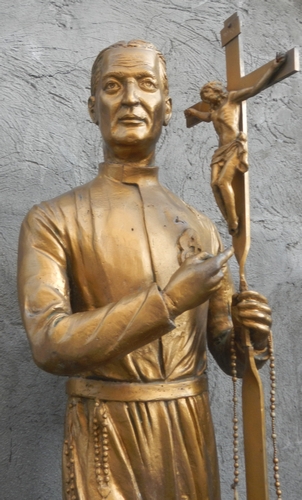 When God bestows His favors on you, keep your secret to yourself, according to the advice of the prophet Isaias: "My secret to myself, my secret to myself" (Isaias 24:16), and seize every occasion to humble yourself.
---
God reveals His sublime secrets only to those who are humble of heart. Therefore entertain a sincere contempt of yourself; let it be your greatest desire to be regarded as an object worthy of contempt.
---
Arrived at this point of humility, abandon yourself to God, and He will illumine your soul with rays of divine light and cause you to lead a life of divine love - a holy life. These are some of the sublime effects which the Divine Majesty works in souls that are truly humble and render to God all the glory of His gifts. Read these sentiments attentively, but with a simple and open heart, after the example of the mother-pearl, which, having received the dew of heaven, closes itself and sinks to the bottom of the sea, there to form the precious pearl.
---
Humble yourself, resign yourself, and abandon yourself to God with entire confidence, always keeping in view your nothingness.
---
Act justly: keep what is your own - namely, your misery and frailty, capable of leading you to the commission of every crime; and leave to God that which belongs to Him, that is, every good.
---
We must fear that terrible beast, self-love; it is a serpent with seven heads which intrudes itself everywhere. There is nothing which frightens me more and puts me more on my guard against the impulses of my heart, lest they be prompted by it.
---
Ah! when shall we perfectly imitate our divine Redeemer, Who humbled Himself so much?
When shall we be sufficiently humble to glory in being the reproach of men, and the outcast of the people? (Psalm 21:7)
When shall it be our greatest pain to be esteemed and honored? Ah! when? In your charity beg of God to grant me this grace.
---
The deeper our humility, the higher will be our place in heaven. As Lucifer wished to raise himself to the highest place in heaven, and in punishment of his pride was cast into the depths of hell, so the soul that humbles herself most profoundly causes Satan to tremble and be confounded, and God exalts her to the glory of paradise.
---
Know that one grain of pride suffices to overthrow a mountain of holiness. Be humble, then, and endeavor to know yourself.
---
Humility and self-contempt are safe barriers against illusions.
---
When we see that prayer produces effects and desires befitting our state in life, there is no illusion to fear, provided that there results a fuller consciousness of our indigence, helplessness, and ignorance.
Nothingness and Infinity: these two words comprise sublime perfection.
---
The grace of the Holy Ghost be ever with you. Amen.
1. I rejoice on account of the interior and exterior sufferings which you have to bear; I rejoice that you love them. You begin to be a disciple of Christ. It is true that yours are light crosses, and you ought to humble yourself by the consideration that they are nothing compared to those of the servants of God, and much less still when weighed in the balance of your Saviour's cross.
2. The prayer which humbles the soul, inflames her with love, and leads her to the practice of virtue, is not susceptible of illusion.
3. Fly, as a pest, that self-satisfaction which begets vanity and inspires you with an esteem of yourself; it comes from the devil.
Thank the Lord that you have the grace to recognize and reject it.
Humility of heart, self-contempt, recourse to the Sacred Heart of Jesus, the impregnable fortress to which we should ever fly for help - these are the chief means of guarding against illusion.
4. Those sentiments which enlighten your mind and inflame your will ought, after what you have told me, to be suspected if they occasion you one particle of self-complacency. You should, therefore, banish those imaginations and place yourself in the presence of God, endeavoring with a lively faith to conceive a high idea of the Divine Majesty, that you may the more effectually humble yourself before Him. If the devil assail you, think of your sins and miseries; do not permit yourself to go further, but reflect on your own nothingness: you will thus baffle the ruses of the demon. Be faithful to this advice.
Saint Francis Borgia, before applying himself to the sublime prayer of contemplation, was wont to spend two hours in meditating on his nothingness, etc.
True consolations and divine lights are always accompanied by a deep humility and such a knowledge of self and of God that we put ourselves under the feet of all. Moreover, they impart sometimes, though not always, clear understanding of heavenly things, along with peace, joy, the love of virtue, and a longing for grace.
---
Let us keep ourselves humble until God Himself will raise us up. Oh, when God wishes to raise up a soul, what gentle violence He uses! I say gentle, but it is so strong that the soul cannot resist it.
So let us remain, at first, in the presence of God in pure faith, with a deep sense of our nothingness, our sins and miseries; afterwards let us leave free to the soul the attractions of the Holy Ghost.
I may add that, though you think that you are rejoicing in your trials, you should not make any account of this disposition, because the devil could thereby easily fill you with vanity. It is better to fear and to distrust one's self, having in view only the will of God.
The world is full of snares; only humble souls can escape them. Do not trust yourself even though your prayer seems to produce good effects.
Be not judge in your own case, but distrust yourself, and adore the Father of lights in spirit and in truth. It is written: Happy the man who always fears!
To do well and to feel that we do nothing well is a sign of deep humility.
He is truly humble of heart who knows himself thoroughly and who knows God. May the Lord grant this grace to all men!
---
He shall be the greatest who will make himself the least. He that humbles himself the most profoundly shall be the most exalted; he shall have, the more easily, access to that wine-cellar, that royal hall, whence opens that secret sanctuary in which the soul communes face to face with her divine Spouse.
---
If any dust of imperfection cling to your heart, be not troubled, but consume it immediately in the fire of divine love, and, sorrowfully asking forgiveness, continue to live in peace.
---
From humility of heart proceed serenity of mind, gentleness of conduct, interior peace, and every good.
---
Imagine yourself a great nobleman, who, while at table with his friends, hears a loud knock at the door. He sends a servant to see who knocks, and learning that it is a beggar, grows angry at the beggar's impertinence, and dismisses him without an alms.
A little later another beggar knocks, but very humbly and modestly. The master then says to his servants: Let charity be given to this poor man who so humbly asks it.
A third knocks, but so softly as to be scarcely heard. The master gives him o good sum of money.
Finally a poor leper comes, who has not the boldness to knock, and who throws himself on the ground near the door, and waits for the master to perceive him. The master, going out for a walk, observes the poor leper. "What are you doing here?" he inquires; "why do you not ask charity?"
"Ah! sir," replies the mendicant, "you are a great and good nobleman, and I am a poor and ragged man, covered with leprosy. I dare not even open my mouth." At these words the nobleman summons his steward, and says to him: "See that this poor man is cared for and clothed, and supply him with a generous annuity for the rest of his days."
It is thus that Our Lord acts towards us. The more we humble ourselves in His divine presence, the more will enrich us with His graces.
When we experience dryness, desolation, abandonment in prayer, we must greatly humble ourselves before God, acknowledging our demerits, imploring the aid of His grace, and suffering in humble resignation whatever affliction He may be pleased to send us.
---
The most simple means to be always favored with new gifts and graces, and to love God more and more, is to look with the eye of faith into the abyss of our nothingness, and, in the fear which this sight will inspire, to fly into the interior of the desert, in the abyss of the Divinity, wherein we let our nothingness disappear and passively receive divine inspirations.
Abandon yourself wholly to God; let the Divine Majesty accomplish this work in the secret of your soul. In this school of divine wisdom he is the most learned who becomes the most ignorant. In this school we understand without understanding, so to speak, for I cannot express myself. O holy ignorance, which causes all the wisdom and greatness of the world to vanish, and makes us learn, in the school of the Holy Spirit, the science and wisdom of the saints!
- text taken from Flowers of the Passion, taken from the letters of Saint Paul of the Cross