The Immaculate Conception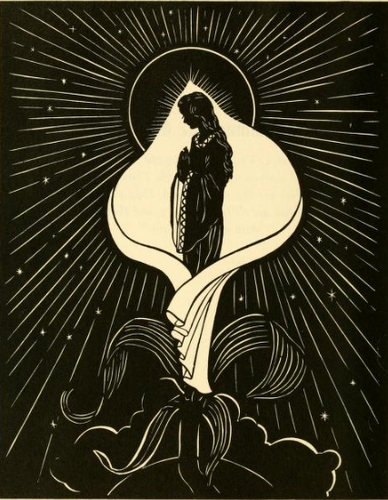 "Blessed art thou, O Virgin Mary, by the Lord the most High God, above all women upon the earth. Thou art the glory of Jerusalem, thou art the joy of Israel, thou art the honor of our people. Thou art all fair, O Mary, and there is in thee no stain of original sin."
When we think of beauty, we think of something having light and color and form of perfect proportions, with no stained or twisted part to mar the whole. It does not matter whether the word beauty means to us a mountain, or a flower, or a person, or even a beautiful melody; perfection must be in it, or seem to be in it; else we are not satisfied.
Mary's soul is the most beautiful thing in God's creation. It was shaped and designed as the masterpiece of the One Who planned the sunsets, placed the mountains, bounded the seas, and jewelled the skies. We know from our own eyes' testimony what a matchless artist He is and how all beauty flows from Him as a river of love into this valley of our sorrows. If He has seemingly exhausted Himself in designing the velvet loveliness of a flower petal, or in the glowing tapestry of the sky, it is only to be supposed that in shaping the soul of her who was to be His Mother, He would go so far beyond the imagination of mortals that our words could not begin to describe her perfections. She is "all fair." All the beauty, all the Grace that a creature is capable of possessing, are hers. When we try to imagine Mary's soul, we simply lose ourselves in attempting to find an image of it among earthly beauties.
Saint Paul speaks of the body as the "shrine of the Holy Spirit;" we know that because of the body's great dignity as the abiding place of an immortal soul it should be held in reverence, kept pure and becomingly clothed. How much more is it to be expected that the Blessed Virgin, who was God's earthly temple in a way that no other creature could ever be, would be all-beautiful, and radiant with the utmost in human perfections! From the fabric of human nature no more perfect temple could be erected than she who is so truly "the house of God and the gate of heaven."
You have seen many churches, either in reality or in pictures, and without pretense of knowing much about architecture, you would agree that a church or temple is different from any other sort of building; something within you responds to a church as it does to no other structure. You do not feel like genuflecting when you go into a store, no matter how beautiful it may be, and no building which has a purely business purpose has any power to command your reverence. But almost instinctively as you enter a Catholic church where the Blessed Sacrament is reserved, you know that here is something which is very great – something which gives meaning to the building, something which directs your thoughts upward. You feel a positive pain of loss when on Good Friday the Blessed Sacrament is removed from the church and the tabernacle door is left open. This loneliness is something that defies explanation, for the church is just as beautiful as it ever was. But whether you can explain it or not, your Faith tells you that no church, however beautiful, is complete without its Divine Guest. This gives us the position of Catholics with regard to Mary – for Mary is the temple, beautiful and pure, but without Christ she is incomplete. Only as His Mother, His temple, does she hold place in our Faith. Never does she stand alone, for Mary is a creature of God and a child of Adam dependent on the saving merits of Christ.
But as the temple of God, she commands our special reverence and love. The Architect of the universe shaped of her the most beautiful temple ever known. She is a magnificent tabernacle housing an infinite Guest; a perfect setting for a perfect jewel; under these and a thousand other figures people have tried for centuries to describe her. They can only repeat the inspired words of the Scriptures which are applied to her:
"Thou art all fair, O Mary,
And there is in thee no stain of original sin"
Saying this, they had said everything.
Beauty, as a little thought will reveal, is a matter of light, either in the natural order or in the supernatural order. We cannot see color without light. The soul is not beautiful without the light of God's grace. Original sin was a black cloud of evil, a voluntary "blackout" with which the human race in the person of Adam closed our souls against the light of grace. Today's blackout curtains hide the light within a building when all is dark around it. The first sad mistake of mankind was a real blackout, because it shut out the light and left the soul in darkness. Until the tarry stain of that original blackness is removed from our souls at Baptism, grace cannot shine in to warm it and light it and make it beautiful.
In Mary's soul there was never a shadow of a cloud to shut out the grace of God. The light of His grace streamed in upon her unobstructed, as though her soul were all windows. The radiant colors of all the virtues were found in the clear crystal of her purity. And all this was as it should be, since it would not fit the dignity of the Creator of the universe had His temple ever belonged to anyone else, even for the slightest moment. It was in preparation for her great office as Mother of God that she was preserved at the first moment of her conception from any touch of sin. This, her special privilege, is her Immaculate Conception. Only the Divine Motherhood, for which it was a preparation, is a greater grace.
Among Catholics there never has been any question of the fitness of the Immaculate Conception. In the early ages of the Church the doctrine was taken so much for granted that no one thought it necessary to define it as a dogma which would oblige belief. It was left for the nineteenth century to declare as an article of Faith that Mary was sinless through the anticipated merits of her Son, from the very first moment of her existence. This, one of the latest of her feasts, was announced to the world on the Eighth of December, 1854. Since 1847 Mary in her Immaculate Conception has been the patron of the United States. The Feast of the Immaculate Conception is now a holy-day of obligation in the whole Western Church.
In defining the dogma of the Immaculate Conception, it was made clear that (1) Mary, being a child of Adam, was in need of the merits of Christ and that (2) it was because of these merits that she was preserved from the first moment of her existence from the slightest stain of sin. Mary would have been an unsuitable shrine for her Divine Son if ever she had been subject to His enemy, Satan. For the rest of mankind, who are under the cloud of Adam's disobedience. Baptism cleanses the soul and makes it a child of God. But Baptism takes place at some time after a child is born, when he has already lived for some time under the penalty of sin. This would not do for Mary. Every moment of her existence had to be outside the reach of sin. Nothing but absolute freedom from sin would render her worthy – as far as a creature can be worthy – of being the Mother of God. And God, Who does all things well, bestowed upon her the privilege of the Immaculate Conception – "Our tainted nature's solitary boast."
Mary is the only child of Adam who never for an instant bowed to the reign of Satan. What hatred he has for her and how undying is the feud between them, many outward events in history have shown and every saint in heaven bears testimony. Since the day when God comforted His disobedient children in the garden of Eden with the promise of a woman who would "crush the head'* of the evil serpent, there has not been an hour*s truce between them. "As an army in battle array" she has fearlessly fought him and won from his grasp soul after soul. She knows that we are bought with a great price – the death of her Son – and she does not intend to let any soul perish who will call upon her for help. In Mary, then, we have not only the perfect example of creature holiness, but also a mighty champion who will defend us against all the wiles of the evil one and guide us to her Son.
"O holy Mother of God, who didst worthily deserve to conceive Him Whom the whole world cannot contain, cleanse away our sins by thy loving intercession, that we who have been redeemed, may through thee be able to ascend to the seat of perpetual glory, where with Him, thy Son, thou reignest forever."