---
Nothing worthy of God can be done without earth being set in uproar and hell's legions roused. - Saint Ignatius of Loyola
---
Prince of Peace by Archbishop Alban Goodier: The Magi in Jerusalem
---
A Year with the Saints: 8 January
---
Our Lady of Prompt Succor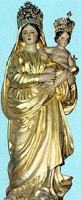 Also known as
• Notre Dame de Bon Secours
• Our Lady of Quick Help
Profile
In 1727, French Ursuline nuns founded a monastery in New Orleans, Louisiana, and organized their area schools from it. In 1763 Louisiana became a Spanish possession, and Spanish sisters came to assist. In 1800 the territory reverted back to France, and the Spanish sisters fled in the face of French anti - Catholicsm. In 1803, short on teachers, Mother Saint Andre Madier requested reinforcements in the form of more sisters from France. The relative to whom she wrote, Mother Saint Michel, was running a Catholic boarding school for girls. Bishop Fournier, short-handed due to the repressions of the French Revolution, declined to send any sisters. Mother Saint Michel was given permission to appeal to the pope. The pope was a prisoner of Napoleon, and it seemed unlikely he would even receive her letter of petition. Mother Saint Michel prayed,
O most Holy Virgin Mary, if you obtain for me a prompt and favorable answer to this letter, I promise to have you honored at New Orleans under the title of Our Lady of Prompt Succor.
and sent her letter on 19 March 1809. Against all odds, she received a response on 29 April 1809. The pope granted her request, and Mother Saint Michel, commissioned a statue of Our Lady of Prompt Succor holding the Infant Jesus. Bishop Fournier blessed the statue and Mother's work.

Mother Saint Michel and several postulants came to New Orleans on 31 December 1810. They brought the statue with them, and placed it in the monastery chapel. Since then, Our Lady of Prompt Succor has interceded for those who have sought her help.

A great fire threatened the Ursuline monastery in 1812. A lay sister brought the statue to the window and Mother Saint Michel prayed
Our Lady of Prompt Succor, we are lost if you do not come to our aid.
The wind changed direction, turned the fire away, and saved the monastery.

Our Lady interceded again at the Battle of New Orleans in 1815. Many faithful, including wives and daughters of American soldiers, gathered in the Ursuline chapel before the statue of Our Lady of Prompt Succor, and spent the night before the battle in prayer. They asked Our Lady for victory by Andrew Jackson's forces over the British, which would save the city from being sacked. Jackson and 200 men from around the South won a remarkable victory over a superior British force in a battle that lasted twenty-five minutes, and saw few American casualties.

It is still customary for the devout of New Orleans to pray before the statue of Our Lady of Prompt Succor whenever a hurricane threatens New Orleans.
Patronage
• Castellammare del Golfo, Italy
• Kercem, Malta
• Louisiana
• New Orleans, Louisiana, archdiocese of
• New Orleans, Louisiana, city of
Readings
Our Lady of Prompt Succor, ever Virgin Mother of Jesus Christ our Lord and God, you are most powerful against the enemy of our salvation. The divine promise of a Redeemer was announced right after the sin of our first parents; and you, through your Divine Son, crushed the serpent's head. Hasten, then, to our help and deliver us from the deceits of Satan. Intercede for us with Jesus that we may always accept God's graces and be found faithful to Him in our particular states of life. As you once saved our beloved City (New Orleans) from ravaging flames, and our Country from an invading army, have pity on us and obtain for us protection from hurricanes and all other disasters. (Silent pause for individual petitions.) Assist us in the many trials which beset our path through life. Watch over the Church and the Pope as they uphold with total fidelity the purity of faith and morals against unremitting opposition. Be to us truly Our Lady of Prompt Succor now and especially at the hour of our death, that we may gain everlasting life through the merits of Jesus Christ Who lives and reigns with the Father and the Holy Spirit, one God world without end. Amen. - prayer from the National Shrine of Our Lady of Prompt Succor
http://catholicsaints.info/our-lady-of-prompt-succor/
---
Blessed Eurosia Fabris

Also known as
• Eurosia Fabris Barban
• Mamma Rosa
• Rosina Fabris
Profile
Born to a farm family, the daughter of Luigi and Maria Fabris, she grew up with the nickname Rosina. In 1870, when Eurosia was four, the family moved to Marola di Torri, Italy where she lived the rest of her life. She had only two years of school, forced to leave in 1874 at age eight to help her parents on the farm. Rosina learned dress-making from her mother. She made her First Communion at age twelve, and joined the Association of the Daughters of Mary at Marola. She was strongly devoted to the Holy Spirit, the infant Jesus, the Cross of Christ, the Eucharist, the Virgin Mary, and the souls in the Purgatory. In her teens she taught catechism to children, and taught girls to sew. She received several marriage proposals but repeatedly turned them down.
In 1885 a neighbor woman died, leaving two children under the age of two, and Rosina began caring for them. She married Carlo Barban on 5 May 1886, and the two took in the children. The couple had nine more children of their own, and their home became a gathering place for all the children of the village; Eurosia received the new nickname of Mamma Rosa. Three of her sons became priests, and one of them was her biographer. Along with her endless work load as a mother, Rosa managed to maintain a deep prayer life. She was the core of her family in both spiritual and practical matters, and was known for her charity to the poor, feeding the hungry and nursing the sick. Widowed in 1930. Franciscan tertiary. Through her whole life her home was an ideal Christian community for family and friends.
Born
27 September 1866 in Quinto Vicentino, Italy
Died
• 8 January 1932 at Marola di Torri, Vicenza, Italy of natural causes
• buried in the church in Marola di Torri
Beatified
• 6 November 2005 by Pope Benedict XVI
• recognition celebrated by Cardinal Saraiva Martins at Vincenza, Italy
http://catholicsaints.info/blessed-eurosia-fabris/
---
Saint Severinus of Noricum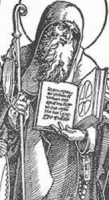 Also known as
Severino of Noricum
Profile
Born to the Roman nobility. Gave away his wealth to live as a hermit in the Egyptian desert. Though he loved the quiet and contemplative life, he felt a call to spread the faith, and he followed it.
Evangelized in Noricum (part of modern Austria). Hermit near Vienna. Prophesied the destruction of Astura, Austria by the Huns under Attila. Established refugee centers for people displaced by the invasion. Founded monasteries to re-establish spirituality and preserve learning in the stricken region.
One winter, the city of Faviana on the River Danube was starving. Following a sermon by Severinus on penance, the ice cracked, and food barges were able to dock, saving the city.
Noted travelling preacher and healer throughout Austria and Bavaria. Established funds to ransom and rescue captives. Ate once a day, less in Lent, went barefoot, ignored the weather, and slept on a sackcloth that he spread on the ground where ever he stopped. Foretold the date of his own death, and died singing Psalm 150.
Born
c.410 in North Africa
Died
• 8 January 482 at Favianae, Noricum (in modern Austria) of pleurisy
• relics moved to the Benedictine monastery at Monte Feltre
• relics moved to Castellum Lucullanum in Naples, Italy
• relics enshrined in a chapel at the Benedictine monastery of San Severino, Naples in 910
• relics moved to Fratta Maggiore in Avera, Italy in 1807
Patronage
• against famine
• linen weavers
• prisoners
• vineyards
• Austria
• Bavaria, Germany
• Linz, Austria, diocese of
Representation
• pilgrim with a book
• abbot in a tomb with staff and crucifix
• preaching pilgrim
• with Odoacer (Severinus prophesied an invasion by him)
http://catholicsaints.info/saint-severinus-of-noricum/
---
Saint Gudule of Brussels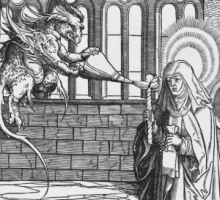 Also known as
Ergoule, Goedele, Goelen, Gould, Goule, Gudula
Memorial
19 January in the diocese of Hamme and Moorsel
Profile
Daughter of Count Witger and Saint Amalburga; great-niece of Emperor Pepin; sister of Saint Pharaildis of Ghent, Saint Reineldis, and Saint Emebert of Cambrai. Niece and student of Saint Gertrude of Nivelle, who trained her in the religious life. The girl then returned to live at the family castle at Hamme.
Pious and devoted, she lived for her prayers and time in church. During her early morning visits to the church in Moorsel, Belgium the devil extinguished her candle, which would miraculously re-ignite. The flower called tremella deliquescens, bears fruit in the beginning of January; it's known as "Sinte Goulds lampken" (Saint Gudula's lantern) because not even the winter can extinguish it.
Born
c.time-line-650 in Hamme, Brabant (in modern Belgium)
Died
• 8 January 712 at Hamme, Brabant (Belgium) of natural causes
• buried in front of the church door in her hometown of Hamme
• relics translated to Moorsel, Belgium
• relics translated to the church of Saint Gery in Brussels in 978
• relics translated to the collegiate church of Saint Michel (later Sainte Gudule) in Brussels in 1047
• relics destroyed by Calvinists on 6 June 1579
Patronage
• Brussels, Belgium
• single laywomen
Representation
woman holding a candle, lamp, lantern or torch which a demon is trying to blow out, sometimes with a bellows
http://catholicsaints.info/saint-gudule-of-brussels/
---
Saint Apollinaris the Apologist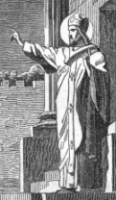 Also known as
• Apollinaris Claudius
• Apollinaris of Hierapolis
• Claudius Apollinaris
Profile
Second century bishop of Heirapolis, Phrygia. Held in high regard by other early saints including Saint Jerome and the historian Theodoret. Noted for writing a defense of the faith to Emperor Marcus Aurelius that reminded the Emperor of a miraculous victory that resulted from the prayers of Christian soldiers, and of his promise of protection for Christians. Worked and wrote against all the major heresies of his time, refuting them by logically destroying the heresy's philosophical roots. A prolific writer, most of his work has been lost over the centuries.
Died
c.175
Readings
We therefore grossly deceive ourselves in not allotting more time to the study of divine truths. It is not enough barely to believe them, and let our thoughts now and then glance upon them: that knowledge which shows us heaven, will not bring us to the possession of it, and will deserve punishments, not rewards, if it remain slight, weak, and superficial. By serious and frequent meditation it must be concocted, digested, and turned into the nourishment of our affections, before it can be powerful and operative enough to change them, and produce the necessary fruit in our lives. For this all the saints affected solitude and retreats from the noise and hurry of the world, as much as their circumstances allowed them. - Saint Apollinaris
http://catholicsaints.info/saint-apollinaris-the-apologist/
---
Saint Erhard of Regensburg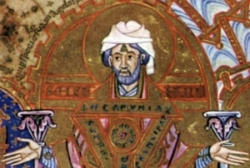 Also known as
• Erhard of Ratisbon
• Erhard of Ardagh
• Erhard of Bavaria
• Erhard of Sax
• Erhard the Scot
• Erhard Scoticus
• Albert, Eberhard, Eberhardus, Eerhard, Erard, Erardo, Erhard, Erhart, Everard, Herhard
Profile
Bishop of Ardagh, Ireland. Missionary to Bavaria, Germany working mainly around modern Regensburg. Assisted the archbishop of Trier, Germany. Bishop of Regensburg. Miracle worker. Baptized Saint Odilia of Alsace, which cured her congenital blindness. After his death a group of women formed a religious group called Erardinonnen (Nuns of Erhard) to pray perpetually at Erhard's tomb; Pope Leo IX gave them his approval, and they continued until the Reformation.
Born
7th century Irish
Died
• c.686 of natural causes
• interred at Regensburg, Germany
• his crozier is preserved as a relic in the parish church in Neidemunster
Patronage
• against cattle diseases
• against eye diseases, eye problems or eye pain
• against plague
• bakers
• blacksmiths
• cattle
• cobblers, shoemakers
• hospitals
• miners
• Regensburg, Germany
Representation
• bishop baptizing Saint Odilia of Alsace
• bishop with a book on which sit two eyes
http://catholicsaints.info/saint-erhard-of-regensburg/
---
Saint Thorfinn
Also known as
Torfinn
Profile
Cistercian monk at the abbey of Tautra. Canon of the Cathedral of Nidaros (modern Trondheim, Norway) by 1277 when he was a witness of the Agreement of Tönsberg. Bishop. Exiled by King Eric for supporting the Archbishop of Nidaros in a dispute over state interference in Church matters. Took refuge at the abbey of TerDoest in Flanders, Belgium. Pilgrim to Rome, Italy. Upon his return, Bishop Thorfinn fell ill, made a will to divide his meagre possessions, and died soon after. Father Walter de Muda, a monk who knew him, wrote a poem about Thorfinn, describing him as kind, patient, and generous, with a mild exterior and firm will against the evil and ungodly. Father Walter wrote the poem on parchment and hung it over Thorfinn's tomb.
The bishop had not attracted much attention in life, and was on his way to being forgotten. However, 50 years later, during a church renovation his tomb was opened. His remains gave off a strong and pleasant perfume. The parchment poem was still hanging near the body, still fresh and supple. The perfume of the relics, the state of the parchment, the reports of miracles around the tomb, and the reports of Thorfinn's holiness lead to approval of his cultus. Devotion soon spread through the Cistercians, and throughout Norway.
Born
at Trondhjem, Norway
Died
• 8 January 1285 at the Cistercian monastery at TerDoest, near Bruges, Belgium of natural causes
• miracles soon reported at his tomb
http://catholicsaints.info/saint-thorfinn/
---
Saint Abo of Tblisi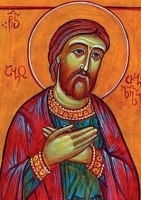 Also known as
• Abo of Tibileli
• Abo of Tiflis
Profile
Grew up Muslim. Perfumer to Nerses, the prince of Kartli, a region of eastern Georgia. As a young adult, Abo became convinced of the truth of Christianity, but was afraid to convert openly as Georgia was under Muslim rule and conversion was a capital offense. For political reasons, his prince had to seek shelter in Khazaria north of the Caspian Sea, an area free of Muslim control; Abo and 300 other members of the court accompanied him, and Abo was baptized there. The prince and his party returned to Tblisi in 782, and for a few years Abo lived quietly as a "closet" Christian. However, in 786 he was exposed as a Christian, and tried for being an apostate from Islam. He confessed his faith at trial, was imprisoned, and martyred.
Born
8th century at Baghdad, (in modern Iraq)
Died
• beheaded 6 January 786 at Tblisi, Georgia
• his body was burned on the edge of cliff, and his bones thrown off a bridge into the Kura River
• his biographer, a contemporary named John Sabanisidze, swears a pillar of light was seen rising from the water the next day
http://catholicsaints.info/saint-abo-of-tblisi/
---
Saint Lawrence Giustiniani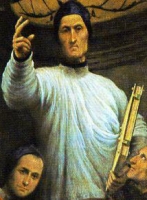 Also known as
• Laurence Giustiniani
• Lawrence Justinian
• Lorenzo Giustiniani
• Patriarch of Venice
Profile
Born to the Venetian nobility; his ancestors had fled Constantinople for political reasons. Against his widowed mother's wishes, he chose against marriage and for the religious life. Augustinian canon regular at San Giorgio, Alga, Italy in 1400. Spent his days wandering the island, begging for the poor. Ordained in 1406. Noted preacher and teacher of the faith. Held assorted administrative positions within his Order. Reluctant bishop of Castello, Italy in 1433. General of the canons regular. Bishop of Grado, Italy in 1451; the see was then moved to Venice, Italy, and Laurence was named archbishop and patriarch by Pope Nicholas V. Noted writer on mystical contemplation. Had the gift of prophecy. Miracle worker.
Born
1 September 1381 at Venice, Italy
Died
• 8 January 1455 at Venice, Italy of natural causes
• interred at the basilica of San Pietro di Castello, Venice
Canonized
16 October 1690 by Pope Alexander VIII
http://catholicsaints.info/saint-lawrence-giustiniani/
---
Blessed Edward Waterson
Additional Memorial
29 October as one of the Martyrs of Douai
Profile
As a young man Edward travelled to Turkey with some English merchants. There he met and was befriended by a wealthy Turk who liked Edward so much that he offered his daughter in marriage if the Englishman would convert to Islam. Edward declined, but the incident set his mind on spiritual matters. The route home ran through Rome, Italy and Edward converted from Anglicanism to Catholicism in 1588. Entered the seminary at Rheims, France on 24 January 1589, ordained on 11 March 1592. Returned to England on 24 June 1592 to minister to his countrymen in hiding for their faith. Arrested for the crime of priesthood soon after, he was abused in prison for several months before being martyred.
Born
at London, England
Died
• hanged, drawn, and quartered on 8 January 1593 at Newcastle-on-Tyne, England
• the prison horses refused to drag Edward to the scaffold
• when the guards finally got him there, the ladder jumped around to keep them from climbing it until Edward made the Sign of the Cross over it
Beatified
15 December 1929 by Pope Pius XI
http://catholicsaints.info/blessed-edward-waterson/
---
Blessed Titus Zeman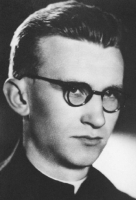 Profile
Joined the Salesians of Don Bosco in 1931, and made his solemn vows on 7 March 1938. Ordained a priest in 1940. Chaplain, school council member and chemistry teacher. Helped Salesians in Czechoslovakia escape to Italy after Communists banned religious orders on 13 April 1950 and and began imprisoning members. Captured on 9 April 1951 during an escape attempt, he was interrogated, tortured and sentenced to 25 years. The abuse during his imprisonment destroyed his health; he was released in 1964, but never actually recovered, and his death is directly attributable to the injuries he sustained in prison. Martyr.
Born
4 January 1915 in Vajnory, Bratislavský, Slovakia
Died
8 January 1969 in Bratislava, Slovakia of heart failure
Beatified
• 30 September 2017 by Pope Francis
• beatification recognition celebrated at the Church of Svätej Rodiny, Petrzalka, Bratislava, Slovakia, presided by Cardinal Angelo Amato
http://catholicsaints.info/blessed-titus-zeman/
---
Saint Pega of Peakirk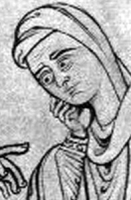 Also known as
• Pega of Croyland
• Margareta, Pea, Pee, Pege, Peggy, Pègue, Pegia
Profile
Daughter of Penwalh. Sister of Saint Guthlac of Croyland. Related to the royal family of the East Angles. Lived as a hermit in the Fens, Northhamptonshire, England near her brother. Once the devil took on her form to persuade Guthlac to break his vow to never eat before sunset. To prevent further attempts, Pega left the area and never returned in Guthlac's life. Anchoress near Croyland Abbey; a church was built on the site of her hermitage, and an Anglican convent dedicated to Pega survives to today. Peakirk (Pega's Church) is named for her. While en route to her brother's funeral in 714, she cured a blind man from Wisbech. Made a pilgimage to Rome, Italy and died before returning home.
Born
in Mercia, England
Died
c.719 in Rome, Italy of natural causes
http://catholicsaints.info/saint-pega-of-peakirk/
---
Saint Albert of Cashel
Also known as
Alberto
Profile
Evangelist in Ireland, especially around the city of Cashel, and may have been a bishop. Noted as an excellent preacher being "by race an Angle, in speech an angel." Evangelized in Bavaria (in modern Germany) with Saint Erhard of Regensburg. Suffered from arthritis in his back and hips. Pilgrim to Jerusalem, dying on the journey home. Some accounts list him as archbishop of Cashel, but that diocese did not exist in his day, and this is apparently an inference by later writers.
Born
English
Died
800 at Regensburg, Germany of natural causes
Canonized
19 June 1902 by Pope Leo XIII
Patronage
• against arthritis
• Cashel, Ireland
• Cashel and Emly, Ireland, Archdiocese of
http://catholicsaints.info/saint-albert-of-cashel/
---
Saint Wulsin of Sherborne
Also known as
• Wulsin of Shireburn
• Ultius, Vulsin, Wulfsin, Wulfsige
Profile
Benedictine monk. Spiritual student and close confidant of Saint Dunstan of Canterbury. Named by Dunstan c.960 to be superior of the restored Benedictine community at Westminster, England. Abbot of Westminster in 980. Bishop of Sherborne, England in 993; continued to serve as abbot. Rebuilt and revitalized the Church in Sherborne, and established a Benedictine monastery in his diocese. Several of his letters have survived the centuries.
Died
• 8 January 1002 of natural causes
• relics translated to Sherborne, England c.1050
http://catholicsaints.info/saint-wulsin-of-sherborne/
---
Saint Lucian of Beauvais

Also known as
Lucien, Lucius
Additional Memorials
• 3 June (Eastern Church)
• 15 September (translation of relics)
• 16 October (consecrated of his church)
Profile
Priest. Missionary from Rome, Italy to Beauvais, France. Worked with Saint Piaton. Martyred with Saint Julian of Beauvais and Saint Maximian of Beauvais.
Born
Rome, Italy
Died
290 at Beauvais, France
Patronage
• Beauvais, France, city of
• Beauvais-Noyon-Senlis, France, Diocese of
http://catholicsaints.info/saint-lucian-of-beauvais/
---
Saint Atticus of Constantinople
Profile
Atticus supported the Macedonian heresy (i.e., the Holy Spirit is not God), opposed Saint John Chrysostom, and worked against him at the Council of Oak in 405. When John was exiled from Constantinople, Atticus assumed the bishopric in 406. He eventually realized his error, repented his opposition, and submitted to Pope Innocent I's rulings. He remained as bishop, but a virtuous and orthodox one, and an opponent of heretics.
Born
4th century at Sebaste, Armenia
Died
10 October 425 in Constantinople of natural causes
http://catholicsaints.info/saint-atticus-of-constantinople/
---
Blessed Nathalan of Aberdeen
Profile
Born to a wealthy Scottish noble family, he gave it up to live as a prayerful hermit, making a living by raising a garden, an occupation he considered "closest to divine contemplation." Miracle worker during an area famine. Bishop in Tullicht, Scotland. Built churches and conducted missions in his diocese.
Born
near Aberdeen, Scotland
Died
c.678
http://catholicsaints.info/blessed-nathalan-of-aberdeen/
---
Saint Athelm of Canterbury
Also known as
Atheim, Athelhelm, Aethelm, Aethelhelm, Adelmus
Profile
Paternal uncle of Saint Dunstan of Canterbury. Benedictine monk at Glastonbury, England. Abbot of Glastonbury. Bishop of Wells, Somerset, England in 909. Archbishop of Canterbury in 914.
Died
923 of natural causes
http://catholicsaints.info/saint-athelm-of-canterbury/
---
Saint Garibaldus of Regensburg
Also known as
• Garibaldus of Ratisbon
• Gaubald...
Profile
Benedictine monk in Bavaria, Germany. Ordained by Saint Boniface c.740. Abbot of Saint Emmeran monastery at Regensburg, Germany. First bishop of Regensburg.
Died
762 of natural causes
http://catholicsaints.info/saint-garibaldus-of-regensburg/
---
Saint Eugenian of Autun
Also known as
Eugenianus
Profile
Fourth century bishop of Autun, France. Fierce opponent of Arianism, which led to his martyrdom.
Died
4th century in France
http://catholicsaints.info/saint-eugenian-of-autun/
---
Saint Maximus of Pavia
Also known as
Maximus II, Massimo
Profile
Bishop of Pavia, Italy. Attended the councils of Rome convened by Pope Saint Symmachus.
Died
514 of natural causes
http://catholicsaints.info/saint-maximus-of-pavia/
---
Saint Carterius of Caesarea
Also known as
Karterios
Profile
Priest. Martyred in the persecutions of Diocletian.
Died
304 at Caesarea, Cappadocia
http://catholicsaints.info/saint-carterius-of-caesarea/
---
Saint Ergnad of Ulster
Also known as
Ercnact, Ercnacta
Profile
Nun who received the veil from Saint Patrick.
Born
5th century Ulster, Ireland
http://catholicsaints.info/saint-ergnad-of-ulster/
---
Saint Helladius
Also known as
Elladio, Hellade, Hellas
Profile
Lay man martyr.
Born
African
Died
burned to death in a furnace in Libya
http://catholicsaints.info/saint-helladius/
---
Saint Theophilus the Martyr
Profile
Deacon. Martyr.
Born
African
Died
burned to death in a furnace in Libya
http://catholicsaints.info/saint-theophilus-the-martyr/
---
Saint Maximian of Beauvais
Profile
Missionary to Beauvais, France. Martyr.
Died
290 at Beauvais, France
http://catholicsaints.info/saint-maximian-of-beauvais/
---
Saint Julian of Beauvais
Profile
Missionary to Beauvais, France. Martyr.
Died
290 at Beauvais, France
http://catholicsaints.info/saint-julian-of-beauvais/
---
Saint Patiens of Metz
Profile
Fourth bishop of Metz, France in the second century.
Patronage
Metz, France
http://catholicsaints.info/saint-patiens-of-metz/
---
Martyrs of Greece
Profile
A group of Christians honored in Greece as martyrs, but we have no details about their lives or deaths. - Euctus, Felix, Januarius, Lucius, Palladius, Piscus, Rusticus, Secundus and Timotheus
http://catholicsaints.info/martyrs-of-greece/
---
Martyrs of Terni
Profile
A group of Christian soldiers in the imperial Roman army. Executed during the persecutions of emperor Claudius. Martyrs. - Carbonanus, Claudius, Planus and Tibudianus
Died
270 in Terni, Italy
http://catholicsaints.info/martyrs-of-terni/
---
Also celebrated but no entry yet
• Adèle de Messines
• Afflinus
• Agathon of Skete
• Christian Hosius
• Dominique of Carthage
• Egemonius of Autun
• George of Choziba
• Heinrich von Arnsberg
• Jacques Corbeau
• Leandro
• Macarius
• Mary of the Cross Giacobella
• Patheus
• Semajas
• Theodora of Chora
---
CatholicSaints.Info Portable Edition
email CatholicSaints.*
---