---
Feast of the Transfiguration of Our Lord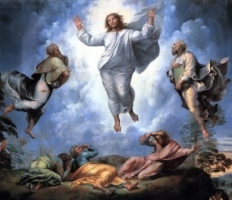 Article
Commemorates the revelation by Jesus of His divinity to Saint Peter the Apostle, Saint James the Great and Saint John the Apostle on Mount Tabor outside Jerusalem. The Old Testament patriarchs Moses and Elijah also appeared as a brilliant white light radiated from Christ.
Patronage
pork butchers
Video
Readings
After six days Jesus took Peter, James, and John his brother, and led them up a high mountain by themselves. And he was transfigured before them; his face shone like the sun and his clothes became white as light. And behold, Moses and Elijah appeared to them, conversing with him. Then Peter said to Jesus in reply, "Lord, it is good that we are here. If you wish, I will make three tents here, one for you, one for Moses, and one for Elijah." While he was still speaking, behold, a bright cloud cast a shadow over them, then from the cloud came a voice that said, "This is my beloved Son, with whom I am well pleased; listen to him." When the disciples heard this, they fell prostrate and were very much afraid. But Jesus came and touched them, saying, "Rise, and do not be afraid." And when the disciples raised their eyes, they saw no one else but Jesus alone. - Matthew 17:1-8
After six days Jesus took Peter, James, and John and led them up a high mountain apart by themselves. And he was transfigured before them, and his clothes became dazzling white, such as no fuller on earth could bleach them. Then Elijah appeared to them along with Moses, and they were conversing with Jesus. Then Peter said to Jesus in reply, "Rabbi, it is good that we are here! Let us make three tents: one for you, one for Moses, and one for Elijah." He hardly knew what to say, they were so terrified. Then a cloud came, casting a shadow over them;* then from the cloud came a voice, "This is my beloved Son. Listen to him." Suddenly, looking around, they no longer saw anyone but Jesus alone with them. - Mark 9:2-8
About eight days after he said this, he took Peter, John, and James and went up the mountain to pray. While he was praying his face changed in appearance and his clothing became dazzling white. And behold, two men were conversing with him, Moses and Elijah, who appeared in glory and spoke of his exodus that he was going to accomplish in Jerusalem. Peter and his companions had been overcome by sleep, but becoming fully awake, they saw his glory and the two men standing with him. As they were about to part from him, Peter said to Jesus, "Master, it is good that we are here; let us make three tents, one for you, one for Moses, and one for Elijah." But he did not know what he was saying. While he was still speaking, a cloud came and cast a shadow over them, and they became frightened when they entered the cloud. Then from the cloud came a voice that said, "This is my chosen Son; listen to him." After the voice had spoken, Jesus was found alone. They fell silent and did not at that time* tell anyone what they had seen. - Luke 9:28-36
And the Word became flesh and made his dwelling among us, and we saw his glory, the glory as of the Father's only Son, full of grace and truth. - John 1:14
For he received honor and glory from God the Father when that unique declaration came to him from the majestic glory, "This is my Son, my beloved, with whom I am well pleased." - 2nd Peter 1:17
O God, who on this day did reveal from heaven to the fathers of both the Old and New Testaments thine onlybegotten Son marvellously transfigured: grant, we beseech thee, that we, walking before thee in all such things as are pleasing unto thee, may attain to the everlasting vision of his glory, in whom, O Father, thou didst declare thyself well-pleased. - Sarum Missal
http://catholicsaints.info/feast-of-the-transfiguration-of-our-lord/
---
Blessed Pope Paul VI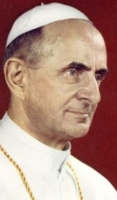 Also known as
Giovanni Battista Montini
Profile
Son of a prominent newspaper editor. Ordained in Brescia, Italy on 29 May 1920, he continued his studies in Rome, Italy, and became part of the Vatican secretariat of state in 1922. One of two pro-secretaries to Pope Pius XII. Archbishop of Milan from 1954 to 1963 where he worked on social problems and to improve relations between workers and employers. Created cardinal-priest of Santi Silvestro e Martino ai Monti on 15 December 1958. Elected 262nd Pope in 1963.
As Pope, Paul continued the reforms of John XXIII. He re-convened the Second Vatican Council, and supervised implementations of many of its reforms, such as the vernacularization and reform of the liturgy. He instituted an international synod of bishops; bishops were instructed to set up councils of priests in their own dioceses. Powers of dispensation devolved from the Roman Curia onto the bishops, rules on fasting and abstinence were relaxed, and some restrictions on inter-marriage were lifted. A commission to revise canon law revision was established.
In 1964, Paul made a pilgrimage to the Holy Lands, becoming the first pope in over 150 years to leave Italy. That was followed by trips to India in 1964, the United States in 1965, where he addressed the United Nations, Africa in 1969, and Southeast Asia in 1970. Relations between the Vatican and the Communists improved, and Communist leaders visited the Vatican for the first time. Paul met with leaders of other churches, and in 1969 addressed the World Council of Churches, and limited doctrinal agreements were reached with the Anglicans and Lutherans. Paul issued frequent reassertions of papal primacy in the face of growing dissent within the Roman Catholic Church itself. He enlarged the college of cardinals, and added cardinals from third world countries.
In the 1968 encyclical Humanae Vitae, Paul reaffirmed the church's ban on contraception, a disappointment to many liberals. It led to protests, and many national hierarchies openly modified the statement. Liberals raised questions about priestly celibacy, divorce, and the role of women in the church, but Paul held to traditional Church positions.
Born
26 September 1897 at Concesio, Lombardy, Italy as Giovanni Battista Montini
Papal Ascension
21 June 1963
Died
6 August 1978 at Castelgandolfo, Rome, Italy of natural causes
Beatified
• 19 October 2014 by Pope Francis
• the beatification miracle involved the healing in utero of an infant that doctors had diagnosed as disabled and encouraged the mother to abort; she refused, trusted to the intercession of Blessed Paul, and the infant survived with no health concerns at all
Canonized
• on 6 March 2018, Pope Francis promulgated a decree of a miracle obtained through the intervention of Blessed Paul
• the canonization miracle involved the healing of a mother and unborn child in the 5th month of pregnancy
• canonization tentatively planned for late October 2018 following a synod of bishops
Video
http://catholicsaints.info/blessed-pope-paul-vi/
---
Blessed Maria Francesca Rubatto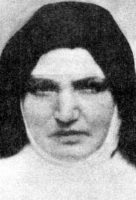 Also known as
• Anna Maria Rubatto
• Madre Rubatto
Profile
Anna Maria lost her father at age four. In her teens she received a marriage offer from a local notary, but turned it down and made a vow of virginity. Her mother died when Maria as 19, and the girl moved to Turin, Italy where he became the friend of Marianna Scoffone, an Italian noblewoman who supported her as she visited parishes in the city, taught catechism to children, visited the sick in hospital, helped the poor and neglected. Marianna Scoffone died in 1882.
One morning after Mass at the Capuchin church in Loano, Italy, a stone fell from a nearby convent under construction, striking a young worker on the head. Anna Maria cleaned the wound and gave the man some money to live on while he recovered. The building was to house a community of women religious, and the sisters were looking for a spiritual guide. When they had heard of the incident in the church, they took it as a sign that Anna Maria was the person they were looking for. A Capuchin priest, Father Angelico Martini convinced her to enter the community, and after a year she joined them in the house. She took the name Sister Maria Francesca of Jesus, and on orders of Bishop Filippo Allegro, she became the superior and formation director of the group. Thus began the Institute of the Capuchin Sisters of Mother Rubatto.
In 1892 Sister Maria and some sisters went as missionaries to Montevideo, Uruguay and then spread their apostolate further into Uruguay and then Argentina. Mother Maria crossed to the Americas seven times, and was asked to begin a mission in the rain forest with Capuchin friars from Milan, Italy; she and six sisters stayed at the mission for three months. Eighteen months later, on 13 March 1901 the sisters, the Capuchin missionaries, and many of the faithful were martyred there.
Born
14 February 1844 at Carmagnola, Turin, Italy as Anna Maria Rubatto
Died
• 6 August 1904 of natural causes in Uruguay
• buried at Montevideo, Uruguay
Beatified
10 October 1993 by Pope John Paul II
http://catholicsaints.info/blessed-maria-francesca-rubatto/
---
Blessed Tadeusz Dulny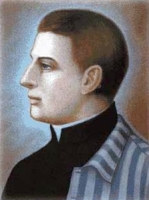 Also known as
• Tadeo, Taddeo, Thaddeus
• prisoner 22662
Additional Memorial
12 June as one of the 108 Martyrs of World War II
Profile
One of eight children born to Jan and Antonina Dulny, and raised in a very pious family. Seminarian in the diocese of Wloclawek, Poland where he was known for being devout, studious (though not a great student), and showing a true vocation to the priesthood. Arrested on 7 October 1939 with other seminarians and their teachers as part of the Nazi invasion of Poland that triggered World War II in Europe. They were all imprisoned in the Salesian College of Lad, which the Nazis had turned into a temporary detention center, and the teachers resumed covert instruction of the seminarians. Tadeusz was transferred to the Sachhausen concentration camp near Berlin, Germany on 26 August 1940, and then to the Dachau camp in Germany on 15 December 1940. There he was beaten, tortured, starved, over worked and basically abused to death over a period of 20 months; he was known to give his food rations to other prisoners whom he thought were in worse shape than he was. Martyr.
Born
8 August 1914 in Kszczonowice, Swietokrzyskie, Poland
Died
• 7 August 1942 in Dachau, Oberbayern, Germany of starvation
• body burned in the camp crematorium and ashes dumped with those of other prisoners
Beatified
13 June 1999 by Pope John Paul II
http://catholicsaints.info/blessed-tadeusz-dulny/
---
Blessed Carlos López Vidal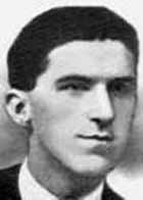 Profile
Lifelong layman in the archdiocese of Valencia, Spain. Sacristan of the collegiate church of Gandia, Spain. Married to Rosa Tarazona Ribanocha in October 1923. Member of several lay apostolate groups, including Catholic Action, and known as a man of faith and prayer with a devotion to the Sacred Heart. He gave shelter monks and nuns who were forced to go into hiding during the persecutions of the Spanish Civil War. The anti–Catholic militants eventually found him, as well. Martyr.
Born
1 November 1894 in Gandía, Valencia, Spain
Died
• shot on 6 August 1936 in La Pedrera de Gandia, Valencia, Spain
• body doused with gasoline, but his killers could not get it to burn
• buried in the Martyrs Cemetery in Gandia
Beatified
11 March 2001 by Pope John Paul II
Readings
Viva Cristo Rey! (Long live Christ the King!) – dying words of Blessed Carlos
http://catholicsaints.info/blessed-carlos-lopez-vidal/
---
Saint Justus and Pastor of Alcala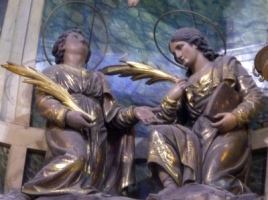 Profile
Teenage brothers who made a public proclamation of their Christianity, and were promptly arrested on the orders of Dacian, governor of Spain. Scourged to make the boys retract their confession; they refused. Martyrs.
Born
c.291-295 in Spain
Died
• scourged and beheaded in 304 at Alcala, Spain at ages 13 and 9
Patronage
• Alcalá de Henares, Spain, diocese of
• Alcalá, Spain
• Madrid, Spain
Storefront
http://catholicsaints.info/saint-justus-of-alcala/
http://catholicsaints.info/saint-pastor-of-alcala/
---
Blessed Gezelin of Schlebusch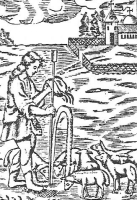 Also known as
• Gezelin of Altenberg
• Gezelinus, Gezzelin, Gezzelino, Ghislain, Gisle, Gozelin, Jocelin, Schezelinus
Profile
12th-century hermit and Cistercian lay brother at Altenberg Abbey where he worked as a shepherd. Miracle worker, including ending a drought by stabbing his shepherd's crook into the ground which caused a spring of water to erupt; the spring continues to flow today, and the water is known for healing powers.
Died
29 July 1149 in Gut Alkenrath, Schlebusch, Germany
Beatified
by the bishop of Cologne, Germany (confirmation of popular cultus)
Patronage
• children
• against epilepsy in children
• against eye disorders
• against headaches
http://catholicsaints.info/blessed-gezelin-of-schlebusch/
---
Saint Gislain of Luxemburg
Also known as
• Gislain of Schetzelborg
• Gislain of Slebusrode
• Gislain of Schelebusschrath
• Escelino, Gezzelino, Gitzelon, Schetzelón
Profile
Twelfth century forest hermit in Luxemburg who trusted so strongly to provide that he didn't even bother with shelter. Legend says that Gislain's reputation for holiness was that Saint Bernard sent Saint Acardo to visit the hermit and ask for his prayers for their new monastery in Hemmerode; Acardo, and a group of angels, later attended the death of Gislain.
Died
1138 of natural causes
http://catholicsaints.info/saint-gislain-of-luxemburg/
---
Blessed Guillermo Sanz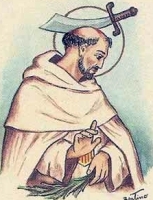 Profile
Commander of the Mercedarians in Valencia, Spain. Imprisoned by invading Muslim Moors, then sent to live as a slave in Granada, Spain; slavery was the regular lot of captured Christians. When Guillermo continued to preach about Jesus, he was beaten; when that didn't stop him, he was murdered. Martyr.
Died
• beheaded in 1409 in Granada, Spain
• body cut to pieces and thrown to the dogs
http://catholicsaints.info/blessed-guillermo-sanz/
---
Pope Saint Hormisdas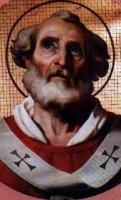 Profile
Married, and father of the future Pope Saint Silverius. Widower. Pope. Best known for the written work Formula of Hormisdas, a succinct confession of the faith, acceptance of which ended the Monophysite schism of Acacius in the Eastern church.
Born
at Frosinone, Latium (southern Italy)
Papal Ascension
514
Died
523 at Rome, Italy
http://catholicsaints.info/pope-saint-hormisdas/
---
Saint Glisente of Brescia
Profile
Soldier in the army of Blessed Charlemagne. Following the battle of Mortirolo, Glisente retired from military life to live as a hermit on Mount Berzo near Brescia, Italy, and evangelize the valley region around it. Known for his zeal for the faith and his love of animals.
Died
• 796 on Mount Berzo, Brescia, Italy
• a parish church is built on his tomb on the side of the mountain
http://catholicsaints.info/saint-glisente-of-brescia/
---
Blessed William of Altavilla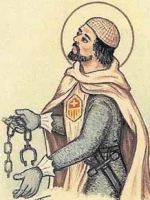 Profile
Born to the 13th century nobility, he gave up the worldly life to become a Mercedarian knight, and to devote himself and his worldly goods to the ransom of Christians enslaved by Muslims; in 1263 alone he rescued 208 of them. Spiritual student of Blessed William de Bas.
Born
France
http://catholicsaints.info/blessed-william-of-altavilla/
---
Blessed Octavian of Savona
Profile
Brother of Pope Saint Callistus II. Educated by Benedictines. Benedictine monk at Saint Peter's abbey at Pavia, Italy. Bishop of Savona, Italy in 1129.
Born
c.1060 at Quingey, diocese of Besancon, France
Died
1132 of natural causes
Beatified
1793 by Pope Pius VI (cultus confirmed)
http://catholicsaints.info/blessed-octavian-of-savona/
---
Martyrs of Cardeña
Profile
Two hundred Benedictine monks at the Saint Peter of Cardegna monastery, Burgos, Spain who were martyred in the 8th century by invading Saracens.
Died
buried by local Christians in a nearby churchyard in Burgos, Spain
Beatified
1603 by Pope Clement VIII (cultus confirmed)
http://catholicsaints.info/martyrs-of-cardena/
---
Blessed Goderanno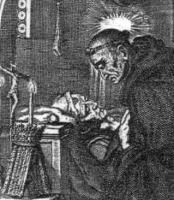 Profile
Benedictine monk at the Abbey of Cluny. Abbot of Maillezais Abbey. Bishop of Saintes, France.
Died
6 August 1074 of natural causes
http://catholicsaints.info/blessed-goderanno/
---
Saint Stephen of Cardeña
Profile
Monk. Abbot of the Castilian monastery of Cardeña in the archdiocese of Burgos, Spain where he led over 200 brother monks. Martyred by Saracens.
Died
872
http://catholicsaints.info/saint-stephen-of-cardena/
---
Saint James the Syrian
Profile
Monk at Amida (Diarbekir), Mesopotamia. Known as a miracle worker, and for his great austerities.
Born
Syrian
Died
c.500 of natural causes
http://catholicsaints.info/saint-james-the-syrian/
---
Saint Hardulf of Breedon
Profile
Hermit in Breedon, Leicestershire, England.
Died
7th century
http://catholicsaints.info/saint-hardulf-of-breedon/
---
Martyred in the Spanish Civil War
Thousands of people were murdered in the anti-Catholic persecutions of the Spanish Civil War from 1934 to 1939. I have pages on each of them, but in most cases I have only found very minimal information. They are available on the CatholicSaints.Info site through these links:
• Blessed Alejandro Casare Menéndez
• Blessed Andrés Soto Carrera
• Blessed José González Ramos Campos
• Blessed José María Recalde Magúregui
• Blessed Juan Silverio Pérez Ruano
• Blessed Saturnino Ortega Montealegre
---
Also celebrated but no entry yet
• Cremete
• Giovanna di Savoia
• Glisente of Valcamonica
• Matthew Bascio
• Winthir von Neuhausen
---
CatholicSaints.Info Portable Edition
email CatholicSaints.*
---