Let us be convinced that we have nothing of our own except our evil habits and our sins; we have rather cause to rejoice when we are exposed to temptation, and that we bear generously in this world, for the sake of life eternal, the trials we meet in the natural and supernatural order. - Saint Francis of Assisi

---

Grace is a gift of God; but, as a general rule, it is given only to him who asks for it by fervent and constant prayer, who makes a good use of it, and who corresponds with it promptly and faithfully. - Saint Leonard of Port Maurice

---

Saint Gaetano Errico Profile
Second of nine children born to Pasquale, a pasta factory manager, and Marie Marseglia Errico, who worked weaving plush. A good child, pious, always ready to help his father at work, or his mother with his younger siblings. He felt a call to the priesthood at age fourteen. He was turned away by the Capuchins and Redemptorists due to his youth. Studied at a diocesan seminary in Naples, Italy from age sixteen, walking the five miles to class each day, and was ordained on 23 September 1815 in Naples.
School teacher for twenty years. Parish priest at the church of Saint Cosmas and Damian. Known for his devotion to the Sacrament of Reconciliation and ministry to the sick, his self-imposed austerties and penances. He made yearly retreats to the Redemptorist house in Pagani, Italy.
During his retreat in 1818, Saint Alphonsus Maria de Liguori appeared to him in a vision, and told him that God wanted Gaetano to build a new church, and to found a new religious congregation. While Gaetano initially received strong support from the local people, it faded in the face of fund-raising and work, and it wasn't until 9 December 1830 that he dedicated and blessed the church Our Lady of Sorrows at Secondigliano; it has since become one of Italy's most popular pilgrimage sites.
Nearby he built a small house for himself and a lay-brother who took care of the church; this was the beginning of the Missionaries of the Sacred Hearts of Jesus and Mary. The Missionaries received local approval on 14 March 1836, approval by the Congregation of Bishops on 30 June 1838, royal approval on 13 May 1840, and papal approval by Blessed Pope Pius IX on 7 August 1846. Gaetano served as first Superior General.
His beatification miracle occurred in southern Italy in January 1952 and involved a man with a perforated stomach wall. Just before emergency surgery, his wife slipped a relic of Father Gaetano under his pillow, and together they prayed for his intercession. His health began to improve immediately, and he was soon healed without medical intervention.
Born
19 October 1791 in Secondigliano, Naples, Italy
Died
10am 29 October 1860 in Secondigliano, Naples, Italy of natural causes
Canonized
Sunday 12 October 2008 by Pope Benedict XVI
Readings
Let us kindle the love of the Sacred Hearts of Jesus and Mary in the hearts of all people. - Saint Gaetano
http://catholicsaints.info/saint-gaetano-errico/
---
Blessed Chiara Badano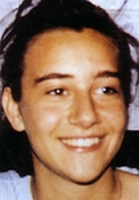 Also known as
Luce Badano
Profile
Young lay woman in the Diocese of Aqui Terme, Italy. Daughter of Ruggero Badano, a truck driver, and Maria Teresa Caviglia. A kind, happy and pious girl, she enjoyed tennis, swimming, hiking, singing, dancing and initially wanted to be a flight attendant. Member of the Focolare Movement at age nine. At age 16 she began to feel drawn to religious life; soon afterward she was diagnosed with cancer in her shoulder. Chiara insisted that she could become a missionary, but the cancer spread quickly, affecting her spine, and she lost the use of her legs. She finally accepted that she wasn't going anywhere and spent her remaining time praying and being supportive of her family and friends.
Born
29 October 1971 in Savona, Italy
Died
7 October 1990 in Sassello, Savona, Italy of natural causes
Beatified
25 September 2010 by Pope Benedict XVI
Video
Readings
"Don't cry for me. I am going to Jesus. At my funeral I don't want people to cry, but rather to sing with all their voices." - Blessed Chiara during a medical crisis near the end of her life
http://catholicsaints.info/blessed-chiara-badano/
---
Saint Achahildis of Wendelstein
Also known as
• Achachildis, Achatia, Atzin
• Reinilda of Luxemburg
Profile
Born to the nobility, the sister of Saint Cunegundes. Married to Thietmar and mother of quintuplets; she and her husband, both of whom were drawn to religious life, then took vows of celibacy. Noted for her charity to the poor, and as a miracle worker. Founded a parish church in Wendelstein, Germany. Once when she discovered that a servant had killed and stolen some geese, she forgave the servant and brought the geese back to life - including the one that had been cooked.
Died
• c.970 of natural causes
• interred at the church in Wendelstein, Germany that she had founded
• tomb re-discovered in 1447
• healing miracles, especially of children, were reported at the tomb
• church later taken over by Protestants and devotion ceased
Representation
• presenting five infants to her husband
• with five children
• performing various charitable acts and miracles
• three geese
• goose leg
• tree full of ripe cherries (when she was pregnant with quintuplets in the dead of winter, she had a craving for cherries; a tree in her garden suddenly produced a full crop of them)
http://catholicsaints.info/saint-achahildis-of-wendelstein/
---
Saint Narcissus of Jerusalem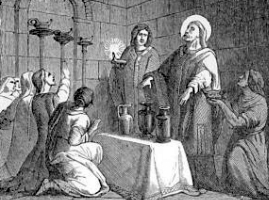 Profile
Bishop of Jerusalem, consecrated c.180 when he was already an old man. Late in life, he was accused of a crime. None of the Christians in his diocese believed it, but Narcissus did not believe he should serve after being under such a cloud, and he became a desert hermit. After a complete acquittal, Narcissus returned to his see, older, weathered, but stronger and more zealous than ever, and served several more years. One Holy Saturday he turned water into lamp oil so the Easter vigil services could be conducted. When his age began to wear on him, Narcissus begged God to send a bishop to help him. Saint Alexander of Cappadocia responded, and the two ruled the diocese together, Narcissus living to age 116.
Born
99
Died
215 of natural causes
Patronage
against insect bites
Representation
• bishop holding a blossoming thistle
• bishop with a pitcher of water
• an angel carrying his soul to Heaven
http://catholicsaints.info/saint-narcissus-of-jerusalem/
---
Saint Abraham of Rostov
Also known as
Averkii, Avraamii
Profile
Raised as a pagan, as a young man Abraham was struck down by a nearly fatal illness, then cured by prayer. Convert. Monk, taking the name Abraham. Became a travelling evangelist and preacher in Rostov, Russia. Legend says that a vision of Saint John the Divine gave Abraham his own staff, and that Abraham used it to smash the pagan stone idol of Veles in Rostov; he then built the monastery of the Theophany on the site of the old pagan temple, and the staff was later carried into battle by Ivan the Terrible who hoped to benefit from its holy power. Abraham built two parish churches, one dedicated to Saint John, and started charitable organizations. Chosen abbot, he led by doing the most menial tasks, and serving all others.
Born
10th century in Galich, Russia as Averkii
Died
• at the monastery of Rostov, Russia of natural causes
• buried at the church of the Theophany monastery
http://catholicsaints.info/saint-abraham-of-rostov/
---
Saint Mary of Edessa
Profile
Niece of Saint Abraham Kidunaia. She lived for 20 years as an anchoress near Abraham's cell. In a moment of weakness, she was seduced by a renegade monk who had turned from his vows. Mary despaired of forgiveness for her lapse, and in her shame, moved far away and gave herself over to a wild, dissolute, and sexually active life. Saint Abraham only left his hermit's cell twice - the second being to visit Mary in the guise of a soldier. Like so many others, Mary picked him up and took him home. There, over supper, Abraham convinced her of the error of her ways. She converted and returned to the life of an anchoress, spending the rest of her days in prayer.
Patronage
against sexual temptation
http://catholicsaints.info/saint-mary-of-edessa/
---
Saint Colman of Kilmacduagh
Profile
Son of a chieftain named Duagh. Hermit in Arranmore where he built two churches. His reputation for holiness attracted too much attention, so he retreated to the woods of Burren in 592 to live in isolation. In 610, on land donated by King Guaire of Connacht, he founded a monastery which became the center of the diocese of Kilmacduagh. He reluctantly served as the house's first abbot, the diocese's first bishop.
Born
c.560 at Kiltartan, Ireland
Died
29 October 632 of natural causes
Canonized
1903 by Pope Leo XIII (cultus confirmed)
Patronage
diocese of Kilmacduagh, Ireland
http://catholicsaints.info/saint-colman-of-kilmacduagh/
---
Saint Anne of Mount Olympus
Also known as
• Anne of Constantinople
• Euphemianus of
Profile
Born to a prominent family, Anne was drawn to religious life but her parents pushed her into an arranged marriage. Widow. She then disguised herself as a man, used the name Euphemianus, and became a monk at an abbey on Mount Olympus. Her piety was such that the brothers asked her to become their 'abbot', but she declined.
Born
Constantinople (modern Istanbul, Turkey)
Died
820 of natural causes
http://catholicsaints.info/saint-anne-of-mount-olympus/
---
Saint Ermelinda of Meldaert
Also known as
Ermelindis
Profile
She declined a marriage, donated her inhertiance to the poor, and lived as a hermitess near Bevekom, Belgium. Anchoress in Meldaert, Belgium.
Born
c.510 in Lovenjoel, Belgium
Died
c.590 in Meldaert, Belgium of natural causes
Patronage
• against eye pain
• against fever
• against lameness
• Meldaert, Belgium
http://catholicsaints.info/saint-ermelinda-of-meldaert/
---
Saint Stephen of Caiazzo
Also known as
Stefano Minicillo
Profile
Abbot of San Salvatore Maggiore territorial abbey. Bishop of Cajazzo, Italy in 979.
Born
935 in Macerata, Italy
Died
1023
Patronage
Cajazzo, Italy
http://catholicsaints.info/saint-stephen-of-cajazzo/
---
Saint Theodore of Vienne
Also known as
Theudar, Teuderio, Teodario
Profile
Priest. Monk. Spiritual student of Saint Caesarius of Arles. Abbot of a monastery in Vienne, France. Founded several monasteries in the region. In late life he lived as a hermit in the church of Saint Laurence in Vienne.
Died
c.575
http://catholicsaints.info/saint-theodore-of-vienne/
---
Saint Eusebia of Bergamo
Profile
Third-century niece of Saint Domnio. Nun in Bergamo, Italy. Martyred in the persecutions of Maximian Herculeus.
Died
• beheaded in the late 3rd century
• relics re-discovered and enshrined in 1401
http://catholicsaints.info/saint-eusebia-of-bergamo/
---
Saint Zenobius of Sidon
Also known as
Zenobio
Profile
Priest. Martyred in the persecutions of Diocletian for encourging condemned Christians not to abandoned their faith.
Died
Sidon, Phoenicia
http://catholicsaints.info/saint-zenobius-of-sidon/
---
Saint Sigolinus of Stavelot
Also known as
Sighelm
Profile
Monk. Abbot of Stavelot-Malmédy Abbey in Belgium.
Died
c.670 of natural causes
http://catholicsaints.info/saint-sigolinus-of-stavelot/
---
Saint Terence of Metz
Profile
Bishop of Metz, France. A noted scholar, he fought for orthodox doctines.
Died
520 of natural causes
http://catholicsaints.info/saint-terence-of-metz/
---
Saint Felician of Carthage
Also known as
Feliciano
Profile
Martyr.
Died
Carthage, North Africa
http://catholicsaints.info/saint-felician-of-carthage/
---
Saint Donatus of Corfu
Profile
In 600 Saint Gregory the Great had the relics of Donatus enshrined on Corfu.
http://catholicsaints.info/saint-donatus-of-corfu/
---
Saint Kennera
Profile
Educated with Saint Ursula and Saint Regulus of Patras. Nun. Recluse at Kirk-Kinner, Galloway, Scotland.
http://catholicsaints.info/saint-kennera/
---
Saint John of Autun
Profile
Bishop venerated at Autun, France.
http://catholicsaints.info/saint-john-of-autun/
---
Martyrs of Douai
Profile
160 priests, laymen and religious who studied at the English College in Douai, France, then returned to minister to covert Catholics in England during a period of government persecution of the Church, and were murdered for their work.
http://catholicsaints.info/martyrs-of-douai/
---
Martyrs of Lucania
Profile
A group of Christians executed together for their faith. Only their names have survived - Felician, Hyacinth, Lucius and Quintus.
Died
Lucania, southern Italy
http://catholicsaints.info/martyrs-of-lucania/
---
Martyred in the Spanish Civil War
Thousands of people were murdered in the anti-Catholic persecutions of the Spanish Civil War from 1934 to 1939. I have pages on each of them, but in most cases I have only found very minimal information. They are available on the CatholicSaints.Info site through these links:
• Blessed Arsenio Merino Miguel
• Blessed Benito Paradela Novoa
• Blessed Joaquina Rey Aguirre
• Blessed José Ruiz Bruixola
• Blessed Maurilio Tobar González
• Blessed Ponciano Nieto Asensio
• Blessed Victoria Arregui Guinea
---
Also celebrated but no entry yet
• Abramo of Edessa
• Bernardo de Olivella
• Dodone of Wallers-en-Fens
---
CatholicSaints.Info Portable Edition
email CatholicSaints.*
---