---
Those who are placed over others ought not to delight more in their charge than if they had only the care of washing the feet of their brethren; and if they are more grieved at being deprived of this office than they would be if discharged from the humbler task, let them think that their eternal salvation is in peril. - Saint Francis of Assisi
---
---
Easter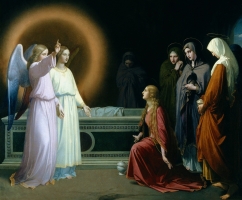 Derivation
Anglo-Saxon: Eastre, from Eostre, Teutonic goddess of dawn and spring
Also known as
Pascha
Article
Feast commemorating Christ's Resurrection from the dead. After the introduction of Christianity among Germanic nations the name Easter, denoting spring, was retained to designate the festival of the Resurrection. With other nations the term commonly used is the Greco-Latin word pascha, derived from the Hebrew pasch (passover). In this way, the Christian feast is linked with the ancient Hebrew festival of the Passover, not arbitrarily, since the Death and Resurrection of Christ coincided with a particular Jewish Pasch, and because in the designs of God there was a connection between the two incidents. Because of the fact which the feast commemorates, the Church has ever regarded Easter as the greatest of her festivals, and from Apostolic times, has assigned to it the central place in her liturgical year. All the movable feasts, from that of the Prayer of Jesus in the Garden (Tuesday after Septuagesima) to the feast of the Sacred Heart (Friday after the octave of Corpus Christi), as also the order of Sundays from Septuagesima to the last Sunday after Pentecost, are made to depend upon the Easter date. Its celebration is preceded by 40 days of prayer and fasting and followed till Trinity Sunday by some 50 days of festivity. The joyous antiphon of the Vidi Aquam takes the place of the Asperges before High Mass, and the exultant Alleluia is constantly repeated in the Mass itself and in the Divine Office. Up to the 12th century, every day within the Easter octave (the eight days immediately following the feast) was a holy day of obligation. Today, however, in most countries even Easter Monday and Tuesday as days of obligation have been abolished.
Video
https://catholicsaints.info/easter/
---
Saint Conrad of Parzham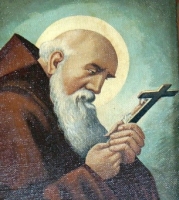 Also known as
• Conrad Birndorfer
• Hansel Birndorfer
• Johann Birndorfer
• Johannes Birndorfer
• John Birndorfer
• Konrad, Corrado
Profile
Youngest of nine children born to a farming family in a region recovering from the Napoleonic wars. His mother died when he was 14. Devoted from an early age to solitary prayer and peacemaking, he was a familiar site at all the churches and shrines in his region, often waiting at the door at sunrise for first Mass.
Capuchin tertiary at age 31; Capuchin novice at age 33, taking the name Conrad. Assigned to the shrine of Our Lady of Altotting. For more than 40 years Conrad was a porter, admitting people to the friary, obtaining supplies, dispensing alms, encouraging all to open themselves to God, and generally assisting the thousands who came to the friary on pilgrimages. Worked with local children, teaching them the faith and practices, and supported charities for them. Noted for the gifts of prophesy and of reading people's hearts.
Three days before his death he realized he could no longer perform his duties, and relinquished the position; he then celebrated Mass, and took to his sick bed for the last time. Local children whom he had taught the rosary recited it outside his window until the end.
Born
22 December 1818 at Parzham, Bavaria, Germany as Johann Birndorfer
Died
21 April 1894 in Altötting, Bavaria, Germany of natural causes
Canonized
20 May 1934 by Pope Pius XI
Patronage
• Capuchin-Franciscan Province of Mid-America
• Catholic Student Association
• doorkeepers
• Passau, Germany, diocese of (since 1984)
Video
Readings
It was God's will that I should leave everything that was near and dear to me. I thank him for having called me to religious life where I have found such peace and joy as I could never have found in the world. My plan of life is chiefly this: to love and suffer, always meditating upon, adoring and admiring God's unspeakable love for his lowliest creatures. - letter of Saint Conrad
• I resolve in the first place to remain continually in the presence of God and to ask myself frequently if I would do this or that if my confessor or superior were watching me and especially if God and my guardian angel were present.
• I resolve to ask myself, whenever I have to encounter crosses of suffering, "Conrad, why have you come here?"
• I resolve to avoid leaving the friary, as far as possible unless it be out of love for my neighbor, obedience, reasons of health, a pious pilgrimage or some other good cause.
• I resolve to foster fraternal charity in myself and in others. Therefore I resolve to take care never to say an unkind word. I resolve to bear up patiently with the defects and weaknesses of others, and as far as possible to hide them with the mantle of charity unless I am in duty bound to manifest them to someone who is in a position to correct them.
• I resolve to observe silence conscientiously. I resolve to speak briefly and so avoid many pitfalls and be better able to converse with God.
• When at table I resolve to place myself in the presence of God as far as I can, to remain recollected and to pass up my favorite dishes so as to practice a hidden form of mortification. I resolve not to eat between meals unless ordered to do so under obedience.
• I resolve to answer the first call of the bell unless legitimately hindered.
• I resolve to avoid, as far as possible, conversing with the opposite sex unless obedience imposes duties on me which make it necessary to speak with women. In that case I resolve to be very reserved and maintain custody of the eyes.
• I resolve to carry out orders punctually and to the letter. I resolve especially to make every effort to conquer my own will in all things.
• I resolve to force myself to pay close attention to minor details and as far as possible avoid every imperfection. I resolve to observe the holy rule faithfully and not to depart from it a hairsbreadth, come what may.
• I resolve to cultivate a deep devotion to the Blessed Virgin Mary and strive to imitate her virtues.
- resolutions of Saint Conrad at the time of his novitiate
I have come to spend a few moments with Thee, O Jesus, and in spirit I prostrate myself in the dust before Thy Holy Tabernacle to adore Thee, my Lord and God, in deepest humiliy. Once more a day has come to its close, dear Jesus, another day which brings me nearer to the grave and my beloved heavenly home. Once more, O Jesus, my heart longs for Thee, the true Bread of Life, which containes all sweetness and relish. O my Jesus, mercifully grant me pardon for the faults and ingratitutde of this day, and come to me to refresh my poor heart which longs for Thee. As the heart pants for the waters, as the parched earth longs for the dew of heaven, even so does my poor heart long for Thee, Thou Fount of Life. I love Thee, O Jesus, I hope in Thee, I love Thee, and out of love for Thee I regret sincerely all my sins. May Thy peace and Thy benediction be mine now and always and for all eternity. Amen. - a spiritual communion by Saint Conrad
https://catholicsaints.info/saint-conrad-of-parzham/
---
Saint Anselm of Canterbury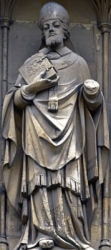 Also known as
• Anselm of Aosta
• Anselmo d'Aosta
• Anselmo of Canterbury
• Doctor of Scholasticism
Profile
Born to the Italian nobility. After a childhood devoted to piety and study, at age 15 Anselm wanted to enter religious life, but his father Gondulf prevented it, and Anselm became rather worldly for several years. Upon the death of his mother, Ermenberge, Anselm argued with his father, fled to France in 1056, and became a Benedictine monk at Bec, Normandy in 1060. He studied under and succeeded Lanfranc as prior of the house in 1063. Abbot of the house in 1078.
Because of the physical closeness and political connections, there was frequent travel and communication between Normandy and England, and Anselm was in repeated contact with Church officials in England. He was chosen as reluctant Archbishop of Canterbury, England in 1092; officials had to wait until he too sick to argue in order to get him to agree.
As bishop he fought King William Rufus's encroachment on ecclesiastical rights and the independence of the Church, refused to pay bribes to take over as bishop, and was exiled for his efforts. He travelled to Rome, Italy and spent part of his exile as an advisor to Pope Blessed Urban II, obtaining the pope's support for returning to England and conducting Church business without the king's interference. He resolved theological doubts of the Italo-Greek bishops at Council of Bari in 1098.
In 1100 King Henry II invited Anselm to return to England, but they disputed over lay investiture, and Anselm was exiled again only to return in 1106 when Henry agreed not to interfere with the selection of Church officials. Anselm opposed slavery, and obtained English legislation prohibiting the sale of men. He strongly supported celibate clergy, and approved the addition of several saints to the liturgical calendar of England.
Anselm was one of the great philosophers and theologians of the middle ages, and a noted theological writer. He was far more at home in the monastery than in political circles, but still managed to improve the position of the Church in England. Counsellor to Pope Gregory VII. Chosen a Doctor of the Church in 1720 by Pope Clement XI.
Born
1033 at Aosta, Piedmont, Italy
Died
• Holy Wednesday 21 April 1109 at Canterbury, Kent, England
• body believed to be in the cathedral church at Canterbury
Canonized
1492 by Pope Alexander IV
Representation
• Benedictine monk admonishing an evil-doer
• archbishop
• performing an exorcism on a monk
• ship
• with Our Lady appearing before him
• with a ship
Video
Readings
O God, let me know you and love you so that I may find joy in you; and if I cannot do so fully in this life, let me at least make some progress every day, until at last that knowledge, love and joy come to me in all their plenitude. While I am here on earth let me know you fully; let my love for you grow deeper here, so that there I may love you fully. On earth then I shall have great joy in hope, and in heaven complete joy in the fulfillment of my hope. O, Lord, through your Son you command us, no, you counsel us to ask, and you promise that you will hear us so that our joy may be complete. Give me then what you promise to give through your Truth. You, O God, are faithful; grant that I may receive my request, so that my joy may be complete. - Saint Anselm
No one will have any other desire in heaven than what God wills; and the desire of one will be the desire of all; and the desire of all and of each one will also be the desire of God." - Saint Anselm, Opera Omnis, Letter 112
O Lord, we bring before you the distress and dangers of peoples and nations, the pleas of the imprisoned and the captive, the sorrows of the grief-stricken, the needs of the refugee, the impotence of the weak, the weariness of the despondent, and the diminishments of the aging. O Lord, stay close to all of them. Amen. - prayer for all classes of people by Saint Anselm
O Lord our God, grant us grace to desire Thee with our whole heart; that, so desiring, we may seek, and, seeking, find Thee; and so finding Thee, may love Thee; and loving Thee, may hate those sins from which Thou hast redeemed. Amen. - Saint Anselm
https://catholicsaints.info/saint-anselm-of-canterbury/
---
Saint Roman Adame Rosales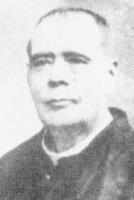 Also known as
Romanus
Additional Memorial
21 May as one of the Martyrs of the Mexican Revolution
Profile
Ordained on 30 November 1890. Parish priest at Nochistlan, Zacatecas, Mexico in 1913, a position he held until his death. Especially known for his ministry to the sick, and his devotion to Our Lady. Built chapels in the areas around Nochistlan. Founded the Daughters of Mary of Nocturnal Adoration. When government persecutions of religion began, he took his ministry underground.
On 18 April 1927 he conducted a Lenten service at Rancho Veladones. One of the people at the service betrayed him to a Colonel Quinones, and Father Roman was arrested the next day. Jailed at Mexticacan, Mexico, then forced to walk miles to the parish at Yhualica. Quinones had commandeered the rectory for his own use; he kept Adame tied to an outdoor post during the day, threw him into a cell at night, and neglected to give him food or water. Some local lay people offered to buy the priest's freedom; Quinones demanded a $6,000 bribe, pocketed the money, and ordered Father Roman executed anyway. One of the soldiers, Antonio Carillo, refused to shoot Adame; the other soldiers shot him, too. Martyr.
Born
27 February 1859 at Teocaltiche, Jalisco, Mexico
Died
shot on 21 April 1927 in a cemetery near Yahualican, Jalisco, Mexico
Canonized
21 May 2000 by Pope John Paul II during the Jubilee of Mexico
https://catholicsaints.info/saint-roman-adame-rosales/
---
Saint Apollonius the Apologist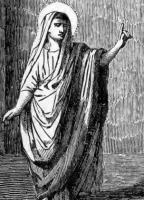 Also known as
• Apollonius the Martyr
• Apollonius of Rome
• Apollon...
Profile
Imperial Roman senator and scholar. After studying pagan philosophy and the Scriptures, he converted to Christianity during a period the faith was banned, but little effort was put into persecution. Denounced to the authorities as a Christian by one of his slaves, Apollonius was ordered to renounced his faith. He refused. Delivered an eloquent defense of the faith before the Senate. Martyr.
Died
beheaded in c.190 in Rome, Italy
Video
Readings
O Lord Jesus Christ, grant us a measure of your Spirit. Help us to obey your teaching, soothe anger, cultivate pity, overcome desire, increase love, cast off sorrow, shun vainglory, renounce revenge, and not be afraid of death. Let us ever entrust our spirit to the everlasting God who with you and the Holy Spirit lives and rules forever and ever. Amen. - Saint Apollonius of Rome, Senator, Apologist and Martyr
https://catholicsaints.info/saint-apollonius-the-apologist/
---
Saint Beuno Gasulsych
Also known as
• Beunor Gasulsych
• Benno Gasulsych
• Bennow Gasulsych
Profile
Son of Beugi, and grandson of a Welsh prince, and, legend says, grand-nephew of King Arthur himself. Educated in Herefordshire and Bangor, Wales. Ordained at Bangor. Founded and served as abbot in Clynnog Fawr (Carnarvonshire), North Wales. Uncle, spiritual teacher, and guardian of Saint Winifred. Late in life he received a series of visions. Legend says that when Winfred was beheaded by a jilted suitor, Beuno placed the severed head back on the body and Winifred lived. People still sit sick children on the great stone slab of his tomb in hopes of their healing.
Born
c.545 at Powis-land, Wales
Died
• c.640 at Clynnog Fawr, Wales of natural causes
• miraculous healings reported at his tomb
Patronage
• diseased cattle
• sick animals
• sick children
Representation
restoring the head of Saint Winifred
https://catholicsaints.info/saint-beuno-gasulsych/
---
Blessed Wolbodó of Liège
Also known as
Fulmodo, Vilpodo, Volbodo, Wolbodon
Profile
May have been born to the Flemish nobility. Educated at the Domschool in Utrecht, Netherlands; he later taught there, became the head teacher in 1012, and today's student society of Menschen Vereeniging Wolbodo is named for him. Provost of the cathedral of Saint Martin of Tours in Utrecht. Chaplain to Emperor Henry II. Prince-Bishop of Liège, Belgium from 1018 to until his death; noted for his interest in care for the poor, promoting devotion to the saints, encouraging the use of psalms in the liturgy, and reforming monasteries instead of the politics that usually followed the position.
Born
c.950 in Flanders, Belgium
Died
• 21 April 1021 in Liège, Belgium of natural causes
• buried in the church crypt at Saint Lawerence Abbey which he had founded in Liège
• re-interred on 26 October 1656
Patronage
students
https://catholicsaints.info/blessed-wolbodo-of-liege/
---
Saint Maelrubius of Applecross
Also known as
Errew, Maelrubba, Maelrubha, Malrubius, Maolrubha, Ma-Rui, Molroy, Sagart-Ruadh
Additional Memorial
27 August (Scotland)
Profile
Son of Elganach and Subtan; related to King Niall of Ireland and Saint Comgall the Great. Monk at Saint Comgall's monastery at Bangor, Ireland. Monk of Iona Abbey. Founded several churches in Scotland and finally settled in Applecross, Scotland where he built a church and monastery in the middle of the land of the Picts. Abbot. Missionary to Skye, Lewis, Forres, Keith, Loch Shinn, Durness and Farr. Killed by Danish vikings for trying to preach to them. Martyr. At least 21 Scottish churches are dedicated to him.
Born
642 in County Derry, Ireland
Died
• martyred on 21 April 722 near Teampull, Scotland
• buried near his last monk's cell near the River Navar
https://catholicsaints.info/saint-maelrubius-of-applecross/
---
Saint Anastasius of Sinai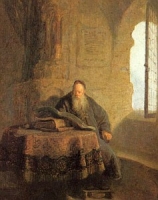 Also known as
Anastasius Sinaita
Profile
May have studied medicine as he seemed to have a greater knowledge of the subject than most people. Monk at Saint Catherine's Monastery on Mount Sinai. Travelled to Damascus, Syria, and Alexandria, Egypt. Defended the faith in Chalcedon, urged Christians to keep their faith in the face of invading Muslims, and ministered to those who had been driven into exile for staying Christian. Abbot of Saint Catherine's. Fought against many of the heresies of the day. Wrote on a number of theological topics; the versions that have survived suffer from much editing and additions through the years.
Born
first half of the 7th century in Cyprus
Died
c.700
https://catholicsaints.info/saint-anastasius-of-sinai/
---
Saint Simeon of Ctesiphon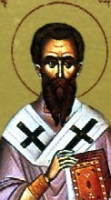 Also known as
• Shemon bar Sabbae
• Shimoun Barsabae
• Simeó bar Sabas
• Simeon Barsabae
• Symeon bar Sabba
Profile
Son of a fuller. Co-adjutor bishop of Seleucia-Ctesiphon in 316. Patriarch of the Church in the East in 326. During the persecutions of King Shapur II of Persia, Shapur, who did not trust Christians or their connection to Rome, ordered Simeon to collect double taxes from all Christians. Simeon replied that he was a bishop, a man of God and a shepherd of his people, not a tax collector. Martyred thousands of Christian clergy and laity.
Died
beheaded on Good Friday 345 in the Persian empire
https://catholicsaints.info/saint-simeon-of-ctesiphon/
---
Holy Infant of Good Health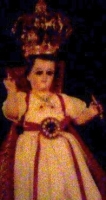 Also known as
Santo Niño de la Salud
Profile
Devotion to the Christ Child as depicted in a statue around which have been reported miraculous healings. The statute was found in 1939 in Morelia, Michoacán, Mexico; it is eleven inches tall, is dressed in a crown and ermine-trimmed mantle, holds a gold sceptre in its left hand, and the right is raised in a blessed. Veneration was approved by Archbishop Luis M. Altamirano y Bulnes, and it was solemnly crowned by pontifical command in 1944. The Missionaries of the Holy Infant of Good Health were founded in Morelia on 12 November 1970.
https://catholicsaints.info/holy-infant-of-good-health/
---
Blessed John Saziari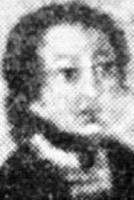 Also known as
• Joannes Saziari
• Giovanni Saziari
Profile
Celibate layman farmer. Franciscan tertiary.
Born
c.1327 at Cagli, Italy
Died
• 21 April 1371 at Cagli, Pesario-Urbino, Italy of natural causes
• relics stored in a wooden urn on the altar of Our Lady of the Snows in the church of San Francsesco in Cagli
Beatified
9 December 1980 by Pope John Paul II (cultus confirmed)
https://catholicsaints.info/blessed-john-saziari/
---
Saint Anastasius I of Antioch
Also known as
Anastasius the Elder
Profile
Patriarch of Antioch in 559. A learned, austere, pious and quiet man who strictly adhered to orthodox Christianity and had a knack for comforting the sick and bereaved. Opposed the heretical ideas on the Eucharist espoused by Emperor Justinian, and in 570 was exiled for 23 years by Emperor Justino II. Several of his writings have survived, including some on the theological controversies of the day.
Died
599
https://catholicsaints.info/saint-anastasius-i-of-antioch/
---
Also known as
Isaac, Isaacius
Profile
Palace attendant to Empress Alexandra, wife of Diocletian. When the persecutions of Diocletian began, Isaacius was imprisoned, abused and martyred.
Died
starved to death in 302
https://catholicsaints.info/saint-isacius-of-nicomedia/
---
Also known as
Codratus
Profile
Palace attendant to Empress Alexandra, wife of Diocletian. When the persecutions of Diocletian began, Crotates was imprisoned, abused and martyred.
Died
beheaded in 302
https://catholicsaints.info/saint-crotates-of-nicomedia/
---
Profile
Palace attendant to Empress Alexandra, wife of Diocletian. When the persecutions of Diocletian began, Apollo was imprisoned, abused and martyred.
Died
starved to death in 302
https://catholicsaints.info/saint-apollo-of-nicomedia/
---
Saint Abdelcalas
Also known as
Abdelchalas, Abdecalas, Abdelas
Profile
Elderly priest martyred with about 100 other believers during the persecutions of King Sapor II.
Born
Persian
Died
Good Friday 345
https://catholicsaints.info/saint-abdelcalas/
---
Saint Frodulphus
Also known as
Frou
Profile
Spiritual student of Saint Medericus. Monk at Saint Martin's Abbey in Autun, France. Fled to Barjon, France to escape invading Saracens.
Died
c.750
https://catholicsaints.info/saint-frodulphus/
---
Saint Arator of Alexandria
Also known as
Aristo
Profile
Priest. Martyr.
Died
Alexandria, Egypt
https://catholicsaints.info/saint-arator-of-alexandria/
---
Saint Fortunatus of Alexandria
Profile
Martyr.
Died
Alexandria, Egypt
https://catholicsaints.info/saint-fortunatus-of-alexandria/
---
Saint Silvius of Alexandria
Profile
Martyr.
Died
Alexandria, Egypt
https://catholicsaints.info/saint-silvius-of-alexandria/
---
Saint Vitalis of Alexandria
Profile
Martyr.
Died
Alexandria, Egypt
https://catholicsaints.info/saint-vitalis-of-alexandria/
---
Saint Felix of Alexandria
Profile
Martyr.
Died
Alexandria, Egypt
https://catholicsaints.info/saint-felix-of-alexandria/
---
Saint Cyprian of Brescia
Profile
Martyr.
https://catholicsaints.info/saint-cyprian-of-brescia/
---
Also celebrated but no entry yet
• Aristo of Alexandria
• Bartholomew of Cerevere
• John de Riano
• Maximian of Constantinople
---
CatholicSaints.Info Portable Edition
email CatholicSaints.*
---