---
The sharper you are at noticing other people's failings, the more apt will you be to overlook your own. - Saint Ignatius of Loyola
---
Luminous Mysteries
- youtube
---
Saint Camillus of Lellis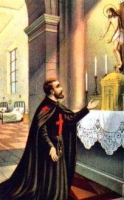 Also known as
• Camillus de Lellis
• Camillo de Lellis
Profile
Son of a military officer who had served both for Naples and France. His mother died when Camillus was very young. He spent his youth as a soldier, fighting for the Venetians against the Turks, and then for Naples. Reported as a large individual, perhaps as tall as 6'6" (2 metres), and powerfully built, but he suffered all his life from abscesses on his feet. A gambling addict, he lost so much he had to take a job working construction on a building belonging to the Capuchins; they converted him.
Camillus entered the Capuchin noviate three times, but a nagging leg injury, received while fighting the Turks, each time forced him to give it up. He went to Rome, Italy for medical treatment where Saint Philip Neri became his priest and confessor. He moved into San Giacomo Hospital for the incurable, and eventually became its administrator. Lacking education, he began to study with children when he was 32 years old. Priest. Founded the Congregation of the Servants of the Sick (the Camillians or Fathers of a Good Death) who, naturally, care for the sick both in hospital and home. The Order expanded with houses in several countries. Camillus honoured the sick as living images of Christ, and hoped that the service he gave them did penance for his wayward youth. Reported to have the gifts of miraculous healing and prophecy.
Born
25 May 1550 at Bocchiavico, Abruzzi, kingdom of Naples, Italy
Died
14 July 1614 at Genoa, Italy of natural causes
Canonized
29 June 1746 by Pope Benedict XIV
Patronage
• against illness, sickness or bodily ills; sick people (proclaimed on 22 June 22 1886 by Pope Leo XIII)
• hospitals
• hospital workers
• nurses
• Abruzzi, Italy
Video
Readings
Think well. Speak well. Do well. These three things, through the mercy of God, will make a man go to Heaven. - Saint Camillus de Lellis
Let me begin with holy charity. It is the root of all the virtues and Camillus' most characteristic trait. I can attest that he was on fire with this holy virtue - not only toward God, but also toward his fellow men, and especially toward the sick. The mere sight of the sick was enough to soften and melt his heart and make him utterly forget all the pleasures, enticements, and interests of this world. When he was taking care of his parents, he seemed to spend and exhaust himself completely, so great was his devotion and compassion. He would have loved to take upon himself all their illness, their every affliction, could he but ease their pain and relieve their weakness. In the sick he saw the person of Christ. His reverence in their presence was as a great as if he were really and truly in the presence of his Lord. To enkindle the enthusiasm of his religious brothers for this all-important virtue, he used to impress upon them the consoling words of Jesus Christ: "I was sick and you visited me." He seemed to have these words truly graven on his heart, so often did he say them over and over again. Great and all-embracing was Camillus' charity. Not only the sick and dying, but every other needy or suffering human being found shelter in his deep and kind concern. - from a biography of Saint Camillus by a contemporary
http://catholicsaints.info/saint-camillus-of-lellis/
---
Saint Szymon of Lipnica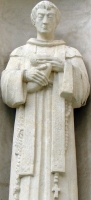 Also known as
• Szymon of Lipnicza
• Szymon z Lipnicy
• Simon of...
Profile
Born to a poor but pious family, the son of Grzegorz and Anna. In 1454, at age 17 he moved from his small town to Kraków to study at the Uniwersytetu Jagiellonskiego. While there, he heard a sermon by Saint John Capistran which led him to consider a call to religious life and the priesthood. He earned a bachelor's degree in 1457, and joined the Franciscan Friars Minors (Observants) at the convent of Saint Bernard in Stadom, Poland, making his vows in 1458. Ordained a priest c.1460. Assigned first to the Franciscan convent at Tarnów, Poland, and then back to Stadom. Known as a powerful preacher, he helped spread popular devotions such as that to the Holy Name of Jesus. Father Szymon had a devotion to Saint Bernardine of Siena, modeled his preaching after that of Bernardine, and assisted at the transfer of Bernardine's relics to Aquila, Italy on 17 May 1472. Attended the Franciscan General Chapter in Pavia, Italy in 1478. Pilgrim to the Holy Lands and to the tombs of Saint Peter the Apostle and Saint Paul the Apostle. Szymon died tending the sick during a plague epidemic.
Born
c.1437 in Lipnica Murowana, Malopolskie, Poland
Died
18 July 1482 in Kraków, Malopolskie, Poland during a plague epidemic
Beatified
• 24 February 1685 (cultus confirmed) by Blessed Pope Innocent XI
• re-confirmed on 20 December 2005 by Pope Benedict XVI
Canonized
• 3 June 2007 by Pope Benedict XVI at Saint Peter's Basilica, Rome, Italy
• the canonization miracle involved the cure of a woman in 1943
Representation
• Franciscan giving food to a poor man
• Franciscan celebrating Mass around dying people
http://catholicsaints.info/saint-szymon-of-lipnica/
---
Saint Clair of Epte
Also known as
• Clair of Beauvais
• Clare...
Profile
Born to the nobility, Clair felt a call to religious life, and lived at home much like a monk. His father arranged a marriage for Clair to a nearby wealthy heiress, and when the young man said he preferred to devote himself to God, the woman tried to seduce him in order to joined the two families together. When he refused her, she became enraged, and swore vengance. Clair fled to the region of Normandy, France c.866 where he lived as a hermit. Word spread of his wisdom and ability to heal by prayer, and Clair had to keep moving from place to place in order to have solitude. Ordained a priest in 870. Hermit in the woods around Nacqueville, France, and then at a hermitage on the banks of the river Epte where he lived with brother hermit and spiritual student named Cyrin. He was finally located by agents sent by his spurned would-be wife, and murdered on her orders. Martyr.
Born
845 in Rochester, Kent, England
Died
• beheaded on 4 November 884 at Vulcassum (modern Saint-Clair-sur-Epte), France while he was praying
• where his severed head hit the ground, a spring of fresh water sprang up and washed the whole death scene away; water from the spring was reputed to have healing properties
• his hermit's hut was converted into a chapel
• a church was later built on the spot
• the village of Saint-Clair-sur-Epte, France grew up around the church
Patronage
Saint-Clair-sur-Epte, France
Representation
hermit near a river holding his severed head
http://catholicsaints.info/saint-clair-of-epte/
---
Saint Frederick of Utrecht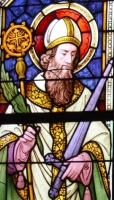 Also known as
• Frederick of the Netherlands
• Fredericus, Fridrich, Frederic
Profile
Grandson of King Radbon of the Frisians. Educated by the priests at Utrecht, Netherlands. Priest, known for his learning and personal piety. Catechist and instructor to converts. Bishop of Utrecht in 825. Frederick worked to reform his clergy, regularize Church practice in his diocese, and opposed incestuous marriages, especially among the nobility. He dispatched a group of missionaries under the leadership to Saint Odulphus to evangelize the pagans to the north of Utrecht, and worked with them around Walcheren. He composed a prayer to the Blessed Trinity that was used for ages in the Netherlands. The memory of his life and sanctity were preserved in a poem by his contemporary Saint Rabanus Maurus.
Frederick became involved in the royal politics of his day, and was especially involved in the domestic problems of Emperor Louis the Debonair, Empress Judith, and their sons. Frederick openly chastised Judith for her immoral and adulterous lifestyle, which has led many writers to conclude that Judith hired the men who murdered Frederick. However, it is more likely that they were pagans from Walcheren, many of whom were violently opposed to the Christian missionaries, and who martyred him for his work.
Died
stabbed to death during Mass on 18 July 838
Representation
• bishop pierced by two swords
• bishop being stabbed by two men
http://catholicsaints.info/saint-frederick-of-utrecht/
---
Saint Bruno of Segni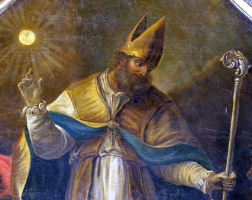 Profile
Born to the Italian nobility. Studied theology at the Benedictine monastery of Saint Pepetuus at Asti, Italy, and at Bologna, Italy. Benedictine, monk. Ordained in 1079, and assigned to a parish at Siena, Italy. Noted for defending orthodox Church wisdom, his knowledge of Scripture, and his teachings on the Blessed Sacrament. Counselor to four popes. Ordained bishop of Segni, Italy in 1080 by Pope Gregory VII. Fought simony and lay investiture. In 1095 he retired to a monastic life at Monte Cassino. Elected abbot in 1107. Following a chastisement of the pope for shirking his duty to others, he was soon ordered back to his diocese, a vocation he fulfilled until his death. Vatican librarian. Cardinal legate, though he declined the cardinalate. Wrote several works on theology.
Born
1049 at Solero, Piedmont, Italy
Died
1123 of natural causes
Canonized
5 September 1183 by Pope Lucius III
Patronage
Segni, Italy
Works
Pamphlet on Simoniacs
http://catholicsaints.info/saint-bruno-of-segni/
---
Blessed Carlos de Dios Murias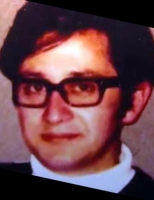 Profile
Carlos studied civil engineering until he gave in to a call to religious life and the priesthood. Member of the Order of Friars Minor Conventual. Ordained a priest in the diocese of La Rioja, Argentina by Blessed Enrique Angelelli on 17 December 1972. Member of the Third World Movement of Priests. Worked with Blessed Gabriel Longueville to set up a Franciscan community to support the peasants in their economic struggles against large land owners. Kidnapped, imprisoned, tortured and murdered by members of the Federal Police for his work. Martyr.
Born
10 October 1945 in San Carlos Minas, Córdoba, Argentina
Died
• shot on 18 July 1976 in Chamical, La Rioja, Argentina
• buried in the municipal cemetery in Chamical
Beatified
• 27 April 2019 by Pope Francis
• beatification recognition celebrated in La Rioja, Argentina, presided by Cardinal Giovanni Angelo Becciu
https://catholicsaints.info/blessed-carlos-de-dios-murias/
---
Saint Edburgh of Bicester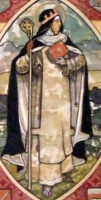 Also known as
• Edburgh of Aylesbury
• Eadburga, Eadburh, Edburg, Edburga
Profile
Born a princess, the daughter of the pagan King Penda of Mercia; sister of Saint Cuneburga and Saint Edith of Aylesbury; aunt of Saint Osith. Nun under Saint Cuneburga's convent at Castor, Northamptonshire, England. Nun at a small monastery she built on land at Aylesbury, Buckinghamshire, England on land donated by her father. The towns of Adderbury and Edburton in England are thought to have been named for her.
Born
c.620 in Mercia (part of modern England)
Died
• 18 July 650 at Aylesbury, Buckinghamshire, England of natural causes
• relics transferred to the Augustinian priory at Bicester, England in 1182 where they became a point of pilgrimage
• relics transferred to Flanders, Belgium in 1500 by order of Pope Alexander VI
http://catholicsaints.info/saint-edburgh-of-bicester/
---
Saint Ðaminh Ðinh Ðat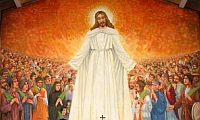 Also known as
Domenico Nicolao Dinh Dat
Additional Memorial
24 November as one of the Martyrs of Vietnam
Profile
Layman in the apostolic vicariate of East Tonkin (in modern Vietnam). A soldier during the persecutions of emperor Minh Mang, he was ordered by the army to renounce Christianity and prove it by trampling a crucifix; he refused and was tortured until he relented and apostasized. Released, he repented, returned to his faith, and as a self-imposed penance, he wrote to the emperor to proclaim his Christianity. Martyr.
Born
c.1803 in Phú Nhai, Nam Ðinh, Vietnam
Died
strangled on 18 July 1839 in Nam Ðinh, Vietnam
Canonized
19 June 1988 by Pope John Paul II
http://catholicsaints.info/saint-daminh-dinh-dat/
---
Blessed Tarsykia Matskiv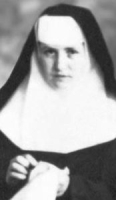 Also known as
• Tarsykia Mackiv
• Tarcisia, Olga, Olha
Profile
Greek Catholic. Entered the Sister Servants of Mary Immaculate on 3 May 1938, taking her vows on 5 November 1940. Made a private vow to her spiritual director that she would give her life for the conversion of Russia and the good of the Church. When the Bolsheviks arrived to destroy her convent, Sister Taryskia was the one who answered the door; she was shot without warning. Martyr.
Born
23 March 1919 at Khodoriv, Lviv District, Ukraine as Olha Mackiv
Died
shot by a Russian soldier at 8am on 17 July 1944 at Chervonohrad, L'vivs'ka oblast', Ukraine
Beatified
27 June 2001 by Pope John Paul II at Ukraine
http://catholicsaints.info/blessed-tarsykia-matskiv/
---
Saint Scariberga of Yvelines

Also known as
Scariberg, Scariberge
Profile
Born to the Gallic nobility; niece of King Clovis I. Given in an arranged marriage to Saint Arnulf of Tours; they lived as brother and sister, and when he became bishop, she became a nun. Widowed when Arnulf was martyred, she bult a hermit's cell over his tomb in the Yvelines forest between Paris and Chartres, France, and lived in it the rest of her life. The town of Saint-Arnoult-en-Yvelines, France grew up around the tomb and cell.
Born
c.495 in Gaul (in modern France)
Died
c.550 in the forest of Yvelines in France of natural causes
http://catholicsaints.info/saint-scariberga-of-yvelines/
---
Saint Arnulf of Metz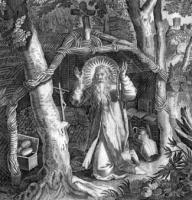 Also known as
Arnold, Arnoul
Profile
Courtier and advisor of Austrasian King Theodebert II. Soldier. Married the Lady Doda. Father. From his son Ansegisel and Saint Begga of Ardenne came the Carolingian kings of France. Widower. In 610, when Arnulf was about to become a monk at Lérins, he was appointed bishop of Metz, France. He played a prominent role in affairs of state, was instrumental in making Clotaire of Neustria king of Austrasia, was chief counselor to King Dagobert of Austrasia. In 626 Arnulf resigned his see and retired to a hermitage near the abbey of Remiremont.
Born
c.580
Died
16 August 640
http://catholicsaints.info/saint-arnulf-of-metz/
---
Saint Philastrius of Brescia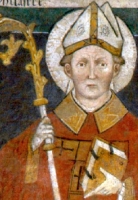 Also known as
Philaster of Brescia
Profile
Priest. Bishop of Brescia, Italy. Bishop during a time of Arian disturbances, he strongly opposed and wrote against the heresy, working with Saint Ambrose of Milan and Saint Augustine of Hippo. Participated in the Synod of Aquileia of 381. Known for his charity to the poor of his flock.
Born
c.330 in Spain
Died
• c.387 of natural causes
• relics venerated in the crypt of Saint Apollonio in the cathedral of Brescia, Italy
http://catholicsaints.info/saint-philastrius-of-brescia/
---
Saint Theodosia of Constantinople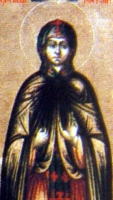 Also known as
Theodosia he Konstantinoupolitissa
Profile
Nun in Constantinople. Martyred by iconoclasts for defending an icon of Christ which emperor Leo the Isaurian had ordered destroyed.
Born
7th century
Died
• in 729 by having a ram's horn hammered through her neck at the Forum Bovis in Constantinople (modern Istanbul, Turkey)
• interred in the church of Hagia Euphemia in the Dexiokratianai section of Constantinople
• in the 14th century the church was renamed for Saint Theodosia

http://catholicsaints.info/saint-theodosia-of-constantinople/
---
Blessed Jean-Baptiste de Bruxelles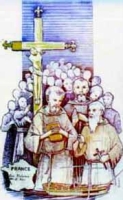 Profile
Priest in the diocese of Limoges, France. Imprisoned on a ship in the harbor of Rochefort, France and left to die during the anti-Catholic persecutions of the French Revolution. One of the Martyrs of the Hulks of Rochefort.
Died
12 September 1734 in Saint-Léonard, Haute-Vienne, France
Died
18 July 1794 aboard the prison ship Deux-Associés, in Rochefort, Charente-Maritime, France
Beatified
1 October 1995 by Pope John Paul II
http://catholicsaints.info/blessed-jean-baptiste-de-bruxelles/
---
Saint Gonéri of Tréguier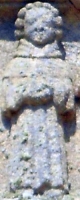 Also known as
• Gonéri of Brittany
• Gonéri of Plougrescant
• Gonéry, Gonnéry, Koneri
Profile
Son of Saint Elibouban. Sixth century exile who fled from Britain to Brittany to escape invading Anglo-Saxons. Hermit at Tréguier, France. Helped bring Prince Alwand to Christianity.
Born
British Isles
Patronage
• against anxiety
• against fever
• Saint-Gonnery, Morbihan, Brittany, France
http://catholicsaints.info/saint-goneri-of-treguier/
---
Saint Theneva
Also known as
Dwynwen, Enoch, Thaneu, Thaney, Thenaw, Thenew, Thenog, Thenova
Profile
British princess. When Theneva became pregnant before marriage, her family threw her from a cliff. She survived the fall unharmed, and was soon met by an unmanned boat. She knew she had no home to go to, so got into the boat; it sailed her across the Firth of Forth to land at Culross where she was cared for by Saint Serf; he became foster-father of her son, Saint Kentigern.
Born
British Isles
Died
7th century
Patronage
Glasgow, Scotland
http://catholicsaints.info/saint-theneva/
---
Saint Rufillus of Forlimpopoli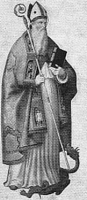 Also known as
Ruffilius of Forlimpopoli
Profile
First Bishop of Forlimpopoli, Emilia, Italy. Legend says that he and his parishioners drove out a dragon from the region; it's a metaphor for the work of the local Christians to evangelize the local pagans.
Died
382
Patronage
Forlimpopoli, Italy
http://catholicsaints.info/saint-rufillus-of-forlimpopoli/
---
Saint Elio of Koper
Profile
First century convert. Spiritual student of Saint Ermacora of Aquileia. Deacon to Nazarius, first bishop of Koper (in modern Slovenia). Built a church dedicated to the Blessed Virgin Mary.
Born
1st century Costabona, diocese of Koper (in modern Slovenia)
Died
• late 1st century of natural causes
• relics enshrined under the altar of the choir in the cathedral of Koper, Slovenia in the late 17th century
http://catholicsaints.info/saint-elio-of-koper/
---
Saint Pambo of the Nitrian Desert
Profile
Spiritual student of Saint Anthony the Abbot. Worked to establish the eremitical life in the Nitrian Desert in Egypt, and founded monasteries there. He was renowned for his wisdom, and was consulted by many, including Saint Athanasius of Egypt, Saint Melania the Elder, and Saint Rufinus.
Died
c.375 of natural causes
http://catholicsaints.info/saint-pambo-of-the-nitrian-desert/
---
Saint Aemilian of Dorostorium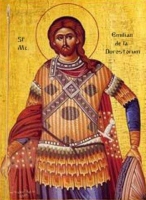 Also known as
• Aemilian of Silistra
• Emilian, Emiliano
Profile
Martyred in the persecutions of Julian the Apostate.
Died
burned to death in 362 in Dorostorium (modern Silistra, Bulgaria)
http://catholicsaints.info/saint-aemilian-of-dorostorium/
---
Blessed Alanus of Sassovivo
Profile
Benedictine monk in late 13th century Austria. Pilgrim to Rome, Italy for the Holy Year of 1300. Joined the Benedictine Sassovivo Abbey near Foligno, Italy. Left communal life in 1311 to live his remaining years as a hermit.
Born
13th century Austria
Died
1313 of natural causes
http://catholicsaints.info/blessed-alanus-of-sassovivo/
---
Saint Athanasius of Clysma
Profile
High government official in 4th century Egypt, he was revealed to be a Christian when he was discovered at Christmas Mass at Clysma, Egypt in the area of the Suez Gulf. Imprisoned and eventually executed for his faith. Martyr.
Died
beheaded in the 4th century in Clysma, Egypt
http://catholicsaints.info/saint-athanasius-of-clysma/
---
Blessed Bernard de Arenis
Profile
Mercedarian friar. Sent to north Africa, he was abused throughout his travels for his faith, but managed to free 222 Christians who had been imprisoned and enslaved by Muslims.
Born
French
http://catholicsaints.info/blessed-bernard-de-arenis/
---
Saint Maternus of Milan
Profile
Bishop of Milan, Italy in 295. He was tortured in the persecutions of Diocletian, but survived to follow his vocation and die of natural causes.
Died
c.307 of natural causes
http://catholicsaints.info/saint-maternus-of-milan/
---
Saint Gundenis of Carthage
Also known as
Gundenes
Profile
Maiden martyred in the persecutions of Septimus Severus.
Died
203 at Carthage (modern Tunis, Tunisia)
http://catholicsaints.info/saint-gundenis-of-carthage/
---
Blessed Arnold of Amiens
Also known as
Arnould, Arnulfus
Profile
Bishop of Amiens, France from 1236 to 1247.
Died
1247 of natural causes
http://catholicsaints.info/blessed-arnold-of-amiens/
---
Saint Arnoul the Martyr
Also known as
Arnulphus
Profile
Sixth-century missionary to the Franks. Martyr.
Died
534 in France
http://catholicsaints.info/saint-arnoul-the-martyr/
---
Blessed Bertha de Marbais
Profile
Cistercian nun. Abbess at the abbey of Marchet near Lille, Belgium.
Died
18 July 1247
http://catholicsaints.info/blessed-bertha-de-marbais/
---
Saint Minnborinus
Profile
Abbot of Saint Martin's Abbey in Cologne, Germany from 974 to 986.
Born
Ireland
Died
986
http://catholicsaints.info/saint-minnborinus/
---
Blessed Herveus
Profile
Hermit on Chalonnes Island, Anjou, France.
Born
in the British Isles
Died
1130
http://catholicsaints.info/blessed-herveus/
---
Saint Marina of Ourense
Profile
Martyr.
Died
Ourense, Spain, date unknown
http://catholicsaints.info/saint-marina-of-ourense/
---
Martyrs of Silistria
Profile
Seven Christians who were martyred together. No details about them have survived but the names – Bassus, Donata, Justus, Marinus, Maximus, Paulus and Secunda.
Died
Silistria (Durostorum), Moesia (in modern Bulgaria), date unknown
http://catholicsaints.info/martyrs-of-silistria/
---
Martyrs of Tivoli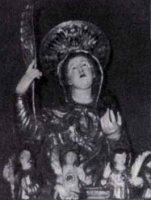 Profile
A widow, Symphorosa, and her seven sons ( Crescens, Eugene, Julian, Justin, Nemesius, Primitivus and Stracteus) martyred in Tivoli, Italy in the 2nd-century persecutions of Hadrian.
http://catholicsaints.info/martyrs-of-tivoli/
---
Also celebrated but no entry yet
• Our Lady of Good Deliverance
• Martyrs of Silistria
• Antonio Garazez
• Arnold of Arnoldsweiler
• Arnulf of Yvelines
• Robert of Saletino
• Sabino Hernandez Laso
---
CatholicSaints.Info Portable Edition
email CatholicSaints.*
---