---
What can we know of Saint Joseph's death? - We have no direct evidence to tell us where or when he died, but again the evidence suggests that his death occurred at Nazareth before he was over fifty. We are certain that he was dead at the time of the Crucifixion because Jesus on Calvary gave Mary into John's care. Moreover, during the Public Life our Blessed Lady is mentioned several times together with her relatives and no one else. The constant silence about Mary's husband can only mean that his life came to an end some time before the Public Life of Jesus began, when Jesus would have been about thirty, and Joseph hardly fifty. - from Questions People Ask about Saint Joseph, by Father Francis L. Filat, S.J.
---
Franciscan Days - The Preaching of the 'Penitents of Assisi'
---
Joseph, Son of David - Saint Joseph, Spouse of Mary Immaculate, by Father Edward Leen
---
Saint Adelaide of Burgundy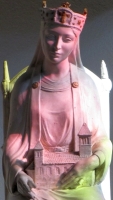 Also known as
• Adelaide of Italy
• Adelheid, Alice
Profile
Born a princess, the daughter of King Rudolf II (Rupert II) of Upper Burgundy. Promised at age two in an arranged marriage as part of a treaty between Rudolf and Hugh of Provence. Married at age 16 to Lothair of Italy, who eventually became king of Italy. Widowed in 950 while still a teenager; Lothair was probably poisoned by his successor to the throne, Berengarius. As part of his attempt to solidify his grip on power, Berengarius ordered Adelaide to marry his son; she refused, and was imprisoned. She was freed soon after when the German king Otto the Great defeated Berengarius.
Adelaide married Otto in Pavia, Italy in 951. He was crowned Emperor in Rome, Italy in 952, and Adelaide reigned with him for 20 years. Widowed in 973, she was ill-treated by her step-son, Emperor Otto II and his wife Theophano, but eventually reconciled with her royal in-laws.
When Otto II died in 983, he was succeeded by his infant son, Otto III. Theophano acted as regent, and since she still did not like Adelaide, used her power to exile her from the royal court. Theophano died in 991, and Adelaide returned once again to the court to act as regent for the child emperor. She used her position and power to help the poor, to evangelize, especially among the Slavs, and to build and restore monasteries and churches. When Otto III was old enough, Adelaide retired to the convent of Selta near Cologne, a house she had built. Though she never became a nun, she spent the rest of her days there in prayer.
Born
c.931 at Burgundy, France
Died
999 at the monastery of Selta (Seltz), Alsace of natural causes
Canonized
1097 by Pope Urban II
Patronage
• abuse victims
• against in-law problems
• brides
• empresses
• exiles
• parenthood
• parents of large families
• people in exile
• princesses
• prisoners
• second marriages
• step-parents
• victims of abuse
• widows
Representation
• empress dispensing alms and food to the poor, often beside a ship
• escaping from prison in a boat
• holding a church
• veil
Video
https://catholicsaints.info/saint-adelaide-of-burgundy/
---
Saint Ado of Vienne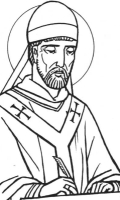 Also known as
Adon, Adonis
Profile
Born to the French nobility. Educated at Ferrières Abbey. Ado renounced his title and inheritence, and became a Benedictine monk at Ferrières. He taught at Prüm Abbey at the request of its abbot, but dissension among the brothers forced him to return home. Pilgrim to Rome, Italy for two years. He moved to Ravenna, Italy where he revised and published a version of the Roman Martyrology in 858. Pastor of Saint Romanus church at Lyon, appointed by the archbishop, Saint Remigius. Archbishop of Vienne, France in 859, appointed by Pope Saint Nicholas I. Noted reformer in his diocese. He wrote biographies of Saint Desiderius and Saint Theuderius, and a world history text. He opposed the efforts of Lothair II of Lorraine to put aside his wife, Theutberga, in favour of his mistress, and he led the effort to annul the synod of Metz's approval of Lothair's actions.
Born
Sens, France
Died
• 875 in Vienne, France of natural causes
• relics destroyed by the Huguenots
Representation
monk studying Scripture in a library
https://catholicsaints.info/saint-ado-of-vienne/
---
Blessed Sebastian Maggi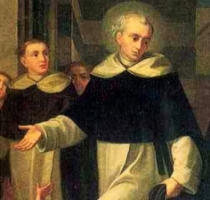 Profile
Joined the Dominicans in Brescia at age 15 in 1429, the youngest that he could, and spent the next 67 years as a zealous and reforming friar. Superior of several Dominican houses. Vicar of a reformed congregation of Lombardy. Known for his personal strict adherance to the rules, and his gentle ways with those who could not live so stricly. Died while en route to a convent for a mission.
Born
1414 at Brescia, Italy
Died
• 1496 at Genoa, Italy of natural causes
• body was still incorrupt in 1963
Beatified
15 April 1760 by Pope Clement XIII (cultus confirmed)
Prayers
God of faithfulness, you made Blessed Sebastian and outstanding example of evangelical perfection and truth. By following his example may we enter the path to perfect charity and deepen the life of the spirit through penance and so obtain your glory and eternal life. We ask this through our Lord Jesus Christ, your Son, who lives and reigns with you and the Holy Spirit, one God, for ever and ever. - prayer from the General Calendar of the Order of Preachers
https://catholicsaints.info/blessed-sebastian-maggi/
---
Blessed Mary Fontanella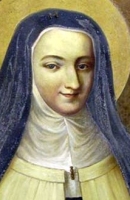 Also known as
• Mary of the Angels
• Maria degli Angeli
• Maria Fontanella of the Angels
Profile
Born to the nobility, one of eleven children Count Fontenella of Santena, Italy. At age twelve she joined the Cistercians at Saluzzo, Italy. Unfortunately, Mary's father died soon after, and Mary had to return home to help with the family. Four years later, over the protests of her family, she joined the Carmelites in Turin, Italy. Visionary and mystic, she was the victim of numerous demonic attacks. Novice mistress in 1691 at age 33. Prioress in 1694. Founded a Carmelite monastery at Moncalieri, Italy. Noted for her strong devotion to Saint Joseph.
Born
7 January 1661 at Balderino, Italy
Died
16 December 1717 at Turin, Italy of natural causes
Beatified
14 May 1865 by Pope Pius IX
https://catholicsaints.info/blessed-mary-fontanella/
---
Blessed Filip Siphong Onphithakt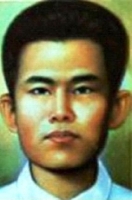 Also known as
Filippo Siphong Onphitak
Profile
Layman in the archdiocese of Thare and Nonseng, Thailand. Catechist in Songkhon in 1926. Married to Marie Thong in 1931. Father of five. When the parish priest was exiled during a persecution in Thailand, Filip took over leadership of the Christian community. He also protested the police harassment of Catholics; he was ordered to report to police headquarters in Mukdahan. On the way he was ambushed, tortured and murdered. One of the Seven Martyrs of Thailand.
Born
30 September 1907 in Nong Seng, Nakhon Phanom, Thailand
Died
shot on 16 December 1940 in Muang Phaluka, Nakhon Phanom, Thailand
Beatified
22 October 1989 by Pope John Paul II
https://catholicsaints.info/blessed-filip-siphong-onphithakt/
---
Blessed Adolphus, Blessed Arnaldo and Blessed James of Tunis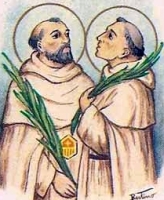 Also known as
Adolfo
Profile
Three Mercedarian friars who, in 1314, went to Tunis, Tunisia in North Africa to free Christian captives. On the trip home, their ship was captured by pirates, and they were imprisoned. While in captivity he ministered to other prisoners and talked about Christ. His non-Christian jailers murdered him to stop it. Martyr.
Born
Catalan (in modern Spain)
Died
1314 in Tunis, Tunisia
https://catholicsaints.info/blessed-adolphus-of-tunis/
---
Blessed Clemente Marchisio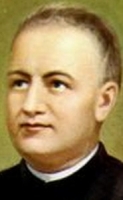 Also known as
Klemens Marchisio
Profile
Priest in the archdiocese of Turin, Italy. Founded the Institute of the Daughters of Saint Joseph.
Born
1 March 1833 in Racconigi, Cuneo, Italy
Died
16 December 1903 in Rivalba, Turin, Italy of natural causes
Beatified
30 September 1984 by Pope John Paul II
https://catholicsaints.info/blessed-clemente-marchisio/
---
Saint Albina of Caesarea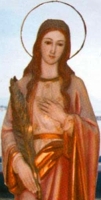 Profile
Young Christian maiden martyred in the persecutions of Decius. Greeks maintain that her body was miraculously translated after death.
Born
Caesarea
Died
• martyred c.250 at Formiae, Gata, Campagna, Italy
• relics in the cathedral of Gaeta
https://catholicsaints.info/saint-albina/
---
Blessed Jaume Mases Boncompte
Also known as
Brother Lambert Carles
Profile
Member of the Brothers of the Christian Schools. Martyred in the Spanish Civil War.
Born
14 April 1894 in Agramunt, Lleida, Spain
Died
16 December 1936 in Barcelona, Spain
Beatified
28 October 2007 by Pope Benedict XVI
https://catholicsaints.info/blessed-jaume-mases-boncompte/
---
Blessed Dominic Dosso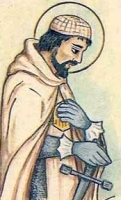 Profile
Soldier. Knight. Fought in the recovery of Balearic Islands of Spain from the Saracens. Joined the Mercedarians on 10 August 1218, accepted into the Order by Saint Peter Nolasco. Known for his personal piety, virtue and devotion to the Order.
https://catholicsaints.info/blessed-dominic-dosso/
---
Haggai the Prophet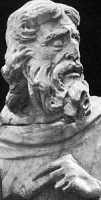 Also known as
Aggaeus, Aggeus, Hággáy, Haggaios
Profile
Sixth century BC Old Testament prophet during the period after the exile. The message he brought concerned rebuilding the Temple in Jerusalem.
Died
c.516 BC
https://catholicsaints.info/haggai-the-prophet/
---
Blessed Elizabeth of Saint Francis
Profile
Born to pious Portugese noble family. Poor Clare nun at Saint Clare Vila do Conde, diocese of Braga, Portutal.
Born
Coimbra, Portugal
Died
• 1534
• miracles reported at her grave
• re-interred in 1582
https://catholicsaints.info/blessed-elizabeth-of-saint-francis/
---
Saint Bean
Also known as
Beano, Beanus
Additional Memorial
26 October as Saint Bean of Murlach
Profile
10th-11th century bishop at Mortlach, Banff, Scotland, and Aberdeen, Scotland, appointed by Pope Benedict VIII.
Born
Scotland
Died
1012 of natural causes
https://catholicsaints.info/saint-bean/
---
Saint Beoc
Also known as
Bean, Beanus, Dabeoc, Mobeoc, Moboac, Mo-Bioc, Mobioc
Profile
Founded a monastery on an island in Lough Derg, Donegal, Ireland, and served as its first abbot.
Born
5th-6th century in an area now in Wales
Died
5th-6th century of natural causes
https://catholicsaints.info/saint-beoc/
---
Blessed Raynald de Bar
Profile
Cistercian monk at Clairvaux Abbey in France. Abbot of Citeaux Abbey in 1133. Compiled the first collection of Cistercian statutes.
Died
1151 of natural causes
https://catholicsaints.info/blessed-raynald-de-bar/
---
Saint Nicholas Chrysoberges
Profile
Patriarch of Constantinople from 983.
Died
996 of natural causes
https://catholicsaints.info/saint-nicholas-chrysoberges/
---
Saint Adelard of Cysoing
Profile
Son of Everardo, founder of Cysoing Abbey. Monk at Cysoing in the late 9th century.
https://catholicsaints.info/saint-adelard-of-cysoing/
---
Saint Irenion
Also known as
Irenian
Profile
Bishop of Gaza in Palestine.
Died
389 of natural causes
https://catholicsaints.info/saint-irenion/
---
Saint Macarius of Collesano
Profile
Monk. Abbot.
https://catholicsaints.info/saint-macarius-of-collesano/
---
Martyred Women of North-West Africa
Profile
A large group of women martyred in the persecutions of Hunneric, Arian King of the Vandals.
Died
482 in North-West Africa
https://catholicsaints.info/martyred-women-of-north-west-africa/
---
Martyrs of Ravenna
Profile
A group of Christians martyred together. Four names and no other information has survived - Agricola, Concordius, Navalis and Valentine.
Died
c.305 at Ravenna, Italy
https://catholicsaints.info/martyrs-of-ravenna/
---
Also celebrated but no entry yet
• Bernard of Portes
• Everard of Friuli
• Honoratus Kozminski
• Theodoric of Rommersdorf
---
CatholicSaints.Info Portable Edition
email CatholicSaints.*
---