---
---
Meditations for Every Day in a Month - On the Uncertainty of the State of Grace, by Father François Nepveu
---
Saint Camillus of Lellis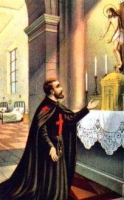 Also known as
• Camillus de Lellis
• Camillo de Lellis
Profile
Son of a military officer who had served both for Naples and France. His mother died when Camillus was very young. He spent his youth as a soldier, fighting for the Venetians against the Turks, and then for Naples. Reported as a large individual, perhaps as tall as 6'6" (2 metres), and powerfully built, but he suffered all his life from abscesses on his feet. A gambling addict, he lost so much he had to take a job working construction on a building belonging to the Capuchins; they converted him.
Camillus entered the Capuchin noviate three times, but a nagging leg injury, received while fighting the Turks, each time forced him to give it up. He went to Rome, Italy for medical treatment where Saint Philip Neri became his priest and confessor. He moved into San Giacomo Hospital for the incurable, and eventually became its administrator. Lacking education, he began to study with children when he was 32 years old. Priest. Founded the Congregation of the Servants of the Sick (the Camillians or Fathers of a Good Death) who, naturally, care for the sick both in hospital and home. The Order expanded with houses in several countries. Camillus honoured the sick as living images of Christ, and hoped that the service he gave them did penance for his wayward youth. Reported to have the gifts of miraculous healing and prophecy.
Born
25 May 1550 at Bocchiavico, Abruzzi, kingdom of Naples, Italy
Died
14 July 1614 at Genoa, Italy of natural causes
Canonized
29 June 1746 by Pope Benedict XIV
Patronage
• against illness, sickness or bodily ills; sick people (proclaimed on 22 June 22 1886 by Pope Leo XIII)
• hospitals
• hospital workers
• nurses
• Abruzzi, Italy
Video
Readings
Think well. Speak well. Do well. These three things, through the mercy of God, will make a man go to Heaven. - Saint Camillus de Lellis
Let me begin with holy charity. It is the root of all the virtues and Camillus' most characteristic trait. I can attest that he was on fire with this holy virtue - not only toward God, but also toward his fellow men, and especially toward the sick. The mere sight of the sick was enough to soften and melt his heart and make him utterly forget all the pleasures, enticements, and interests of this world. When he was taking care of his parents, he seemed to spend and exhaust himself completely, so great was his devotion and compassion. He would have loved to take upon himself all their illness, their every affliction, could he but ease their pain and relieve their weakness. In the sick he saw the person of Christ. His reverence in their presence was as a great as if he were really and truly in the presence of his Lord. To enkindle the enthusiasm of his religious brothers for this all-important virtue, he used to impress upon them the consoling words of Jesus Christ: "I was sick and you visited me." He seemed to have these words truly graven on his heart, so often did he say them over and over again. Great and all-embracing was Camillus' charity. Not only the sick and dying, but every other needy or suffering human being found shelter in his deep and kind concern. - from a biography of Saint Camillus by a contemporary
https://catholicsaints.info/saint-camillus-of-lellis/
---
Saint Kateri Tekakwitha

Also known as
• Catherine Tekakwitha
• Lily of the Mohawks
• Tegakouita, Tegakwitha
Additional Memorial
• 17 April
• 14 July (United States)
• 25 March on some calendars
Profile
Daughter of a Christian Algonquin woman captured by Iroquois and married to a non-Christian Mohawk chief. Orphaned during a smallpox epidemic, which left her with a scarred face and impaired eyesight. Converted and baptized in 1676 by Father Jacques de Lamberville, a Jesuit missionary. Shunned and abused by relatives for her faith. Escaped through 200 miles of wilderness to the Christian Native American village of Sault-Sainte-Marie. Took a vow of chastity in 1679. Known for spirituality and austere lifestyle. Miracle worker. Her grave became a pilgrimage site and place of miracles for Christian Native Americans and French colonists. First Native American proposed for canonization, her cause was started in 1884 under Pope Leo XIII. The Tekakwitha Conference, an international association of Native American Catholics and those in ministry with them, was named for her.
Born
1656 at Osserneon (Auriesville), modern New York, USA
Died
17 April 1680 at Caughnawaga, Canada of natural causes
Canonized
21 October 2012 by Pope Benedict XVI
Patronage
• ecologists, ecology, environment, environmentalism, environmentalists
• exiles
• loss of parents
• orphans
• people ridiculed for their piety
• Native Americans
• Gallup, New Mexico, diocese of
Representation
• lily
• rosary
• turtle
Readings
Kateri Tekakwitha was born in today's New York state in sixteen fifty-six to a Mohawk father and a Christian Algonquin mother who gave to her a sense of the living God. She was baptized at twenty years of age and, to escape persecution, she took refuge in Saint Francis Xavier Mission near Montreal. There she worked, faithful to the traditions of her people, although renouncing their religious convictions until her death at the age of twenty-four. Leading a simple life, Kateri remained faithful to her love for Jesus, to prayer and to daily Mass. Her greatest wish was to know and to do what pleased God. She lived a life radiant with faith and purity. Kateri impresses us by the action of grace in her life in spite of the absence of external help and by the courage of her vocation, so unusual in her culture. In her, faith and culture enrich each other! May her example help us to live where we are, loving Jesus without denying who we are. Saint Kateri, Protectress of Canada and the first native American saint, we Entrust to you the renewal of the faith in the first nations and in all of North America! May God bless the first nations! - Pope Benedict XVI canonization homily for Saint Kateri
https://catholicsaints.info/saint-kateri-tekakwitha/
---
Blessed Boniface of Canterbury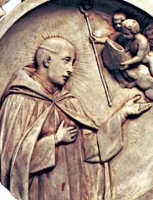 Profile
Born to the nobility, member of the ducal House of Savoy. Eleventh child of Count Thomas of Savoy. Brother of Queen Beatrix of Savoy. Uncle of Queen Eleanor of England.
Carthusian monk at the Grande Chartreuse. Prior of the monastery in Natua, France. Bishop of Belley, France in 1233. Chosen archbishop of Canterbury, England by Pope Innocent IV in 1243. Attended the Council of Lyon in 1245. He revised the court, eliminated unnecessary offices in the archdiocese, and worked to get the nearly bankrupt diocese back to fiscal health. Tried to reduce royal meddling in the Church's internal affairs and control of its appointments.
Tried to implement reforms in a number of the monasteries in his diocese, but many refused to recognize him or permit his visits. Some of the disputes actually led to violence, and he was forced to excommunicate some clerics to force compliance. Others, however, welcomed his reform efforts, and were impressed with his personal piety, his charity, and his simple lifestyle. In 1258 he was chosen the leader of a group of king's counselors who represented the interests of the English barons against the king. In May 1261 he called a council at Lambeth castle which led to declarations explaining that the Church had the right to oppose worldly forces and intervention. However, Pope Urban IV needed the support of King Henry and refused to ratify these decrees.
Boniface went into voluntary exile in France from 1262 to 1266, administering his archdiocese as best he could from across the Channel, and continued to oppose Henry's unilateral appointments to ecclesiastical offices and his taxation of Church property. But he sided with the king on other matters, especially when the barons resorted to civil war. Briefly served as regent of England, and accompanied the king on diplomatic trips to France. Died while trying to settle family business and end feuds between family factions. Later English historians complained of his excessive involvement in worldly politics and his family affairs, and he was far more appreciated by those who knew him in France.
Born
c.1207 near Sainte-Hélòne-du-Luc in the Savoy region of modern France
Died
• 18 July 1270 at the Sainte-Hélòne des Milliere castle in Hautecombe, Savoy, France of natural causes
• body found incorrupt in mid-16th century
Beatified
7 September 1838 by Pope Gregory XVI (cultus confirmed)
https://catholicsaints.info/blessed-boniface-of-canterbury/
---
Saint Francis Solano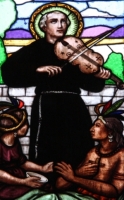 Also known as
• Francis Solanus
• Francisco Solano
• Thaumaturgus of the New World
• Wonder Worker of the New World
Profile
Son of Matthew Sanchez Solanus and Anna Ximenes, Andalusian nobles. Joined the Franciscans at age 20. Preacher for many years in southern Spain. Novice master at Arifazza. Worked with plague victims in Granada in 1583; caught the plague himself, but recovered.
Missionary to South America with Father Balthazar Navarro in 1589. After some time in Panama they took ship to travel south. The ship carried slaves, and Francis worked to evanglize them. During a strong storm, the ship ran aground. The captain abandoned the ship and its slave cargo to the rocks, but Francis stayed, baptizing them just before the ship broke apart on the rocks. Francis kept his little flock together and safe for three days until help arrived.
He spent the rest of his life as a missionary, travelling throughout South America, but especially around Lima, Peru, working with the natives and Spanish colonists. Reputed to have converted 9,000 natives during a single sermon. Learned many native languages and dialects quickly, and it is said that he preached to tribes of different tongues in one language and was understood by all. Could play the lute, and was known to play and sing before the altar. Noted healer. Custos of the Franciscan convents in Tucuman and Paraguay. Elected guardian of the Franciscan convent in Lima. Foretold both the destruction of Truxillo by an earthquake, and his own death.
Born
10 March 1549 at Montilla, diocese of Cordova, Andalusia, Spain
Died
14 July 1610 at Lima, Peru of natural causes
Canonized
27 December 1726 by Pope Benedict XIII
Patronage
• Argentina
• Bolivia
• Chile
• Paraguay
• Peru
• diocese of Añatuya, Argentina
Video
https://catholicsaints.info/saint-francis-solano/
---
Blessed Angelina di Marsciano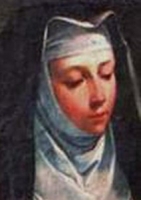 Also known as
• Angelina of Montegiove
• Angelina of Corbara
• Angelina of Foligno
Profile
Born to the Italian nobility, the daughter of the Duke of Marciano, and Anna, daughter of the Count of Corbara; her mother died when Angelina was 12. Given in an arranged marriage at age 15 to the Duke of Civitella, Giovanni da Terni, who agreed to honour the girl's private vow of chastity. Widowed at age 17, she quickly moved to follow a call to religious life before another marriage could be arranged. She gave away her wealth and property to the poor, became a Franciscan tertiary, and travelled the countryside, preaching repentence and chastity.
Because of her emphasis on chastity, she was accused of preaching the Manichaean heresy, part of which opposes marriage; for good measure, there were charges of witchcraft, as well, and she was arrested. King Ladislas of Naples acquitted her of all charges, but because of the disruption to public order that she caused, he banned her from the kingdom.
Moving her base of operations to the church of Santa Maria degli Angeli in Assisi, Italy, Angelina had a vision in which she was told to found a monastery for women tertiaries in Foligno, Italy. With the bishop's approval, she founded the cloistered Santa Anna convent in 1397 to care for the sick, poor, widows and orphans. It was so succesful that other, similar houses were soon opened in other Italian cities, and by the time of her death she was supervising 12 houses of tertiaries, and at one point there were 135 affiliated convents.
Born
1377 in Orvieto, Terni, Italy
Died
• 14 July 1435 in Foligno, Perugia, Italy of natural causes
• buried in the Franciscan church in Foligno
• body found incorrupt and relics enshrined in the church in 1492
Beatified
8 March 1825 by Pope Leo XII (cultus confirmation)
https://catholicsaints.info/blessed-angelina-di-marsciano/
---
Saint Marciano of Frigento
Additional Memorials
• 30 October (Naples, Italy)
• 14 June (Frigento, Italy; based on the translation of his relics from Frigento to Benevento)
• 5 November (Jerome's Martyrology)
Profile
Born to a wealthy Christian family, when Marciano received his inheritance he gave it all away to the poor and devoted himself to God. His devotion and spiritual wisdom attracted to so many admirers and would-be students that he left Greece for Italy, and became a hermit near the town of Frigento. Miracle worker and healer. Pilgrim to Rome, Italy, travelling with his friend, Bishop Lorenzo of Canosa, Italy. In Rome, Marciano was chosen bishop of Frigento by Pope Saint Leo the Great who, in a church near Rome, had encountered Marciano in prayer and received a vision that he was to be consecrated.
While there are very few points of information in this story, there are a lot of problems with the dates in the original sources. It is possible that, since the first biography was not published until 1662, several Marcians, Marcianos and saintly men with similar names, had their stories mashed together.
Born
5th century Greece
Died
• relics enshrined in Frigento, Italy
• relics translated to the crypt of San Sofia in Benevento, Italy in 839 to protect them from non-Christian raiders
• some relics were enshrined in a wooden bust in Taurasi, Italy in 1708, but at some point the statue and relics were stolen
• part of his skull enshrined in a silver reliquary in Frigento
Patronage
• Frigento, Italy
• Taurasi, Italy
https://catholicsaints.info/saint-marciano-of-frigento/
---
Blessed Richard Langhorne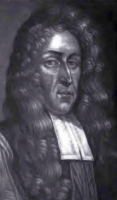 Profile
Third son of William Langhorne of the Inner Temple, London, England, and Lettice, daughter of Eustace Needham of Little Wymondley, Hertfordshire, England. Richard followed his father into the law, being admitted to the Inner Temple in November 1646, and passing the bar in 1654. He married Dorothy Legatt of Havering, Essex, England, a Protestant Christian; they lived on Shire Lane in London, had two sons, Charles and Francis, both of whom became priests. Part of Richard's work was to advise the local Jesuits on legal and financial matters, which would come back to haunt him.
Being Catholic, Richard was arrested on 15 June 1667, suspected of involvement in the great fire of London in September 1666, but was released. He was arrested again on 7 October 1678 and lodged in solitary confinement in Newgate Prison for eight months on suspicion of involvement in the Popish Plot of Titus Oates. Though he any denied knowledge of any such thing, on 14 June 1679 he was found guilty of conspiring with the Jesuits to burn London, and sentenced to death. Martyr.
Born
c.1635 in Bedford, Bedforshire, England
Died
hanged on 14 July 1679 at Tyburn, London, England
Beatified
15 December 1929 by Pope Pius XI
Readings
I am desirous to be with my Jesus. I am ready and you need stay no longer for me. – Blessed Richard's last words to his executioner
https://catholicsaints.info/blessed-richard-langhorne/
---
Saint Ulric of Zell
Also known as
Ulric of Cluny
Profile
Born wealthy. Suffered from eye trouble from an early age. Page at the court of Empress Agnes. Monk. Ordained as a deacon by his uncle Notker, bishop of Freising, Germany. Archdeacon and cathedral provost. Gave away much of his fortune to help the poor.
Pilgrim to Rome, Italy; while he was gone, some one else was appointed to his position. Benedictine at Cluny Abbey, France in 1052, receiving the habit from Saint Hugh of Cluny. Priest. Confessor at Cluny. Chaplain to a convent at Marcigny. A target of much jealousy among his brother monks. Suffered blinding headaches. Prior at Peterlingen. Founded a priory at Ruggersburg.
Following a dispute with Bishop Burchard of Lausanne, Switzerland who supported Henry IV against the pope, Ulric returned to Cluny. Founded a monastery at Zell in the Black Forest. Abbot at Zell. Founded a convent at Bollschweil. Reported to have miraculously cured a local girl of cancer. Totally blind by 1091. Wrote extensively on the liturgy, the direction of monasteries, and the training of novices.
Born
c.1020 at Ratisbon, Germany
Died
1093 of natural causes
https://catholicsaints.info/saint-ulric-of-zell/
---
Saint Vincent Madelgaire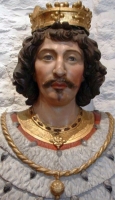 Also known as
• Madelgaire
• Madelgarus
• Vincent of Soignies
Profile
Married to Saint Waltrude c.635; son-in-law of Saint Bertille. Father of four: Saint Madalberta, Saint Landericus, Saint Dentlin of Soignies, and Saint Aldetrudis. Sent by King Dagobert I to Ireland to recruit monks to work as missionaries in the region. Founded the Benedictine abbeys of Hautmont in 642, and later one on his estate in Soignies, Belgium. Around 653 he retired live as a monk in Hautmont Abbey, taking the name Vincent, and then to the one at Soignies, Belgium where he became abbot.
Born
c.615 at Strepy les Binches, Hainault, Belgium
Died
14 July 677 at Soignies, Belgium of natural causes
https://catholicsaints.info/saint-vincent-madelgaire/
---
Blessed Humbert of Romans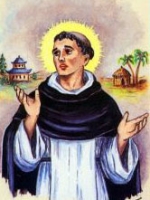 Profile
Studied in Paris, France. Doctor of civil law. Joined the Dominicans in 1224. Pilgrim to the Holy Lands. Provincial of the Dominican Roman province in 1240. Dominican provincial of France in 1244. Fifth master-general of the Dominicans in 1254. Formed and sponsored several successful foreign missions, supported the education of Dominicans, and approved the final revision of the Dominican Liturgy. He stepped down from his position in 1263, and retired to the priory of Valence, France. Came briefly out of solitude at the request of Pope Clement IV to settle a dispute among members of the Cistercians.
Born
at Romans, France
Died
14 July 1277 at Valence, France of natural causes
https://catholicsaints.info/blessed-humbert-of-romans/
---
Blessed Michael Ghebre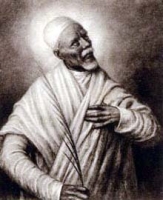 Also known as
• Ghébre Michael
• Mikael Gabra
Profile
Converted to Christianity by Vincentian missionaries in 1844, Michael joined the Order himself. He was ordained in 1851, and served in the Apostolic Vicariate of Abyssinia. Arrested for his faith with four companions whose names have been lost to us during the persecution of Negus Theodore II. Dragged from place to place, he died a prisoner and martyr.
Born
1791 in Dibo, West Gojam (in modern Ethiopia)
Died
30 July 1855 from abuse and ill treatment in prison while travelling between Meccia Coreccia and Molicha Gebaba, Mirab Shewa (in modern Ethiopia)
Beatified
3 October 1926 by Pope Pius XI
https://catholicsaints.info/blessed-michael-ghebre/
---
Blessed Hroznata of Bohemia
Profile
Born to the Bohemian nobility. Brother of Saint Bozena of Bohemia. Married layman. Widower, with both his wife and only child dying suddenly. Founded the Premonstratensian abbey at Tapi, Bavaria, Germany and became a monk there. Thrown into a dungeon by robbers, he was left to die there when they fled with their loot.
Born
c.1160 in Hroznetin, Karlovarský kraj, Czech Republic
Died
starved to death on 14 July 1217 in St´ry Kynsperk, Karlovarský kraj, Czech Republic
Beatified
16 September 1897 by Pope Leo XIII (cultus confirmation)
Patronage
Bohemia
https://catholicsaints.info/blessed-hroznata-of-bohemia/
---
Saint Deusdedit of Canterbury
Also known as
Adeodatus, Freithona, Frithona, Frithonas, Frithuwine
Profile
Benedictine monk. Sixth Archbishop of Canterbury, England in 655, the first Anglo-Saxon to hold the seat. Served during a relatively quiet period in the history of this diocese. Founded a convent on the Isle of Thanet. Venerable Bede mentions him in his writings, but provides no details about him.
Born
Sussex, England as Freithona
Died
• October 664 in England of plague
• interred in the abbey church of Saints Peter and Paul in Canterbury, England
https://catholicsaints.info/saint-deusdedit-of-canterbury/
---
Blessed Giorgio of Lauria
Also known as
George
Profile
Son of Admiral Don Ruggero. Cousin of Blessed Raymond of Toulouse, he fiercely opposed Raymond's call to religious life at the convent of Barcelona, Spain, and even threatened to beat him up if he took the habit; Giorgia later felt the call himself and followed Raymond into the Mercedarians. He devoted himself fully to God and the religious life, and became a model to his brother monks.
Born
Lauria, Potenza, Italy
Died
1339 at the convent of Santa Maria of El Puig, Spain of natural causes
https://catholicsaints.info/blessed-giorgio-of-lauria/
---
Saint Ioannes Wang Kuixin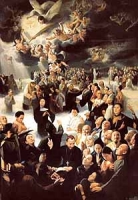 Also known as
• John Wang Guixin
• Ruowang
Additional Memorial
28 September as one of the Martyrs of China
Profile
Layman in the apostolic vicariate of Southeastern Zhili, China. Martyred in the Boxer Rebellion.
Born
c.1875 in Nangong, Jizhou, Hebei, China
Died
14 July 1900 in Nangong, Jizhou, Hebei, China
Canonized
1 October 2000 by Pope John Paul II
https://catholicsaints.info/saint-ioannes-wang-kuixin/
---
Saint Marchelm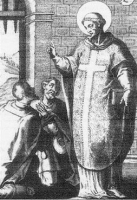 Also known as
Marcellin, Marcellino, Marcellinus, Marchelme, Marchelmo, Marculf, Markulf, Marchelmus
Profile
Missionary to the Netherlands with Saint Willibrord of Echternach. Worked with Saint Lebuin of Deventer in the area of Overijssel, Netherlands.
Born
England
Died
• c.762 in Oldenzaal, Netherlands
• relics translated to Deventer, Netherlands
https://catholicsaints.info/saint-marchelm/
---
Blessed Dorotea Llamanzares Fernández
Also known as
Gertrudis
Profile
Nun of the Franciscan Missionaries of the Divine Motherhood. Martyred in the Spanish Civil War.
Born
6 February 1870 in Cerezales del Condado, León, Spain
Died
14 July 1936 in Hortaleza, Madrid, Spain
Beatified
13 October 2013 by Pope Francis
https://catholicsaints.info/blessed-dorotea-llamanzares-fernandez/
---
Blessed Toscana of Verona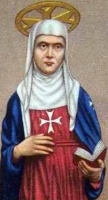 Profile
Married. Widow. Nun of the Order of Saint John of Jerusalem (Gerosolimitans).
Born
c.1290 at Zevio, Verona, Italy
Died
• 14 July 1343 of natural causes
• buried at Saint Toscana Church, Verona, Italy
https://catholicsaints.info/blessed-toscana-of-verona/
---
Saint Colman of Killeroran
Profile
His name appears on several ancient martyrologies, and some places may have been named for him, but no information about this saint has survived.
https://catholicsaints.info/saint-colman-of-killeroran/
---
Saint Idus of Ath-Fadha
Profile
Fifth century disciple of Saint Patrick by whom he was baptized, and who appointed him bishop of Ath-Fadha, Leinster, Ireland.
https://catholicsaints.info/saint-idus-of-ath-fadha/
---
Saint Optatian of Brescia
Profile
Bishop of Brescia, Italy for over 50 years.
Died
c.505 of natural causes
https://catholicsaints.info/saint-optatian-of-brescia/
---
Saint Donatus of Africa
Profile
Martyr.
Died
unknown location in Afria, date unknown
https://catholicsaints.info/saint-donatus-of-africa-14-july/
---
Saint Liebert
Also known as
Liberto
Profile
Monk. Abbot. Martyred by Normans.
Born
Malines, Belgium
Died
835
https://catholicsaints.info/saint-liebert/
---
Saint Papias of Africa
Profile
Martyr.
Died
unknown location in Afria, date unknown
https://catholicsaints.info/saint-papias-of-africa/
---
Saint Justus of Rome
Profile
Soldier. Martyr.
Died
Rome, Italy, date unknown
https://catholicsaints.info/saint-justus-14-july/
---
Saint Cyrus of Carthage
Profile
Bishop of Carthage.
https://catholicsaints.info/saint-cyrus-of-carthage/
---
Saint Just
Profile
Martyr.
Died
Ireland
https://catholicsaints.info/saint-just/
---
Also celebrated but no entry yet
• Our Lady of Dromon
• Mare de Déu de Canòlich
• Gaspar de Bono
• Heracles of Alexandria
• Henry of Arnsberg
• Juan of Majorca
• Lupercilla
• Nicodemus the Hagiorite
• Raffaele of Barletta
• Ragenufle
• Treffin
• William of Breteuil
---
CatholicSaints.Info Portable Edition
email CatholicSaints.*
---